Hall of Fame designation can seem arbitrary and capricious at times, and debate over whether an inclusion is warranted and an exclusion justified is highly subjective at times.
When the Australian Racing Hall of Fame inducted its first class of thoroughbreds in 2001, horses from the entire history or racing in Australia were potential candidates. Many deserving racers had to wait beyond that first year and strong arguments can be made for many runners who have yet to receive recognition.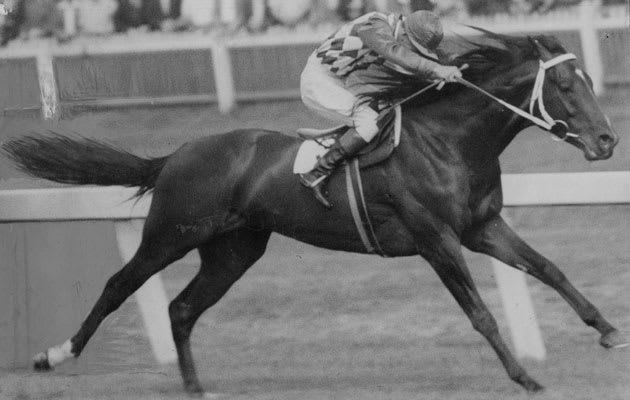 On balance, we have to express the feeling that none of the horses that have made it is undeserving, and it is much preferable to see some omissions, even if glaring in some cases, rather than a Racing Hall of Fame filled with questionable inductees.
That emphasis on bona fide credentials led to a situation where only two of the nominees passed scrutiny from the HOF Selection Panel and were inducted for 2009: Strawberry Road and our present subject, Comic Court.
Comic Court Lineage
Comic Court was foaled in 1945 by the brothers Bowyer at Beau Neire Stud in Normanville, SA, some 80 kilometres south of Adelaide.
Comic Court was primarily of Australian extraction until you got to his grandsire, The Night Patrol, a British horse that won once as a three-year-old in England. Comic Court's sire was Powerscourt, a 1929 foal that records show won the Ascot Vale Stakes, or the Coolmore Stud Stakes, if that is your preference, in 1932. The name may have been derived from Powerscourt Waterfall, Ireland's highest at 121 metres, near the Powercourt Estate in County Wicklow. That side of Comic Court's line did have the Irelander Dark Ronald in it. He was a decent racer, but his place in history relies on his stud record in England and Germany, where he contributed to horses all over the world and to breeds other than thoroughbred and disciplines other than flat racing.
Comic Court's dam was the Australian native Witty Maid. Her dam's sire was 1910 Melbourne Cup winner Comedy King. Two generation further back, New Zealand's Carbine will be found, himself another Melbourne Cup winner and DNA contributor to Phar Lap. Witty Maid, in addition to Comic Court, produced three other stakes-winners.
Comic Court Racing Career
Our horse made eight starts as a two-year-old in the 1947 – 48 season. He was trained by the father of Bart Cummings, Jim Cummings, who had sold his sire and dam for 150 pounds as the result of racing being cancelled in Adelaide during World War II.
Jim Cummings was his trainer. Comic Court won his first race in 1947, the Adelaide Racing Club's Fulham Park Plate. He was then sold for 2,300 guineas to Messrs. Lee, three brothers. He won four more races and finished second three times out of eight starts, meaning that he won or place second every time he raced.
When he turned three at the beginning of the spring campaign of 1948 and on into 1949, he continued to win, albeit not quite at the same pace. He won five times out of 16 starts and added two-second place finishes. A major win was the VRC Derby, when the race was one-and-a half-miles and run at set weights at Flemington. The race was graded principal at the time, because the current quality system was not yet in use. His other win was the VRC St. Leger over 2900 metres at Flemington racecourse. Both those races were proof of his ability as a stayer, but he also showed ability as a miler in winning the Memsie Stakes at Caulfield, then a principal race of approximately 1800 metres.
As a four-year-old during the 1949 – 50 season, he repeated his Memsie Stakes victory, becoming the first repeat winner since Ajax notched three in 1938, 39 and 40. Altogether, he won eight of his 14 starts, including the LKS Mackinnon Stakes. He finished second in the W.S. Cox Plate and third in the Caulfield Cup, so the question of his competition is irrelevant, as it would have been the best available.
A third Memsie Stakes followed in the following season when he competed as a five-year-old. His second LKS Mackinnon Stakes was also seen. He had 10 wins out of 16 starts, along with five placings in other important races, meaning that he ran unplaced only once.
It was Comic Court's 1950 Melbourne Cup victory, however, that secured his legacy for all posterity. He had run fourth when he tried the Cup as a three-year-old, but finished toward the back of the field as a four-year-old. He was carrying nine stone-five pounds, one pound over weight-for-age on this third try, along with jockey Pat Glennon. A young Bart Cummings was serving as his strapper.
Comic Court put three lengths betwixt himself and Chicquita, and it was another back to third place getter Morse Code. Jack Purtell had recently been replaced as Comic Court's usual race rider due to Purtell having accepted the ride on the favourite, Alister. In a show of sportsmanship, Purtell rushed to offer congratulations to the 23-year-old Pat Glennon.
Bookmakers would certainly have been relieved to see Comic Court win, as there was a Cups Double in play that had it been filled, would have left them facing the prospect of a £250,000 payout had Chicquita, Alister or Playboy won the race.
Comic Court set a then-record time of 3:19.50, and his earnings to that point putting him fifth all-time to that point. He had jumped at 25-1, making one astute Adelaide punter £20,000.
When Comic Court was retired, his record stood at 28 wins and 15 placings from 54 starts. His total earnings were A$97,158, quite a nice return on the original investment.
Comic Court as a Stud
Retired in 1951, Comic Court stood at the Warlaby Stud of E.A. Underwood. He sired five significant racers, including Comicquita with the mare he had beaten in winning the Cup, Chicquita. Comicquita ran second to Even Stevens in the 1962 Melbourne Cup by about two lengths.
Comic Court died in 1973, almost 20 years before the Racing Hall of Fame got started, and it would not be until 2009 when he was recognised. Apparently winning over half of his starts and adding the Melbourne Cup into the mix was not considered adequate sooner, and proves somewhat perplexing when a filly with 25 wins got into the Hall, seemingly whilst she was halfway through her final race, but until the Selection Panel begins to solicit our opinions, it is strictly a matter of conjecture, even though the criteria seem fairly clear.