The 2012 class of thoroughbreds to achieve Australian Racing Hall of Fame distinction included winners of the Melbourne and Caulfield Cups and the W.S. Cox Plate.
Another characteristic shared was that with the exception of Takeover Target, the other four, Let's Elope, Octagonal, Redcraze, and today's subject, High Caste, were all New Zealand bred horses.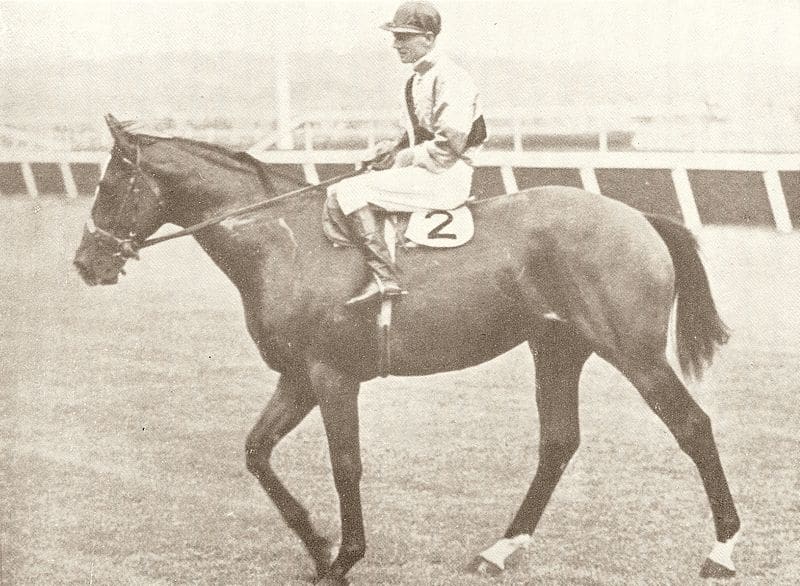 High Caste Bloodlines
High Caste was foaled in 1936. His sire was the British horse Bulandshar. This horse did not seem to be much raced, having only nine starts. He was from the class of 1929 and was thus only five years of age when he was shipped to New Zealand. It would appear as though he won one race and had three placings. In something of a departure from the norm from that era where many Australian and New Zealand horses had European lines exclusively, High Caste has a smidgen of the New Zealand champion Carbine's blood on his sire's side four generations back.
High Caste's dam was The Begum. Her lines featured quite a bit of New Zealand blood for at least five or six generations back, but horses from Germany and France were in the mix as well.
High Caste Racing Results
High Caste was raced early and often. Running as a two-year-old in New Zealand, he won three races from four starts during the 1938-39 season. That attracted the attention of buyers from the mainland, and he was sold for the considerable sum of 7,000 guineas to Harry Tancred, who had the horse shipped to Melbourne. Still running as a two-year-old, High Caste immediately won races that would eventually be recognized as Group 1 quality by the ARB, including the Ascot Vale Stakes, the VRC Sires Produce Stakes and the Champagne Stakes. Including his races in New Zealand, he made 10 starts for seven wins and two placings, more than good enough to result in his being declared the best two-year-old on either side of the Sea of Tasman.
Running as a three-year-old in the 1939-40 season, he won at seven furlongs at Rosehill in a Group 2 level race, the Hobartbville Stakes. He then went on to win the Rosehill Guineas, Craven Plate, Caulfield Guineas and Caulfield Stakes. He failed to place in the 1939 Cox Plate, made showing by almost winning the Victoria Derby, and then finished with Manrico in a dead heat in the Linlithgow Stakes. He had a disappointing outing in the Cox Plate, failing to place. Just two days later, he was back on the track to take the post in the C.B. Fisher Plate. In the autumn portion of the campaign, he won in Sydney before returning to Melbourne to win the 1940 C.F. Orr Stakes and the St. George Stakes. Going up against the formidable Ajax, he placed second in the All Aged Stakes.
His record as a three-year-old concluded with 21 starts for 11 wins and 7 placings.
In the 1940-41 season, High Caste won two of his first three races as he formed up for the AJC Epsom Handicap. He won this race, establishing a new time record whilst carrying 59 kg. He then placed second in the Craven Plate and next won the Caulfield Stakes for the second consecutive time and beating Ajax by ¾ of a length and posting a race-tying time. Unfortunately, despite the excellent form he was showing, he could manage no better than fourth in the Caulfield Cup when Beaulivre, a more than adequate horse by any measure, was the best in field on that particular day. He returned to win his second Linlithgow Stakes and C.B. Fisher Plate. Given a rest, High Caste returned in autumn of 1941, winning the VATC Futurity Stakes whilst carrying 66 kg. He could manage only fourth in the VRC Newmarket Handicap, but needed only five days of rest before winning his longest race, the 14 furlong Kings Plate.
Running as a five-year-old in 1941-42, he immediately took out significant races with wins in the Warwick Stakes and the Hill Stakes. Continuing to run well, he won the Linlithgow and Fisher Plate for the third time. He raced in Sydney before returning to Melbourne, where he won the St. George Stakes for the fifth time.
High Caste declined thereafter, and it is not hard to conceive of the reason. In four seasons of racing, including a couple of spells, he was on the course for 72 races. He is credited with 35 wins if the remarkable three times he was deadheated are included. He had 19 seconds and seven thirds, running unplaced only 11 times. He did not fare well in the Cox Plate or the Caulfield Cup, and the 16 furlongs of the Melbourne Cup were beyond him, but in his specialty, races in the vicinity of a mile, he was always at or near the head of the class from the start of his career until near the finish.
High Caste Stud Record
High Caste was sold soon after he was retired. He stood at Segenhoe Stud at Scone, NSW, an area which rivals New Zealand in terms of horse breeding. He later moved to Oakleigh Stud, also in NSW.
He never produced any progeny with the stamina and ability which he possessed, but commencing in the 1945-46 season, some of his output began to hit the course, winning significant races that included the Newmarket Handicap, the Doomben 10,000 and the Australian Cup, so characterizing his stud record as unsuccessful simply because none of his progeny were his equal would be unfair.
Without doubt, it was High Caste's racing record that earned his induction into the Australian Racing Hall of Fame. He averaged 18 starts during the four seasons he competed. There were fewer races at that time, so it was inevitable that at time, he had to take part in events that would not be considered in the top echelon of the Australian Racing calendar, but that same could be said of many of his contemporaries, so the distinction is moot. It could almost be said that in comparison to modern day horses, High Caste's workload alone qualified him.