Jim Pike (1892-1969) was a jockey who rode in Australia and England between 1904 and 1936.
Jim Pike is most remembered for his accomplishments aboard first, the legendary Phar Lap, and second, Peter Pan.
The son of butcher later turned racecourse attendant Charles Pike and Jane Isabella Liddle, Jim Pike was born 4 September 1892 in Newcastle, New South Wales. Often truant from school to ride horses as a youngster, Jim Pike joined Ernie Connors's stable and had his first ride when only 12 years old.
Diminutive, under 25 kg, Jim Pike was twice banned for being below minimum jockey age.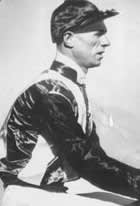 He joined Sydney trainer William Kelso in 1906. He won his first race in July of that year and won over 40 more times by early 1908.
Kelso took Jim Pike to England to contest there, but they met with limited success in that venture, producing only two winning posts.
Back in Australia in 1909, Pike had his first significant win in the Australian Cup, where he piloted a thoroughbred by the name of Pendil. His next big win was the following year in the Victoria Derby aboard Beverage at Flemington Racecourse.
Jim Pike then took a lengthy hiatus from racing that saw him absent from the sport until much time and one War to End All Wars had transpired. He was married 19 July 1922 to Barbara Daphne Hume at Randwick.
The mid-20s saw Jim Pike back in the stirrups where he steered thoroughbred Hawk to 14 victories. He had multiple Group 1 winners in 1928 and 1929 aboard Strephon in the AJC St. Leger Stakes, the VRC St. Leger Stakes as well as the 1928 Victoria Derby.
Pike also won the Epsom Handicap in 1932 and 1933 courtesy of Chatham and followed that in 1934 with the Doncaster Handicap, where he overcame a heavy track, heavy burden and a poor jump.

The other mounts certainly demonstrated his ability, but it was at the end of the 20s, 1929 to be exact, that Jim Pike began his providential association with none other than Phar Lap.
This fortuitous alliance featured 27 wins out of 30 starts.
Not so fortuitous was the ill-conceived assassination attempt on "Big Red." Ill-conceived it was indeed, even given the less sophisticated firearms of that era. One would think I hired, professional assassins capable of hitting an animal as big as Phar Lap was, but perhaps the sun was in their eyes.
Little chance then that Jim Pike himself was in any serious jeopardy.
After hiding out, the two emerged in the afternoon to take the Melbourne Stakes and back that three days later with the Melbourne Cup
The team parted ways when Jim Pike refused to ride Phar Lap in the North American Aqua Caliente. The outcome of that incident needs no further mention here.
Pike eventually was picked to ride another legendary thoroughbred, Peter Pan. Few jockeys are blessed by sufficient fortune to ride one, let alone to horses of this stature. Pike also took rides aboard Amounis and Ajax sire Heroic.
Jim Pike was able to manage the often temperamental Peter Pan to the extent that the two won many races together, the AJC Derby and St. Leger Stakes amongst them, but Pike missed being aboard for Peter Pan's 1934 Melbourne Cup victory while serving a suspension.
He was known as a superb tactical rider who used his ability to elicit all-out efforts from his mounts. He was said to be a master at realizing the pace and to know when to pull up and when to ask for more.
After 32 years in the stirrups, Jim Pike, due to battles with his weight and those imposed by race stewards, retired in April of 1936.
He notched over 129 principal wins, including nine Rosehill Spring Handicaps. Seventeen years worth of effort, however, produced just the one win and one third place in the premier Melbourne Cup.
Jim Pike tried his hand at training, but achieved nothing to compare with his success as a hoop.
He did find a comfortable niche as a mentor to apprentice jockeys.
Years of association with horse racing and its attendant wagering may have contributed to his becoming something of a compulsive gambler. Fond of golf and cards, he soon exhausted his take from riding and died impoverished on 7th of October 1969 at the age of 77. A wife, a son and a daughter survived him.
Jim Pike's ability as a jockey was so great that to this day, racing experts are heard to comment regarding a good ride by a jockey: "He rode it like J. Pike."

He was inducted into the New South Wales Hall of Champions in 1999 and the Australian Racing Hall of Fame in 2002.