Albany Racecourse is located at 261 Roberts Rd Albany WA 6330.
Albany Racecourse is found 422kms south east of Perth on Western Australia's southern coast. With views of the Albany Wind Farm and Mt Melville in the distance, surrounded by natural bush, the best place to be is trackside and enjoy the fashion and friendly atmosphere.
A great number of notable events have taken place since the City of Albany was first settled in 1826. Among those events was the launching of the Albany Racing Club in 1865 which operates the Albany Racecourse.
Records held by the Club indicate that the first Committee Meeting was conducted at the Albany Mechanical Institute on 23rd March 1865.
Worthy of note is a Cash Book Entry dated 23rd of March 1865 which states
"Refreshments for Stewards at Racecourse - Three pounds, fourteen shillings and threepence."
Stewards were obviously well catered for even in 1865!
Contact:
ALBANY RACING CLUB
Secretary: Maggie Hill
PO Box 34,
Albany,
WA 6331
Ph. (08) 9841 1400
Fax (08) 9842 1412
Email: albanyrace@bigpond.com
Website: https://www.albanyracingclub.com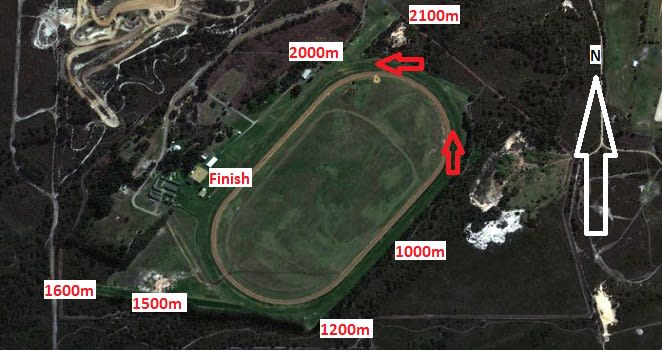 The original race track was located on the Albany Highway on the northern outskirts of the Township until 1927 when the Albany Racecourse re-located to Centenary Oval. In 1975 saw yet another re-location of the Albany Racecourse to the existing Percy Spencer Course at Roberts Road, Albany. Percy Spencer served as Club President for a great number of years. He died in 1976.
The Albany racing season includes race days on Boxing Day. The feature event is the Albany Cup held on Easter Sunday.
Gold Pass Membership: $140.00, General Membership: $90.00 and Concessions $65.00.
Racecourse Details:
The Albany racecourse has a symmetrically oval shape with a circumference of 1600 metres that incorporates a chute at the entry and exit of the two turns. It has a 300 metre home straight. Smooth easy bends and two good long straights give all runners an equal chance, whether up front or coming from behind.
The course itself is about 20 metres wide throughout.
Nearby racecourses include Mount Barker Racecourse, Narrogin Racecourse and Bunbury Racecourse