Bunbury Racecourse is located at Corner Blair Street and Brittain Road Bunbury WA 6230.
The Racecourse is 173kms south of the Perth CBD on the Western Australian coast line.
The Bunbury Racecourse is operated by the Bunbury Turf Club, one of Western Australia's leading provincial race clubs, and home to some of the best race horses to grace the turf Australia wide.
The Bunbury Racecourse boasts excellent racing and training facilities and is host to more than 60 registered Bunbury Trainers.
The Bunbury Racecourse is a year round training complex with both fast-work and slow-work sand and grass tracks. Many of this states champions have been trained at the Bunbury Racecourse, including the 1999 Melbourne Cup winner Rogan Josh.
Contact:
BUNBURY TURF CLUB
Racing Manager: P. Rossiter
PO Box 916,
Bunbury,
WA 6230
Ph. (08) 9721 3444
Fax (08) 9721 2248
Email: racing@bunburyturfclub.com.au
Website: https://www.bunburyturfclub.com.au/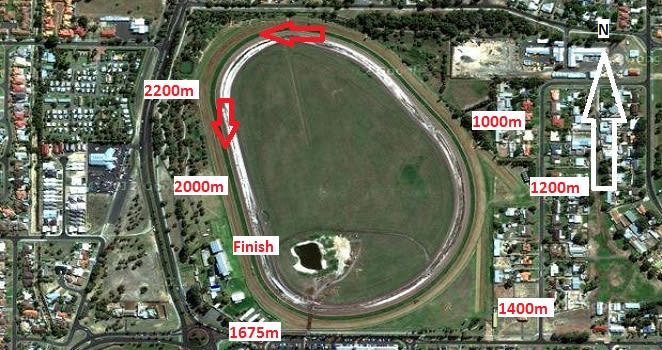 The Bunbury Race Club season commences in November each year and concludes in April.
The club conducts twenty race meetings in this period, featuring the $50,000 Cronshaw Cup on Australia Day, the $50,000 AHA Cup on Sunday in February. The $120,000 Bunbury Business Houses Bunbury Stakes will run on Tuesday in March along with Western Australia's richest provincial three year old race the $95,000 South West Breeders Patrons Plate,
The Club's richest race the $130,000 Swan XXXX Gold Bunbury Cup will be run two day's later on Thursday.
The Club holds six Sunday race meeting's during the season, and provides entertainment for the kids throughout the afternoon on these days. A band entertains the crowd throughout the day providing a unique relaxed atmosphere were the whole family can unwind and relax.
Bunbury Racecourse offers race-goers a wide range of excellent racing facilities with choices of catering outlets, air-conditioned indoor lounges and bars or outdoor shaded areas... all with great views of the racing action!
Bunbury Facilities include:
Trackside Café Licensed, cafe dining for an enjoyable Big Day Out at the Races
Trackside Takeaway - quick café options for those wanting to stay trac kside
Winning Post Bar - close to the track (and the bookies ring)
Main Bar - in the thick of the action Cronin's
Takeaway BBQ Shack - snags, kebabs and steak sandwiches made to order (Selected days only)
Racecourse Details:
The Bunbury Racecourse has a home straight 348 metres long. The track circumference is 1,796 metres with three starting chutes around the track which has many turns. Horse running near to the front have an advantage.
Nearby Racecourses include Pinjara Racecourse, Belmont Racecourse, Ascot Racecourse.