Warrnambool Racecourse is located at Grafton Rd, Warrnambool Victoria.
Warrnambool Racecourse is operated by the Warrnambool Racing Club, home of the internationally acclaimed 'Flying Horse Bar & Brewery Grand Annual Steeplechase'.
The Warrnambool Racecourse is situated on the eastern outskirts of Warrnambool, set in a picturesque valley providing excellent natural viewing platforms. Warrnambool Racecourse is about 260 km's from Melbourne CBD
All roads lead to the 'Bool' in the first week of May each year as the Club conducts the internationally acclaimed May Racing Carnival.
The Warrnambool Racing Club strives to develop a vibrant and growing platform to display the thoroughbred racing industry to a worldwide audience.
The Warrnambool Racecourse and its club is steeped in over 160 years of history and remains the jewel in Country Racing Victoria's crown.
Contact:
WARRNAMBOOL RACING CLUB
PO Box 48,
Warrnambool,
Victoria 3280
Ph. (03) 5562 2211
Fax (03) 5562 7579
Email: warrnamboolracingclub@datafast.net.au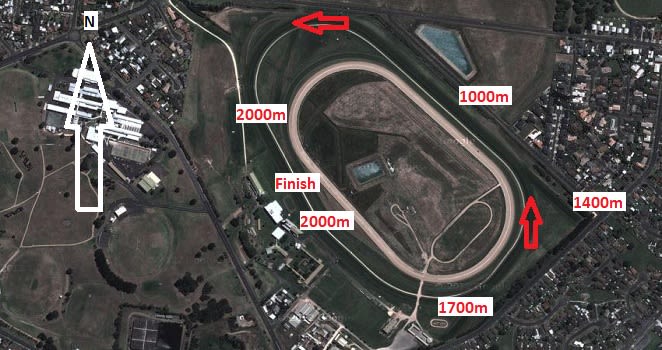 The Warrnambool Racing Club conducts 20 race meetings per season highlighted by feature racing in spring, summer and autumn.
The May Carnival in the first week of May is most popular and as such attracts around 35,000 people. The highlights of the May Carnival being the Grand Annual Steeplechase and The Warrnambool Cup.
Racecourse Details:
The Warrnambool racecourse proper is an expansive course with a circumference of 2035 metres, sweeping turns and a home straight being 350 metres long. There is an off course track joining the course proper for steeplechase events with the length of the course being 5,500 metres and 33 fences.
Nearby Racetracks include Terang Racecourse, Camperdown Racecourse and Hamilton Racecourse.