Ararat Racecourse is located at the Western Highway, approx 200 km west of Melbourne VIC.
Under the auspices of the Ararat Turf Club, Ararat Racecourse hosted its first meeting over four days from 15 December 1857, making it one of the oldest courses in Victoria.
According to the Mount Ararat Advertiser 5000 people attended the first day of racing, a figure which had grown to 8000 by day three.
In 1998 the newly formed Wimmera Racing Club assumed control of racing at Ararat Racecourse with a view to ensuring the long-term survival of the historic course.
In 2007, 150 years after the Ararat Turf Club's inaugural meeting, more than 2000 revellers enjoyed the racing and hospitality on offer at the town's Cup Day meeting, continuing the rich tradition of racing in Ararat.
Wimmera Racing Club hosts the Ararat Gold Cup day at Ararat Racecourse in November each year. The day is the richest race day in the Wimmera and is likely to see 2,000 people at the course. Featured events include Fashions on the Field, after concerts, kid's activities, gourmet wine and food, and even Santa Claus, feature meetings are each unique and memorable.
Contact:
ARARAT RACECOURSE
Ararat Turf Club
C/O Pomonal Post Office,
Pomonal,
VIC, 3381
Ph. (03) 5352 1328 Racetrack Only
Email: ararat@countryracing.com.au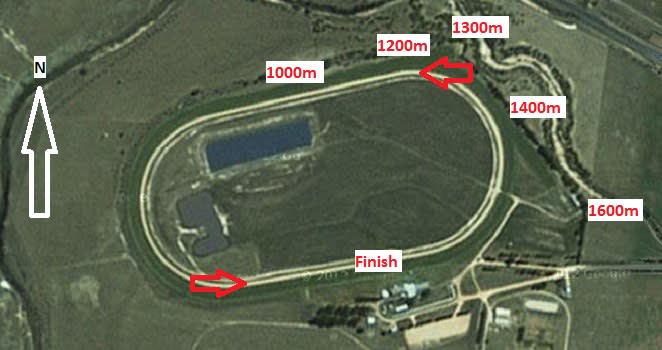 Ararat holds 7 race meetings throughout the year, most of which are mid-week race meetings with the exception of the new Sunday Race meeting.
A grandstand was first erected on track with left over supplies from The Aradale Mental Hospital in Ararat and is still standing today as one of the oldest grandstands on a racecourse in the country.
Racecourse Details
Ararat Racecourse is laid out magnificently with a 2000 metre circumference and has a home straight being 350 metres long. The track is fully irrigated and made of a clay type soil.
The Track is 18.5 metres wide and has banked turns with a slightly uphill run in the straight. The track has long sweeping turns and the 1000 metre start is known to be difficult if drawn out wide.
Nearby Racetracks include Stawell Racecourse, Ballarat Racecourse and Terang Racecourse.