Devonport Racecourse is located at Racecourse Rd Devonport TASMANIA 7310.
The Racecourse is also known as the Spreyton Racecourse.
2002 marked the centenary of the Devonport Racing, The oldest sporting body in the city of Devonport. The club also has strong links with many champion gallopers with former committee members Ray Trinder's win with Piping Lane in the 1972 Melbourne Cup, the late Dr Michael Wilsons victory with Beer Street in the 1970 Caulfield Cup, Lloyd Bonney's win with Lloyds Gold in the 1979 Australian Derby, former chairman's David Yaxley's victory with Sydeston on the 1990 Caulfield Cup.
The major race meeting for the club run at Devonport Racecourse is The Devonport Cup run in early January each year. The Devonport Cup precedes the Hobart and Launceston Cups and its distance of 1800m makes it a perfect lead-up to the other races. With prize money now of $100,000 it is also keenly sought after in its own right
Being a member of the Devonport Racing Club you get to enjoy the facilities and indulge yourself at all of our race meetings for the year.
Reciprocal rights with both the Tasmanian Turf Club (Launceston) and the Tasmanian Racing Club (Hobart) for every race meeting for the season except the Launceston Cup. This means free gate entry at 68 of the 69 race meetings held in Tasmania for the 2012-2013 season.
Contact:
DEVONPORT RACING CLUB
Phillip Swinton
P.O. Box 745,
Devonport,
Tasmania 7310
Spreyton Racecourse,
Spreyton,
Tasmania 7310
Email: devraclub@tassie.net.au
Ph. (03) 6427 2070
Fax (03) 6427 2488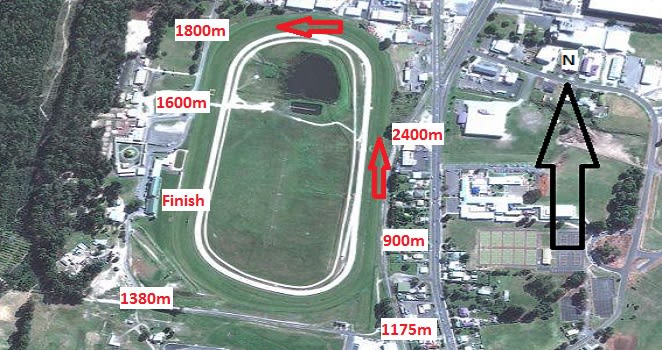 The most prestigious event at the Devonport Races is the Devonport Cup.
It is held annually every January over a race distance of 1800 metres. It is the eighth race on the 10-race Devonport Cup Card. The Cup was held on a Saturday but the switch to the second Wednesday of the month, depending on New Years Day, and a half-day gazetted holiday has ensured its standing as a major racing and cultural event.
Racecourse Details:
The Devonport Racecourse has a track circumference of 1500 metres and has a home straight being 350 metres long. The track was converted to a sand track in 2011.
Devonport Racecourse caters for race distances of 990 metres, 1175 metres, 1380 metres, 1600 metres, 1800 metres and 2400 metres. The Devonport Racecourse has two starting chutes and all races run counter-clockwise. The racecourse has sweeping turns which makes it ideal for back markers to come storming home.
Nearby Racetracks include Launceston Racecourse, Longford Racecourse and Hobart Racecourse.