The Launceston Racecourse is located in Mowbray, around 3 kilometres from the heart of the city.
The Racecourse is also known as the Mowbray Racecourse.
Launceston is the second largest city in Tasmania and is an ideal base from which to experience essential Tasmania historic villages, national trust properties, wilderness, arts, markets, national parks, breath-taking scenery and internationally acclaimed food and wine, grown in a clean, unspoilt environment. Launceston is a thriving City with accommodation of international standard.

General admission to the Launceston Racecourse / Mowbray Racecourse is $7 and pensioners $4 (Please note entry fees for the AAMI Launceston Cup & ELDERS Longford Cup and race meetings over the Carnival are higher).

Launceston Racecourse is operated by the Tasmanian Turf Club and runs approx 25 race meetings at the TOTE Racing Centre, and the Longford Cup at Longford on New Years Day.
Launceston comes alive with the colour and excitement of the Tasmanian Summer Racing Carnival, world class thoroughbred horse racing, fashions, glamour and entertainment.
Launceston Racecourse is also referred as Mowrbray Racecourse.
Contact:
TASMANIAN TURF CLUB
Mr. R. Biffin
P.O. Box 340,
Mowbray Heights,
Tasmania 7248
Mowbray Racecourse,
Mowbray,
Tasmania 7249
Ph. (03) 6326 1070
Fax (03) 6326 5138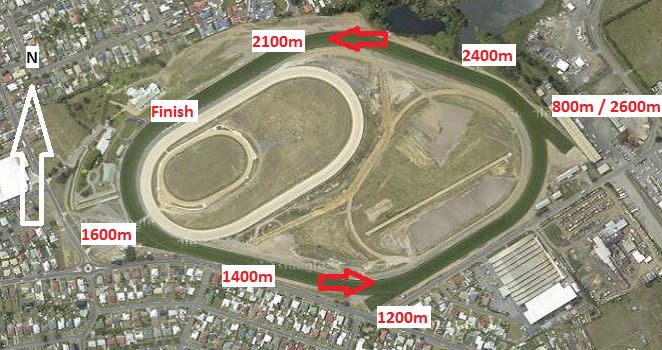 There are no group 1 races at the Launceston racetrack.
But there is Group racing during the Tasmanian Summer Carnival in January. These races include the Launceston Cup and the Sovereign Stakes.
The Tasmanian Summer Carnival offers prize money over $3 million. This will no doubt encourage trainers and owners from the main land to head over to the Tasmanian racecourses in January and tackle these event
Racecourse Details:
The Launceston Racecourse has a short 230 metre straight making up the 1,830 metre course length. Racing direction is anti-clockwise. The track has many turns making it an advantage to race on the pace, and near the inside.
Inside barriers are an advantage at most starts.
Nearby Racetracks include Longford Racecourse and Hobart Racecourse.