MacKay Racecourse is on the outskirts of town coming from Rockhampton, 5 minutes from the airport.
The Racecourse is also known as Ooralea Racecourse.
Mackay's biggest racing event of the year - the $50 000 Mackay Cup Racing Carnival - This race is run on a Saturday in July each year. Tickets are available by phoning the Mackay Turf Club on (07) 4952 1155
Mackay Turf Club operates the the Mackay Racecourse/Ooralea Racecourse.
Mackay is one of Australia's favourite tourist destinations and is very much used as a base for visitors venturing to the Great Barrier Reef or the Whitsunday.
The Mackay Cup held at the Mackay Racecourse is run in mid-July as a prelude to the Townsville Cup. Other races include the 1800-metre North Queensland Derby which has a prize pool of $15,000, the 1500-metre H.L. Black Memorial Handicap, the 1500-metre Lightning Handicap and the 1250-metre Mackay Newmarket Handicap.
Facilities at Mackay Racecourse on offer include
Totalisator
Undercover betting ring
Members' and public bar
Catering
Contact:
MACKAY TURF CLUB
PO Box 5233,
Mackay Mail Centre,
QLD 4741
Ph. (07) 4952 1155
Fax (07) 4952 3808
Poll Fax 1902 241 099
Email: reception@mackayturfclub.com.au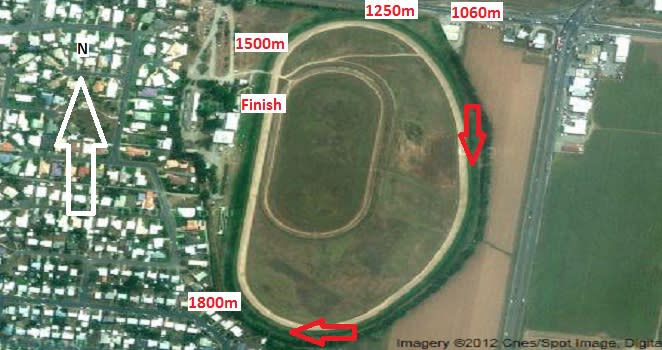 You can experience great horse racing action at the Mackay Racecourse year in year out.
Mackay is the capital city of North Queensland and is located right on the east coast.
Racecourse Details
Mackay Racecourse has a total circumference on 1600 meters and a home stretch of 310 meters long. The track has four starting positions - 1050m, 1250m, 1500m and 1800m.
The track is of circular shape and is only 18m in width. The track is always turning and is tough away from the rails.
Nearby Racetracks include Rockhampton Racecourse and Townsville Racecourse.