The Townsville Racecourse is located at Racecourse Road, Cluden, Townsville QLD.
The Racecourse is also known as Cluden Racecourse.
The club's first patron was the Governor of Queensland, Sir George Ferguson Bowen and Townsville's founder, Robert Towns, was the inaugural president.
The first meeting at Townsville Racecourse was a three-day affair from August 15-17, 1866 and featured the Town Plate run over three miles under weight for age conditions.
As the then-town of Townsville continued to grow and prosper, the name of the club was changed to the Townsville Turf Club in 1874 in keeping with the times.
The Townsville Racecourse is operated by the Townsville Turf Club and holds its place as one of Australia's major provincial race Clubs, with TAB and SKY Channel coverage nationwide on most race meetings.
The Townsville Cup is one of the biggest social events in Northern Queensland. The race is run in July each year and attracts more than 12,000 fun loving racegoers each year.
Boasting a great range of facilities and some of the most well maintained and beautified gardens and grounds in North Queensland. The facilities at Townsville Racecourse are famous for their functions as well as feature expos and exhibitions.
So if you want to experience first class racing at Townsville Racecourse or a fantastic private function give them a call to find out how to make your day or event special.
Contact:
TOWNSVILLE TURF CLUB
PO Box 5667,
Townsville,
QLD 4810
Ph. (07) 4778 3165
Fax (07) 4778 2668
Email: cludenpark@bigpond.com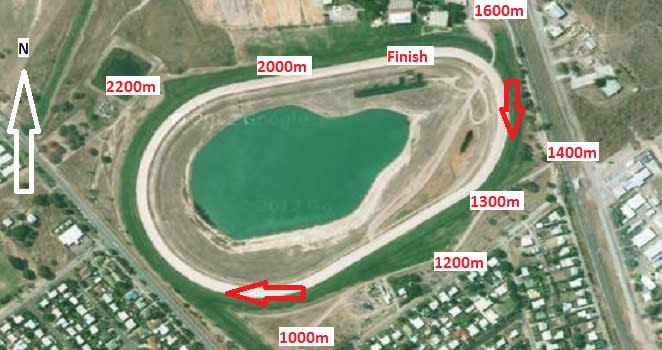 On the outskirts of the Townsville City, surrounded by lovely gardens the Townsville Turf Club has the ideal function room to suit all types of functions, including generous gardens for alfresco atmosphere for ceremonies, cocktails and canapés or garden parties.
The Townsville Turf Club is steeped in history and moved to its current racetrack at Cluden Park in 1882.
Racecourse Details:
Townsville Racecourse has a track circumference of 1680 metres and a home straight being 310 metres long with five chutes. The track has a long sweeping home turn giving back markers a fair chance of moving forward through the field.
The track has a most distinct downhill run from the 1000 metre chute.
Nearby Racetracks include Cairns Racecourse and Mackay Racecourse.