The Gunnedah Racecourse is located at Riverside Racecourse, Tamworth Road, Gunnedah, 2380 NSW
The Gunnedah Racecourse is operated by The Gunnedah Jockey Club Incorporated and it hosts 15 meetings annually.
The Gunnedah Racecourse was founded in the late 1830's and was closed during the war.
It was moved to Riverside in 1946 when the Club was reformed following World War II.
The course has great facilities including undercover betting ring, sky channel, dining romm and training facilities.
Contact:
GUNNEDAH JOCKEY CLUB
P.O. Box 231,
Gunnedah,
2380 NSW
Ph (02)6742 0093
AH (0427)420 093
Fax (02)6742 0093
Email: gun.jock@yahoo.com.au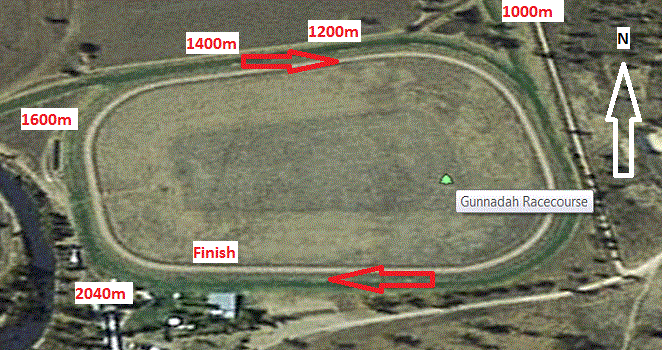 Gunnedah is situated in the heart of the Namoi Valley, New South Wales, Australia.
Gunnedah is known as the 'Koala Capital of the World' due to the abundance of healthy koalas living right in the township.
Located just 440km by Road from Sydney, the Shire covers an area of 4,994 square kilometres and has a population of 12,162 (ABS 2006). Gunnedah offers its residents a perfect blend of a relaxed quality lifestyle within a resilient economic area.
Racecourse Details:
The Gunnedah Racecourse has a circumference of 1800 metres and a home straight 400 metres long. The track is a square type shape with a sharp home turn. Inside barriers and front running are advantages.
Nearby Racetracks include Tamworth Racecourse,Quirindi Racecourse and Scone Racecourse.