Now that the festival of horse racing which is the Spring Carnival is in full swing and the build up to its climax of the Melbourne cup is well underway, talk among the racing fraternity often turns to the victorious horses from yesteryear, or the great trainers who have saddled several renowned winners.
Punters frequently love to bask in the warm light of their fond memories of races past, yet one involved and important group which tends to be overlooked in these reminiscences is the horse owners.
And there is none more important than thoroughbred owner Lloyd Williams, who has been the beneficiary of seven Melbourne Cup wins stretching over a thirty year period from 1981 to 2020. Yet Williams has not always been such a titan of the track.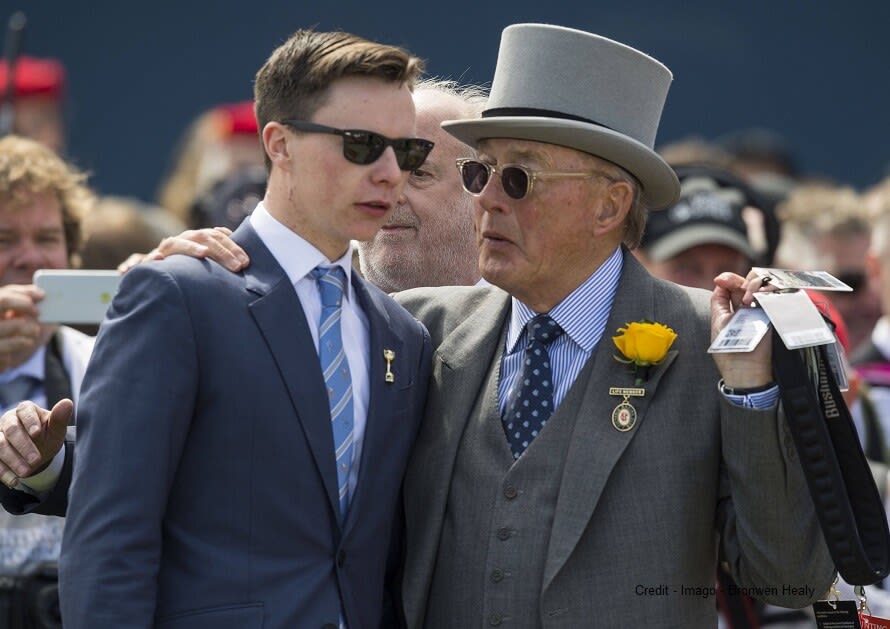 Lloyd Williams - The Melbourne Cup a Lifetime Goal
Born in May, 1940, into a catholic family of illegal bookmakers and alcoholics (according to his own confession after his 2016 win in the Melbourne Cup with Almandin) Williams was educated at St. Xavier Jesuit College in the East Melbourne suburb of Kew. Although his academic achievements did not suggest a life of study and scholarship, it certainly provided him with enough "nous" to build himself a career and considerable wealth in the construction industry.
An early and oft-quoted recollection of his schooldays, however, was that he dreamed of winning the Melbourne Cup and was inspired to achieve this goal with fond memories of the spell cast upon him by listening to commentaries of the race on the radio. Little did he appreciate at that age what these dreams would drive him to.
However, the dreams were not to be realised until much later in his life. His early working life – if we might call it that -- was spent in construction and property development, building first residential housing and then tower blocks in the Melbourne suburbs.
Working together with his long-time business partner, Ron Walker, Williams property development company Hudson Conway, built a reputation for quality and reliability, and when they won the contract in the early 1990's, to build Melbourne's first and Australia's largest casino, the Crown, life would change forever. After several years of sustained profit growth, however, Williams took the decision to withdraw from the hurly burly of commercial life, and in 1998 sold his majority interest in the Crown Casino to his old friend and business associate Kerry Packer. Now he was free to indulge his passion for the track and his love of thoroughbred horses.
Taking Lloyd Williams from Business to the Track
Before this retreat from business, Williams had already enjoyed success in the Melbourne Cup with a winner in 1981, Just a Dash, trained by TJ Smith, the father of today's successful trainer Gai Waterhouse.
Instead of building on this success, Just a Dash left behind his track career not long after his triumph and first of all went to work as a police horse. Unfortunately this did not prove so successful – many thought it was because the horse had become accustomed to the crowd appreciation and could not cope with the relative quiet routine of police life- and he was eventually taken in by a kindly lady who placed him at Willow Dene Stud at Wollongong where spent some twenty five years as a "mentor" - if such a thing exists – to yearlings being reared at the stud.
Just a Dash was finally euthanized after muscle problems in his legs at the age of thirty five, a magnificent age for a race horse, and was buried standing up at the stud in 2012. Prior to his win in the Melbourne Cup, Just a Dash had won 9 times in 19 starts. After this triumph, despite having another 11 starts, he did not record a single victory and only achieved a place on three occasions. In addition to the considerable prize money and winning from other sources, Williams might also have learned a lesson from this race which would influence his strategy for producing winners in the future and that was that native Australian sires were not always reliable when trying to produce staying winners – Just a Dash being sired by the American horse Whiskey Road.
Winning Another Melbourne Cup
Four years after his win with Just a Dash, Williams was once again a triumphant owner when his horse, What a Nuisance led the field home in 1985. What a Nuisance had not proved to be a consistent winner during his time on the track, winning only ten times in thirty four starts, the last of these being his Melbourne Cup win, after which he was retired from the track.
Regrettably, the theory that only overseas sires could produce stayers did not apply in the case of What a Nuisance, his sire being St Puckle, a son of the great Epsom Derby winner, St Paddy. Nevertheless, Williams would keep on along this path and thi would lead him a horse bred in New Zealand with a most suitable name – Efficient.
Efficient was bred in New Zealand and brought to Australia at an early age, and in his first season set off at a flying pace with five straight wins, the last being in the VRC Derby by 21/2 lengths. This run of success led to a proposed appearance in the Melbourne Cup, but whether through tiredness from his exploits or being overcome by the occasion, he was withdrawn and did not run. Returning to the track for the autumn of the 2006/7 season, he raced without great success only twice and was rested at length for the demands of the upcoming 2007/8 season.
However, Efficient was far from that in the early days of the season, finishing a dismal tenth in the Mimsie stakes at Caulfield, following this with a fourth in the Dato Tan Chin Nam stakes and again failing to place in the Turnbull Stakes. In the Cox Plate a week later he could only manage a ninth place, and so it was with little hope he was entered, at a price of 16/1 in the Melbourne Cup.
There was however, a small matter of his jockey – Micheal Rodd, who had not ridden the horse since his winning ride in the VRC Derby, and on this occasion Efficient lived up to his name, winning comfortably, going away, by half a length.
Sadly, following this victory, Efficient was plagued by injuries which saw him subsequently withdrawn from The"Cup" in the next two years. His one significant success after his Melbourne Cup win came in the Turnbull Stakes in 2009, but following this, he was not seen on the track again for two more years.
Returning to the track in 2011, Efficient appeared to have lost his appetite for racing and the best performance produced was a second place over 3200 metres into the Sydney Cup at Randwick in April 2012. Unimpressed by this lack of Efficient performances, Williams announced with reluctance that the horse had suffered a recurrence of an old injury and was being retired. He now enjoys a life of leisure at the International Home of Rest for Champion Horses in Greenvale Victoria.
Green Moon Makes it Four Wins in the Cup
Williams' thirst for success in the "Cup" did not abate, and it duly arrived in 2012, when his horse, Green Moon, came home at the head of the field. Green Moon seemed to confirm the belief that stayers of quality could only be bred outside Australia, having been sired at the Coolmore Stud in Ireland (although trained by Roger Hickmot in Australia).
His sire, Montjeu, had demonstrated an exceptional talent in winning major races over longer distances, having racked up wins in the Prix du Jockey Club and the Prix de l'arc de Triomphe in France, the Irish Derby and the King George VI and queen Elizabeth Stakes in the UK during his brief time in competition.
The on-track career of Green Moon, when looked at in detail, suggests a plan had been devised for him with the specific intention of winning the Melbourne Cup. In his maiden season, he chalked up only one win of note – in the Fairway stakes, and was then bought by Williams and moved from Coolmore to Australia in the tender care of Hickmot.
Here he began to truly live up to his potential, winning as a three year old the Newcastle Gold Cup, a group three race over 2300 metres (thus demonstrating his staying powers) and running second in the Caulfield Cup. Returning to the track in the autumn season, he romped home triumphant over 1600 metres in the Blarney Stakes at Flemington.
All was now set for his greatest season. His spring campaign as a four year old began with a close second place in the John F. Feehan Stakes and a win in the Turnbull, both results helping to rank him as one of the favourites for the Cox Plate, and the Melbourne Cup. Yet, almost as if the pressure of being favourite was too much for him, his appearance in the Cox plate proved a flop, coming home an undistinguished seventh.
Immediately, his odds for the Melbourne Cup 2022 Betting drifted to $22 – a price which might be said to have suited his mentality better. When the race started, Green Moon settled into a comfortable seventh place, appearing almost disinterested in proceedings.
Once in the straight, a change of gear saw him shoot clear and hold the number one slot to win by a length from Fiorente. The horse which would go on to win the race the following year, although not in Williams colours. In all, Green Moon won seven times over distances of 1600 metres or over, before retiring as an 8 year old after a final appearance in the Doomben Cup.
A New Crop of Melbourne Cup Hopefuls
Williams next victorious Melbourne Cup, came in 2016, when combining once again with Hickmott, the pair brought home the gelding Almandin in first place. Almandin was an unusual example of a leading racehorse, being of pure German lineage, and Germany not being perceived as a major hotbed of horse racing.
His sire, Monsun, however, proved to be exceptionally fertile from the point of view of the Melbourne Cup. Not only did his progeny Almadin win the race in 2016, he also sired two winners of earlier Melbourne Cups, in 2013(Florente) and 2014 (Protectionist), although once again not in the Willliams colours. When originally raced in Europe, both in Germany and France Almandin had shown great promise, winning a Group two race over 2000m, in which he left the aforementioned Protectionist, trailing by three quarters of a length. Unfortunately, however, his exploits were cut short, when he damaged a tendon shortly after this win.
At this point, Lloyd Williams came on the horse, and after careful examination of his pedigree and potential, took him to Australia to hand him over onto the tender care of Robert Hickmott. Carefully nurtured by Hickmott in his first race in Australia in June 2016, Almandin finished an undistinguished sixth over 1600m, and followed this up with two further unplaced run outs over similar distances.
It was almost as if these races were used by Hickmott to aclimatise the horse to Australian conditions, for when he reappeared on the track in September, he left the entire field trailing by more than two lengths to win the Harry White Classic over 2400m at Caulfield. Eight days later he was to reappear in the Bart Cummings Stakes over 2500m at Flemington where once again he was to leave the field trailing in his wake. All these preliminaries were to prove exactly the right preparation for the Melbourne Cup, and on November 1, at odds of 10/1 he swept to victory in a thrilling, hotly contested finish with Irish Challenger, Heartbreak City, finally emerging triumphant in the last few strides.
Almadin was never to reach the heights of success again on the track, although racing and placing frequently throughout the next three seasons. His final triumph was to come in the Tancred Stakes in 2018, when he was brought home in first place by Kerrin Mcevoy, the same jockey who had ridden him to victory in the Melbourne Cup. In total Almadin earned a total of over $5.5 million for his owners in the short time he was working on the tracks of Australia.
Bring Cup Winners From Abroad
The year following the triumphs of Almandin, Lloyd Williams was once again to bask in the glory of winning, once again the Melbourne cup, when another of his horses, Rekindling came home half a length in front of the field. Unlike Williams other winners, Rekindling hardly raced in Australia at all and came to the country specifically to race in the Melbourne Cup. Rekindling had been sired in England by High Chapparal, an Epsom Derby winner in 2002.
Foaled in 2014, Rekindling was trained for the most part in Ireland by J. P O'Brien, and proved an inconsistent performer both as a two and three year old, both in England and Ireland. Nevertheless, in spite of this indifferent form he was shipped off to Australia at the end of the European season to take part in the Melbourne Cup. This proved to be a master stroke as the horse, starting at 14/1, cruised through the race to win by half a length, leading home a trio of Irish trained horses. Rekindling permanently relocated to Australia in 2018 and retired from the track a year later.
Williams latest Melbourne Cup winner, Twilight Payment proved very much to be a gamble which paid off for the millionaire owner. The horse itself had hardly covered itself in glory in its' native Ireland and though it had raced there and in the UK and in France and Saudi Arabia, consistent success had proved elusive.
Twilight Payment did not race until his third year when he chalked up wins in two major races before the season ended and great things were expected from him as a four year old – unfortunately in vain, with the horse failing to trouble the scorers. His season as a five year old proved similarly uninspiring, and at the end of the season, he was sold off. In the early part of 2019, Twilight payment raced in the colours of his trainer's wife, Jackie Bolger, with moderate success, which eventually lead to him being picked up "for a song" by Lloyd Williams. Deep discussions with his jockey up to that time Kevin Manning gave Williams an inkling that somewhere in the horse there was lurking a winner, and subsequent to his purchase, Williams moved him to the training stables of J. P. O'Brien.
After one mediocre performance in Ireland, he was shipped off without great hope to compete in the Melbourne Cup. He did not disappoint, finishing eleventh with Hugh Bowman in the saddle, but only four lengths behind the winner.
With this result, and following other encouraging performances in Ireland and the UK, Twilight Payment returned to Australia in 2020 to make another attempt at the Melbourne Cup. Ridden by Jye Mcneil, the horse led from start to finish, and though his winning margin was less than a length, he is the only horse to do this in the history of the race – perhaps until this year.
Lloyd Williams is known to be a very private individual, largely unknown outside his native land, except by the upper echelons of the racing fraternity. A journalist who was seeking to discover more about the man asked about his philosophy when looking for potential winner, was told "Lots of luck, and the almighty shining on you, that's the strategy" Possibly this is right, although being an excellent judge of horse flesh might have something to do with his success and his training connections in Ireland and the UK will not exactly have hindered his performances.
Williams, who estimates he has spent upwards of $30million on the progeny of proven stayers while attempting to find winners, would even remark that his sanity had often been questioned when talking about the Melbourne Cup and his obsession to winning it. Having been a winning owner seven times already, who can say, that at 81 years of age, the man who prefers to watch the race on TV at home, might not improve on that. After all, Twilight Payment is down to run again in this years Melbourne Cup. Who knows…………..