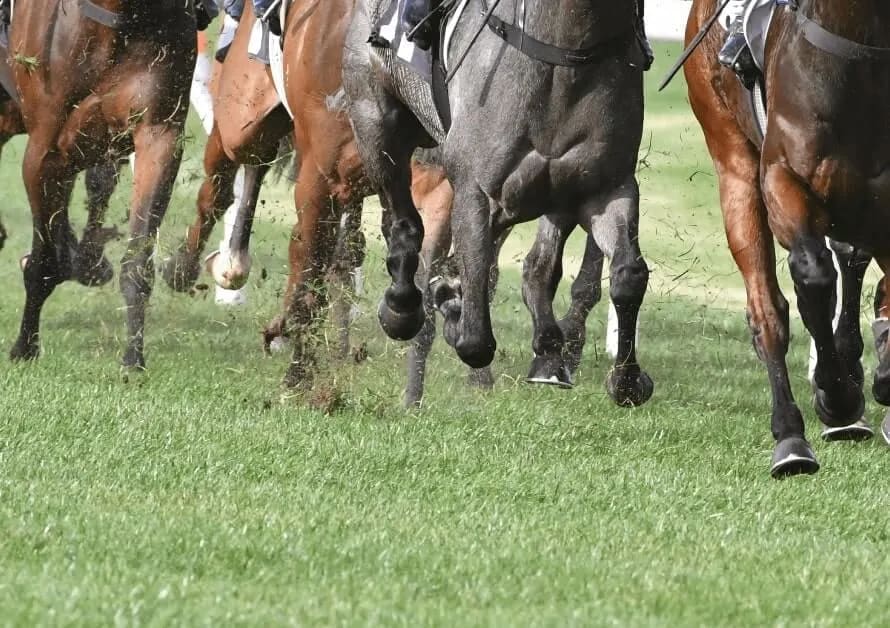 Life has undoubtedly been different the past 12 months with the pandemic and we have been fortunate enough and privileged to see competitive sport and horse racing continue relatively consistently through the period.
It was almost immediately after the Championships in 2020 where we saw racing pulled from the calendar because of the pandemic and now crowds are gradually returning to the track we take a look at our top ten tips to having a great day if its your first time at the track.
Pro Groups Top Ten Tips For First Time Race Goers:
1. Debate The Poncho Or Umbrella
First and foremost it's good to understand the history of The Championships weekend weather. Generally the track ends up being a heavy something and most horses who love to run in the slop prevail. Back in 2017 the rain was so torrential the last day of the championships ended up getting washed out and racing took place on the following Monday.
The debate is to bring the umbrella or poncho. Guaranteed if you leave it in the car it'll rain however there are excellent indoor areas where you can watch racing from the comfort of the grandstand.
Most tracks these days will have an indoor venue you can retreat to whether it be in the main grandstand or covered seating in the members area you should be covered even if you do choose to run the rain gauntlet.
Today's top betting sites
CHANCES ARE YOU'RE ABOUT TO LOSE. Set a deposit limit
2. Plan Your Route To The Track And Find Your Spot
There are heaps of options when it comes to getting to the track as all the major Group racing takes place at the well connected metro racecourses. Particularly Royal Randwick, Rosehill Gardens, Flemington and Caulfield have trains, buses and light rail options to arrive at the track in plenty of time.
It's generally a win to arrive early on course especially if you can arrive before the first race so you're not rushing. Getting there in plenty of time gives you several benefits in that a.) you can find yourself a good spot on course to watch the action from whilst being close to the amenities b.) get a drink or something to eat before the rush c.) most importantly get your bet on in good time.
Getting there early also gives you a chance to see the horses and relax a bit more on entry, rather than powering through the gates to the rails to watch the final 100m of the first.
3. Get A Copy Of The Race Book Or Best Bets
One of the main parts of heading to a race day is knowing what horses you want to bet on. Getting the race book from the racecourse or taking a copy of best bets along to the track with help guide you through each race and give you an indication of which horse you should back.
Lets be honest if it's you're first time at the track you can read a form guide and understand very little. Having the a guide to break it down vastly improves you chances of finding a winner.
You might be an omen punter who backs colours, numbers or jockeys. You could be a stats person and back a horse based on recent performances. Or you might just like the name of something and thats it. Having a race book or a copy of the Best Bets will always help.
4. Take A look At The Parade Ring
At randwick particularly they have an allocated area called the theatre of the horse that is located outside the main grandstand where horses are paraded before being taken under the grandstand and onto the track.
Horses are magnificent animals and attending the races gives you a fantastic chance to see a racehorse so close. Jockeys and trainers will often be deep in conversation in the middle with the owners before heading out onto the course proper.
Rather than looking like a novice have a lean on the parade ring rail and follow the horses around the ring whilst scribbling down some notes in your race book.
Some key signs to watch out for if a horse isn't on top form are heavy sweating and if they are carrying a gut they may be overweight. Horses may refuse a jockey to board if they are not feeling 100%.
When a horse is on form it looks toned, walks alertly and enjoys flaunting his well groomed coat. First time race goers might like to dive into the parade ring experience by chucking out a "nice fetlock" or "excellent coat" comment to really come across professional.
5. Watching Your Runner Arrive On Track
You've got your runner, you've just seen them cantering round the parade ring and now its time for them to arrive on track.
It's a buzz to watch your runner head down to the start and be loaded into the stalls. Seeing them stop and walk calmly into their starting position so professionally is a site to see.
Generally you'll have picked your runner, watched him parade and now looking for them to perform on the track. When the gates crash back and horses jump the crowd will cheer and the jockeys flood with adrenaline.
Unless you're on top of former champion sprinter Chautauqua who was retired in 2019 with over $8m in prize money because he just decided to stop jumping from the stalls.
6. Have A Bet And Back Your Horse
When arriving at the track you might have downloaded an app prior to the day to place bets on and whilst easier and generally faster, nothing beats the feeling or rolling up on a bookie in the betting ring with a winning ticket.
Placing a bet at the races is part of the fun no matter how much you win or lose. One of the best strategies for a first time bettor is to work out your budget before you go and allocate an amount per race whether it be $5, $10 etc.
There are usually 8 or 9 races on a standard race card so there is plenty of time to enter the betting ring. It's usually a great experience looking at the different bookies' scoreboards for the best odds and looking to see how the odds change for each runner. Check out Check Out PlayUp Here »
Bets can be placed on win or place or if you're feeling a bit more adventurous you could look to place a quinella (first two) or trifecta (first three) on a race to win big.
7. Stand By The Running Rail During A Race
If it's just for one race head down to the track and take a look at the action close up. Get a feel for the speed of the horses, the effort and work the jockeys are putting in or just the buzz of watching your horse give everything to the finish.
You can watch Racing NSW from the stands or on monitors inside but nothing beats getting up close to the action and getting carried away in the atmosphere of a horse race.
In some instances in Adelaide or Warrnambool where jumps racing can take place in the winter get close to a barrier or hurdle and get a feel for the fantastic ability the horses have.
The closer you can get to the action the more adrenaline will course through your veins. In 2017 Glyn Schofield wore a jockey camera when losing to the Mighty Mare Winx at Royal Randwick. You couldn't get closer and just watching the footage will give you goosebumps at the majesty of Winx in such a rare view.
8. Admire The Characters Of The Racecourse
One thing about horse racing is that there are people from all backgrounds represented in the industry.
Familiarise yourself with the trainers, jockeys and owners. Even stable staff, strappers and handlers give you an indepth look at what the industry represents.
Every social class and personality is represented - millionaires and paupers, the reserved and the flamboyant, the stoical and hysterical can all be seen in the detail of a race day.
You might even find you fall into a different category but racing has something for everyone. A classic example was the relationship between the generally calm and quiet Chris Waller training Winx with the flamboyant ownership group that included Debbie Kepitis and was all intertwined with country jockey Hugh Bowman.
9. Celebrate - Especially The Wins
Heading to the track is a celebration. When you arrive there is usually some sort of entertainment via band or fashion show or on course entertainers.
Winning is rare so no matter how much make sure you celebrate. When i was at Flemington once a mate won $2.75 on a $5 bet and celebrated like she'd just won State Of Origin.
Take the wins and enjoy them but more importantly enjoy the day. Whether its a day out with friends or family, a bucks or hens do or a private function make sure you enjoy it.
10. Head Home
Don't forget to head home when the last race has been run and won. Hopefully you'll be heading off into the sunset feeling like Bonnie and Clyde with pocket fulls of cash but regardless racing is always an enjoyable experience.
Also, do your research on the day. On some major race days the Australian Turf Club, Melbourne Racing Club or Victorian Racing Club will put on after race day events. In 2018 Caulfield Racecourse hosted Temper Trap, Flemington hosted the likes of Taylor Swift and Guy Sebastian and iMoonee Valley will always have a place for Daryl Braithwaite and Horses.
Racing experiences can be varied from state to state so once you've tried it, try it again somewhere else. Try a carnival, try a mid week race day, try a provincial track or even night racing because each race day is entirely unique.
Other Things To Consider
As a horse race attendee its also worth considering things like fashion, on course functions or looking into hospitality options.
Fashion is a big part of racing as it gives everyone a chance to dress up for the occasion and show off the colours of the season. Many race venues will have a Fashions of the Field segment and several prominent sponsors will have prizes for best dressed.
Food is also a significant part of the day with restaurants and hospitality businesses sponsoring on course tents or venues. These venues add a completely different dynamic to each race day and provide a theme for on course entertainment.
Finally if you're lucky enough to be visiting the course in a hospitality area don't forget to check the dress code for your area. Most of the hospitality areas come with dining and beverage options and can provide an added element to your racing experience. x
Changing Landscape
It would be naive of us to not consider the current racing restrictions when talking about attending a race day and always advise punters to arrive at the racecourse in plenty of time having read the current track protocols before hand.
Most tracks are now welcoming back fans to watch the action but some do have attendance limits and designated seating areas for attendees.
When attending we advise checking your racecourses website to review current Covid-19 protocols and adhere to them when attending the races.
It is a different world from the one we were in just 12 months ago but there is no reason racing can't be enjoyed by all in attendance and a great experience had by all first time race goers.