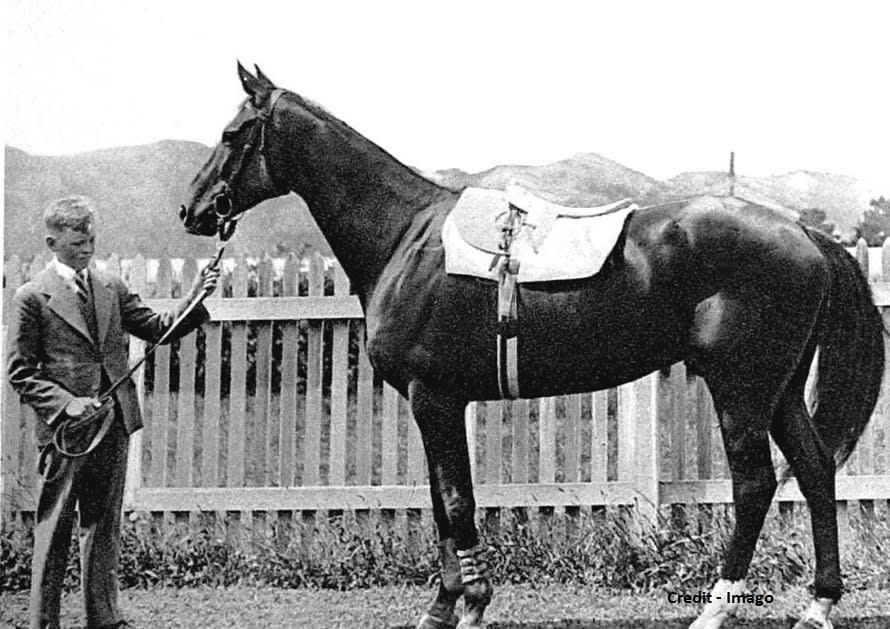 Best Of British: Red Rum
In the late 1970's, there was a titan of the track whose name was regularly on the lips of racing punters across Europe and that name was Red Rum. Affectionately known as "Rummy" the giant chestnut was a formidable opponent for any runner of flat or jumps in the UK.
Red Rum spent his early years in Ireland at the Rossenara Stud in Kells, and was originally thought to have great potential as a sprinter over short distances on the flat. Indeed, as a three year old he was twice ridden, without great success by the famous British Jockey, Lester Piggot, and combining this with other "failures'' he was moved from trainer to trainer, finally winding up in the yard of Southport car dealer, Ginger McCain, who took over his care on behalf of his Irish owner, Noel le Mare. The move to McCains' yard was the catalyst which turned an average flat sprinter into a world beating Steeplechaser. McCain would frequently "gallop" his horses on the sands of Southport beach to build up stamina, often taking the Red Rum into the sea itself for therapeutic swim to help with his pedal osteitis by hardening his hooves.
The first demonstration of Rummy's greatness came on 31st march 1973, at Aintree in the Grand National. Hot favourite for the race was an Australian horse by the name of Crisp. Carrying 10kgs more weight than Red Rum, Crisp had at one stage in the race led the field by thirty lengths and had taken the last of the thirty fences fifteen lengths in the clear. Slowly but surely, as the four miles and four furlongs of the course were eaten up in the run to the post, Red Rum chased down Crisp and with two strides to go took the lead, and the race, and in a new record time. Crisps' jockey, the experienced Richard Pitman later commented "Crisp running so strongly and jumping so fearlessly, and then the sound of Red Rum's hooves getting closer and closer, like an express train thundering by".
Rummy romped home carrying a weight of 77kgs in the 1974 Grand National and went on to win the Scottish Grand National in the same year, a feat not frequently achieved, but came in second in the following two years, largely due to the weight handicaps he was obliged to carry over the four mile track. However, come 1977 Red Rum was back to his divine best, winning the National for the third time by seven lengths, a feat never before, or since achieved. At the age of thirteen Red Rum was preparing for the 1978 Grand National when on a training run he struck a fence and suffered a hairline fracture leading to his withdrawal from the race. Sadly, he was retired and never raced again.
This, however, was not the end of the story. Red Rum had earned himself such a place in the hearts of the nations' racegoers that he became a celebrity (a bit like Sub Zero for the Aussies), opening supermarkets and making guest appearances at sporting functions. Indeed, one of his more unusual appearances was on the BBC TV program "Sports Personality of the Year'' where he was given an award for lifetime achievement in his sport. His racing life is commemorated by a statue in his honour at Aintree Racecourse. Really a horse hard to forget.
Two More "Reds" To Remember - Secretariat & Phar Lap
Our second titan of the track arrived in March 1970 at the Meadow County stud in Virginia, and was almost at the moment of his birth nicknamed "big Red" due to his vivid chestnut colouring. By the time he had fully matured he stood 16 hand high (168cms), having first stood on his own without support only 45 minutes after making his first appearance. He grew into an extremely powerful animal, a leader among the pack of thoroughbreds stabled at the stud, and was noted to be exceptionally well-balanced and almost balletic in his movements. After much internal discussion at the stud, and several attempts at naming this super-horse at the Jockey club, he was finally named in honour of Elizabeth Ham, long time secretary at the Stud and who had formerly worked at the Secretariat of the League of Nations – in the Secretariat
As a horse running only in flat races his career was not as long as it might have been had he been a jumper, but in two year of racing the performances he gave will, surely, never be repeated. His first race, in 1972, saw him finish fourth – a result which was put down to his inexperience in a racing field. However, "Big Red" proved to be a quick learner, finishing first in all his subsequent eight starts, recording seven wins. The one black spot on his record was a disqualification for interference which caused him to be demoted to second place, hence only seven! His next year on the track proved to be the one which was to establish his reputation for greatness.
Between May 5th and June 9th 1973, won the three American Classics known as the triple crown, setting track record for the relevant distances in each race. The first of these was the Kentucky Derby. Starting as joint favourite Secretariat literally burnt off his opponents, winning the race in a time which still stands as the fastest even today of 1min. 59.30. Indeed it was not until 2001 that another horse would manage to complete the Derby in under two minutes, and then only by three tenths of a second. So, on to the Pimlico track and May 19th for the Preakness stakes. Secretariat started slowly, and at the turn into the final straight was in last place. Then, with a blistering turn of pace, Big Red went from last to first, found himself leading with 5.1/2 furlongs still to race, and went on to win by 2.1/2 lengths in a track record time of 1min.53.
Such a phenomenon was the big chestnut horse now that, as he prepared for the final leg of the Triple Crown, the Belmont stakes, magazine profiles of him became commonplace, fan mail began to arrive at the stud in such volumes that a P.A. was employed to deal with it, and it was even noted that Secretariat changed his behaviour every time a photographer appeared, and posed like the star he was. As for the race itself, that was a foregone conclusion. For a start only three other horses turned up to compete, and Secretariat started at a price of 1/10, such was his nailed on certainty. He did not disappoint, cruising home by a margin of 31 lengths in a time of 2min.24 – a track record which still stands unbeaten today.
Secretariat was retired to stud in October 1973 after completing a season which saw him win ten of his twelve races, and went on to sire a string of winning horses over the next ten years. The commemorative awards for Secretariat are many, and include such titles as member of Racings' Hall of Fame, nominated number 33 in the USA list of 100 greatest athletes, and even being honoured with a postage stamp bearing his image. However, perhaps the greatest tribute to this magnificent horse was the Disney film made in 2010, named simply "Secretariat." Now that is recognition!
The life story of our second "big red" (actually, in chronological order, the first to bear that nickname) reads like an adventure novel. Foaled in New Zealand in 1926, this chestnut gelding already benefited from good lineage as his sire had already fathered one winner of the Melbourne Cup Nightmarch in1928. He was bought by an American, whose brother lived in New Zealand and was moved, site unseen, to the training stables of Harry Telford in 1928. Described as gangly with and awkward gait, and a face covered in warts, his American owner refused to pay for the training such was his disappointment, with the result that Telford agreed to train him for free in return for a two thirds share of any winnings. After a highly successful period on Australian tracks "big red" was moved in 1932 to North America, to take part in the Agua Caliente handicap in Tijuana, Mexico – at the time offering the richest purse in world racing – which he won in a track record time, completing a run of seven out of seven wins. However, by the end of April of that year, this chestnut champion had died, poisoned, rumour had it, at the behest of US illegal gambling syndicates who feared that this wonder from down under would seriously hurt their operations.
The name of this "big red, wonder from down under, chestnut champion" was Phar Lap. How could we not??
Phar Lap, which is derived from the Thai meaning "sky flash" or "lightening", is commemorated by any number of statues in his honour at different racecourses in Australia and New Zealand. The most famous of these is a life-size bronze at Flemington race track.
in Melbourne. His skin is on display, suitably treated by expert taxidermists at Melbourne museum and his skeleton can be seen at the National Museum of New Zealand in Wellington. In a career which lasted barely four years, few other horses can have left such an impressive record behind them and the question has to asked what might he have achieved in his own right and through his progeny, if he had not been so malignly terminated!
A Blast From The Past! - Eclipse
Whilst there may be a few people still around who might recall the name and exploits of Phar lap, if only from tales at their grandmother's knee, there can be no one who can claim similar knowledge of our next hero horse. Eclipse, whose fame and name was established in the latter half of the eighteenth century, will definitely fall into the category of "I know the name, but can't remember what he did!" Simple answer – for the times he lived in the opportunities available, he did an awful lot.
Eclipse arrived on the planet in early April 1764, and was named after the solar eclipse which took place on the 1st of the month. His blood lines were extremely impressive, including on "male" side two of the three "Arabian" stallions regarded as being the source of all modern-day British racehorses, and perhaps because of this bloodline, grew to an exceptional 17hands.
The horse was notorious for having a difficult temperament, and if stories are to be believed as accurate, he was scheduled for gelding in an attempt to calm him down. Fortunately, he was saved from this misfortune by coming under the spell of a "rough rider" - believed to be an itinerant romany – who worked Eclipse hard both day and night, even to the extent of taking him on poaching expeditions at night. All in all these unorthodox methods had a calming effect to such a degree that his owner agreed to him being put forward to race. His riders, however, commented that while quite often he was docile and easy to handle, if he decided to run, then they would not/could not hold him.
Eclipse had his first run out at the age of five in May 1769, when he won easily, and followed this up with eight more wins in his maiden season. In his second season it was a similar story for Eclipse – 9 races, 9 wins – after which he was retired to stud since no other horses would compete against him. In his period at stud he sired more than 300 horses which went on to earn over £15,000,000 in winnings, and it was established by the Royal College of Veterinary Science in London that approximately 80% of todays' racehorses have Eclipse blood in their lifelines. On his death, the Royal College found that Eclipse had a heart weighing 6.4kgs, twice the usual average weight and considered by those who know these things to be the "X" factor in making a champion horse, and, to support this theory his descendants, Phar Lap and Secretariat also had similarly large hearts.
Although these "medical" facts add interest to the name of Eclipse, perhaps the one true memory of this horse is his legacy of the Eclipse Stakes, which has been run at Sandown Park racecourse in the UK every year, wartime excepted, since 1886. At one time it was the richest race to be held in the UK, with the Rothschild family offering a very generous purse for the winner, although commercial sponsorship has now overtaken such donations.
A Very Modern Heroine - Winx
From the early beginnings of Horse racing we move to today to look at a horse which is certainly known and loved, and certainly not forgotten (yet!) thanks to her record in the last decade. This horse is Winx, one of only three mares to be induced into the Australian Racing Hall of Fame, in 2017, while still being actively involved on the track – a surefire indication of her quality and reputation. Add to this, the achievement of being nominated the second best filly in world racing in 2015 and then improving on this to become worlds best the following year, and we have a true indication of her outstanding talents. These three achievements as well as her many other successes were based on a run of 33 consecutive races, ranging from 1300metre to 2200metres between May 2015 and her retirement in 2019. In short, name a race and Winx has won it. Indeed, the Warwick stakes which she had won in 2016 and 2017, was renamed in her honour in 2018 as the Winx Stakes. She won that as well!
In her first two seasons of racing Winx did not exhibit the talent she would later show for winning, taking first place in only six of her twelve races. Her trainer professed not to be worried by this disappointing form, describing her as a late developer, and there was nothing to be alarmed about. Sure enough his word would prove prophetic. The Australian Oaks, held at Randwick in April 2015, would turn out to be the last race she would ever lose, finishing on this occasion only second by 2.1/2 lengths. After this race it was victories all the way, leading to all the honours and tributes mentioned earlier, and reports on her victories invariably feature phrases such as "like turning on the boosters" or "like an express train" as mark of her tremendous powers of acceleration. As a final reflection of her prowess, Winx was named joint best race horse in the world by the International Horse Racing Federation in 2018, and in 2019 as a final salute it was announced that the new grandstand to be built at Randwick, scene of many of her greatest triumphs, would be known as the Winx stand.
There are many horses through the annals of racing history who have written a page or two with their exploits and then have faded from memory, and it would be possible to write volumes about any and all of them. Selecting the five champions above has been a difficult task and there will be many who will, doubtless, disagree with choice. Fair enough! After all, it's often decided by what you can remember.