Leilani was one of trainer Bart Cummings most successful horses albeit a short racing career
Leilani, the New Zealand-foaled Thoroughbred co-owned by Australian politician Andrew Peacock, was Australian Champion Racehorse of the Year in 1975.
Leilani was a champion Thoroughbred racehorse foaled in New Zealand. However, the mare dominated the racetracks in Australia in her short racing career. The outstanding racehorse from was by Oncidium, out of Lei.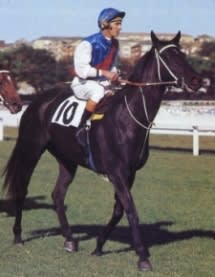 Co-owned by Australian politician Andrew Peacock, Leilani was trained by Bart Cummings, one of the country's most successful trainers.
As a three year old among the principal races won by the mare were the 1974 AJC Oaks, adding to the trainer's total of 264 Group One winners. She also won the AJC Princess Handicap the same year over a distance of 2,000 meters and the VATC Toorak Handicap.
There was no stopping Leilani that year with another victory in the VRC LKS Mackinnon Stakes. Although a favourite in the 1974 Melbourne Cup, Leilani lost out to stable mate Think Big.
The other major races won in 1974 were the VATC Caulfield Cup over 2,400 meters, the VRC Queen's Cup over 2,500 meters, and the VRC Turnbull Stakes over 2,000 meters.
As a four year old in 1975, Leilani won the VATC CF Orr Stakes and the VRC Australian Cup over 2,000 meters with a weight of 58.5 kilograms. The 1975 VATC St. George Stakes and 2,000 meter VRC Queens Plate were in the bag by the end of the season.
Leilani's career was cut short as a five-year-old, winning the weight-for-age 1976 VATC St. Geroge Stakes over 1800 meters. Her feats were unmatched during the 1975 season where she became the Australian Champion Racehorse of the Year.
During her career, Leilani she won six Group 1 races out of 12 black type races and retired with an Australasian earnings record for a mare.
Leilani's progeny continued with three foals namely, Skylarking, Paulownia, and Silver Lei.
Leilani was among nine 'Champion Racehorse of the Year' award winners to be trained by Bart Cummings, which also included Dayana, Maybe Mahal, Hyperno, and Saintly.
Leilani died on 2 May 1990.