Australia's reputation for producing great jockeys is exemplified by Raymond Shane Dye.
Much is said and written about Thoroughbreds, bloodlines, preferred conditions and racing tactics, for example, whether they like to come from behind or run out front.
No amount of talent alone will suffice to achieve greatness for a horse. Natural ability must be mated with a rider who understands horse strengths, weaknesses, those of the competitors and how best to ride various distances and conditions.
To say Shane Dye has enjoyed a successful career is something of an understatement.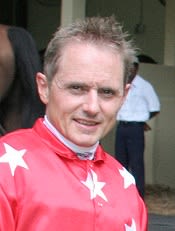 Born in 1966 in New Zealand, Shane Dye moved to Australia in the late 80's after establishing his prowess as the New Zealand Champion Apprentice between 1983-85.
His tactics and riding skills earned the notice, respect and admiration of numerous owners and trainers. Shane Dye was reputed to analyze upcoming rides weeks in advance, a level of preparedness that while not singular, doubtless was a contributing factor to his results.
In his early years, his confidence, aggressiveness on and off the turf, as well as his candor and outspoken nature resulted in a reputation for what some viewed as arrogance. It should be acknowledged, however, "It isn't bragging if you can back it up," and Shane Dye silenced his critics by doing just that.
Shane Dye quickly became a favourite of Aussie punters through performing such feats as winning four consecutive Golden Slipper Stakes from 1989-92 and in that span also posting a victory in "The Race That Stops a Nation," the 1989 Melbourne Cup aboard Tawrrific.
Other wins of note are 4 Derbies and 9 Oaks.
If these accomplishments alone are not enough to establish greatness, throw in 93 Group 1 wins and more than 300 Group and Listed events, consider 79 wins in his first season and two Sydney Jockey Premierships (1990-91 and 1996-97).
Irrefutable evidence is offered by Shane Dye being the first jockey in Australia's long and storied racing history to chalk up 100 wins in one season of Sydney racing, producing $7 million in prize money.
His career to date includes more than 2000 wins in New Zealand, Australia, Hong Kong and Mauritius.
These remarkable statistics do not preclude the fact that Shane Dye's career has experienced hardship.
In the 1992 Caulfield Cup, citing poor track conditions, Shane Dye rode Veandercross wide while in the lead, resulting in a narrow loss to Mannerism, resulting in a race steward investigation.
A serious injury and coma requiring brain surgery in 2006 caused Shane Dye to miss three months worth of rides, even though it was initially thought his injuries were serious enough to hold him out for six months.
Late in 2010, he was suspended and fined by stewards for not racing to their satisfaction in the home stretch of the Emtel Customer's Cup.
All through his career he has garnered a reputation for poaching rides from other jockeys, but this allegation could be levelled at many a rider and it could further be maintained that Dye's success made him the object of envy by other riders. Racing is a tough business and anyone who put together the results of Dye, over such a long span of time is going to have their share of critics.
Shane Dye went onto eight productive years in Hong Kong before moving to Mauritius. He is contemplating continuing his jockey career in India after failing in a return attempt to Sydney.
In September 2010, he joined Racing and Sports as a Director, Consultant and Advisor.
When the subject of great Australian jockeys arises, the name of Shane Dye is certain to come up. Trailing only George Moore and Roy Higgins for career victories, his name is synonymous with tactical ability, hard work, longevity, tenacity and the will to win. His ability to wring the most performance from his mount is testament that it takes more than a talented Thoroughbred to rise to the top.
Small wonder that he's considered the "Golden Boy" of Australian horse racing by punters, trainers, owners, and everyone who is familiar with his remarkable achievements.