Roy Higgins, Champion Jockey, winner of two Cox Plates and numerous other Group Races.
Certainly no discussion about legendary jockeys in Australian horse racing history would be complete without significant mention made of Roy Higgins MBE.
Roy Higgins dominance during the decades of the 1960's and 70's is all the more remarkable because along with being one of the winning-est, he was also one of the heaviest of all time.
Apparently he felt light enough to the 2300 Thoroughbreds that carried him to victories in a racing career spanning 30 years from 1953-1983 despite generally weighing over 53 and a half Kgs.
Born 5 June 1938 in Koondrook, Victoria, Roy Higgins began his apprenticeship under Jim Watters in New South Wales, his first ride coming on Cherry Girl in 1953 at Denliquin. She apparently was one horse that objected to Higgins' weight, finishing dead last.
It was only 2 months later that Roy Higgins scored his first victory aboard Statutory. He went from there to win the title for top apprentice in the southern districts of New South Wales and Northeast Victoria, riding almost 300 events.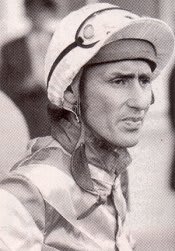 His first appearance at Melbourne's Flemington Racecourse produced a double aboard Gay Saxon and Triage, an accomplishment that supposedly prompted a racing reporter to dub Roy Higgins "The Professor."
Roy Higgins: Notable Results
Roy Higgins provided two of trainer Bart Cumming's 12 Melbourne Cup victories, the first coming on Light Fingers in 1965 and the second on Red Handed in 1967.
1969 - Caulfield Cup - rode Big Philou to a second place finish but was awarded the victory when Higgins' protest was upheld and the win was taken from Nausori. Big Philou was the favourite in the Melbourne Cup of this year, but was withdrawn just prior to the jump in a doping scandal.
Two Cox Plate wins - 1964 riding Sir Dane and 1972 on Gunsynd.
Four wins in the VRC Derby
Five wins in the VRC Oaks
Four time Blue Diamond Stakes winner
Six AJC Oaks victories.
Two Sydney Cups 1962 and 1969
Rode 106 Group 1 winners
2300 career wins
Roy Higgins won his first Melbourne jockeys premiership in the 1964/65 season and added 10 more, tying him with Bill Duncan for the all time record as Victoria 's most successful jockey.
69 Weight for Age wins including 5 Makybe Diva Stakes, 4 St. George Stakes and 3 VRC Lightning Stakes
Produced doubles in AJC All Aged Stakes and VRC MacKinnon Stakes.
Roy Higgins' name is associated with some of the most successful trainers and horses in history. He worked with T. J. Smith and Bart Cummings, two men who would gratefully acknowledge the contribution Higgins made to their reputations.
The impressive list of Thoroughbreds he rode includes Gunsynd, Lelani, Storm Queen and Big Philou.
Roy Higgins, in conjunction with trainer Bart Cummings, posted international wins in Africa, Europe and Asia.
It is worth mentioning that the only major race that eluded Higgins was the Stradbroke Handicap, but his record is otherwise so exceptional that it is entirely possible to extend forgiveness for this one shortcoming.
Roy Higgins retirement from riding in 1984 was not the end of his association with horse racing. His involvement includes roles as an Advisor and Selector of broodmares, a consultant at the North Melbourne Institute of Technical and Further Education, where he instructs in the areas of horse breeding, and he is also a highly popular racing radio commentator.
Higgins was honoured with induction into the Australian Sporting Hall of Fame in 1983 and again in 2001 when he entered the Australian Racing Hall of Fame as a member of the first class along with Thomas Hales, Scobie Beasley, Darby Munro and George Moore.
This honour, it should be noted, has only been conferred upon 29 jockeys in the over 200 year history of Australian Thoroughbred racing.
Punters of the 1960's, 70's and early 80's will never forget the edge they gained when they saw Roy Higgins name on the form, even if his being aboard resulted in a horse being backed off the map on many occasions.
Roy Higgins position on the all time winners' list, horse handling skills, cerebral approach to racing and knack for getting the most out of his mount makes his nickname "The Professor" apt indeed.