Grant Cooksley has quietly compiled a very impressive record as an Australian jockey.
Grant Cooksley has close to 300 wins over the span of his career, with over 120 of those wins coming at distances of less than 1500 meters.
He did the majority of his racing at Auckland, New Zealand at Ellerslie Racecourse, where he has notched 68 wins, and Avondale Racecourse, which has produced 36 wins for him.
In addition to the near 300 winning posts, Cooksley has almost 500 place finishes as of this writing. He has made almost 2500 starts and earned multiple millions of dollars in prize money.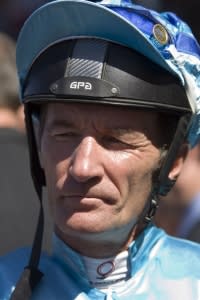 Grant Cooksley has also won at stayer distances, including his victory in the 2006 Group 1 WRC Wellington Cup at 3200 meters. He took Envoy to the winning post, leaving notables Viz Vitae and Kajema in his wake.
Grant Cooksley has had the most rides out of the stables of Richard Yuill. His most productive partnership with a thoroughbred was with Sedecrem.
The two produced six wins in their native land, the use of the word native appropriate in this case, since Sedecrem claims U.S.A. 's Native Dancer in his near lineage.
Two of these wins were Group 1 victories in New Zealand. The first of these was the 2003 Jaguar Easter Handicap Open at 1600 meters and the second was the 2004 Waikato Draught Sprint Open at 1400 meters.
Grant Cooksley is known for a laid-back, somewhat hard to impress approach to his sport.
In fact, when he took Sedecrem from next to last coming into the home turn to blow away the field and take the win in the Waikato Draught Sprint in 2004, a feat that left the rest of the field gasping for air, the spectators with jaws agape and the racing world abuzz with admiration, the strongest praise Cooksley could muster was, "He's a good horse.
Grant Cooksley had his most productive season to date in 2005/2006, when he notched 62 wins. It is speculative to wonder what he could have accomplished on some of Australia 's main stages, but it seems as though he prefers to stay close to home and hearth, leaving the spotlight to others.
In any event, he has the well-deserved reputation of bringing home winners in the sprints. He need only notch a few more Group 1 wins, along with a major event or two, to deserve serious consideration for the Australian Racing Hall of Fame.
Grant Cooksley has recently relocated from his homeland to live in Queensland so we are likely to see plenty of him racing around the metropolitan racecourses in Brisbane.