It is always exciting to see the birth of a new online bookie and while it is too early to form many conclusions, the following review will supply information that we trust anyone considering joining and getting a MidasBet login will find useful.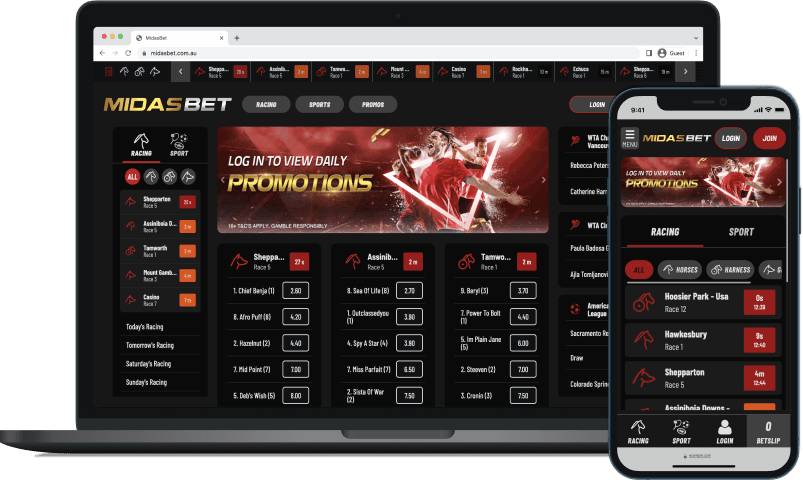 Australian Owned & Operated
Racing & Sports
Popular For
New for 2022 and already making an impact
A multitude of interesting promotions
Great selection of racing bets
WHAT ARE YOU REALLY GAMBLING WITH? Set a deposit limit.
---
Best Tote odds for all Thoroughbred racing
Plenty of Exotics, Futures, Fixed Odds for Win and Place
All popular sports with more codes coming
Member of NSW Bookmaker's Co-Op guarantees payment of winning bets
Australian owned and operated
---
No phone support (yet)
No live betting (yet)
No live streaming (yet)
MidasBet Odds Markets Product Line Bet Types

MidasBet Odds
We have few expectations that as a bookie that has only recently started will have prices as good as the online bookies that have been at it for years and have large client bases.
Our only expectation, as with any new bookie, is that the odds are in the same realm.
We had a look at some gallops markets and found this:
There was not exactly a lot of major racing action taking place, as this review was undertaken in early August, but we found the favourite for the Group 2 Missile Stakes at Randwick quoted as $3.10 with MidasBet. An older bookie had the galloper priced at $3.20.
On the surface, this seems significant, but on closer examination, a $100 bet would only deliver an extra $10 for the win.
Ten bucks is ten bucks, of course, but unless it is the case of a punter that is lodging dozens, or even hundreds of bets on a meeting, the $0.10 difference in the quote can be overlooked by anyone who favours MidasBet for any of the other important criteria that form the basis for the decision about which online bookie or bookies to patronise.
There were plenty of prime sports events bouncing as we were doing this. Here is what we discovered.
We were gratified to discover that MidasBet had a slight edge on favourites for several AFL fixtures. They gave that back by having lower prices for the unders, but we are talking about a penny either way.
This brief, unscientific examination of odds led us to the conclusion that MidasBet wants to be in the game and is in fact in the game already.
Online betting Australia is a fiercely competitive industry and new Australian betting sites are often at a serious disadvantage to older domestic and international corporate bookmakers, but this is not the case with MidasBet, leading us to recommend that any punters who are price-focused should obtain a MidasBet login and make their own decision.
MidasBet Markets
It is easy to sum up MidasBet racing markets in just a few words.
As new betting sites go, or for that matter, even older betting agencies, MidasBet has every racing bet type that is necessary.
Fixed Win

Fixed Place

Best of three totes Win

Middle Tote for Place

Top Fluc
We found these exotics.
Quinella

Exacta

Trifecta

First Four

Quadrella
Anyone can see that a punter who wants to build a multi bet slip for racing should not experience the least bit of difficulty.
On the sports side of things, MidasBet was supporting 13 sports codes, although they may add more before we get to the end of this sentence.
They cover all the popular sports – all the football codes, plus baseball, basketball, boxing and cricket. Any darts punters will have to wait for now.
We nearly always examine what a bookie is doing with regard to the Aussie Rules and we found MidasBet neatly dividing their offerings between the AFL and the SANFL, with nice futures markets for the Brownie, Top Four, Top Eight, Rising Star and Premiership.
As to the individual fixtures, MidasBet was offering Win, Line, two margin markets, draw, over/under and 20 additional markets.
Compare that to one of the major domestic corporates that was offering almost 200 markets.
We expect that MidasBet will expand this as they age, but we often note that beyond the top 10 most popular markets, we suspect that many of those markets do not attract a single punt.
Does anyone need to bet on a "Race to 6 goals" market?
What we would not give to gain an inside look at where the punter money goes for sports such as the AFL, but the only way we know of to do that is to infiltrate a bookie, something we would not consider doing. Besides, it is well known in the industry that the 10 most popular markets are going to account for 99 % of the wagers lodged.
MidasBet, when it comes to new bookmakers Australia, offers enough markets for racing and sports to occupy the vast majority of punters, whether they be strictly recreational types seeking entertainment or the more dedicated variety that devote time, energy and money to frequent punting.
MidasBet Products
With a bookie this new, we were surprised to learn that MidasBet have an adequate selection of sports and racing products. It is far too early to expect all the bells and whistles. There is no MidasBet branded debit card, but we suspect there will be, judging from how well received those types of cards are by punters with memberships with bookies that offer the cards.
They do have daily promotions that are loyalty rewards that are unique to each punter, which is not to say that there is a daily promotion for every member. What is meant is that racing punters will see racing specials, a sports punter will see sports specials and punters who play both sports and racing will see a mix from a variety.
A MidasBet login is required to see these, but that is a small price to pay for gaining access to the pleasant surprises that might pop up.
MidasBet Bet Types
MidasBet have all the racing bet types commonly offered by Australian betting agencies.
We won't list them all, but we will say that we covered some of the different racing and sports bet types earlier. Here, we will just say that MidasBet has all the bet types that Aussie punters, with their abundant choices of Australian betting companies, have come to expect.
MidasBet Promo Codes and Betting Offers
Australian online bookmakers are not permitted to advertise sign up bonuses and MidasBet is no exception. Anyone who joins MidasBet and takes the few scant minutes necessary to obtain a MidasBet login will find daily promotions that apply to sports and racing markets.
Anyone who joins can track promotions that can be viewed on the MidasBet website, with options to have the information sent to the client via email or text messages.

Our Experience with MidasBet
We place great stock in online bookmakers' websites. Some of the other elements we consider important are really similar across online betting websites and the best bookies all do a commendable job of presenting vast volumes of information in an easy to digest and access manner.
MidasBet ticks the box for having a great website.
We admit to being a bit off-put the first time we directed our browser to midasbet.com.au.
They use a dark grey background, combined with solid black in many areas. We almost expected, tongue-in-cheek, to hear the sound of Darth Vader's breathing coming out of our computer speakers.
After a couple looks, though, we came to greatly appreciate how the white text jumps off the page, especially the white price quotes that are surrounded by a white box. It almost seems three-dimensional.
The site also uses red effectively to let users know exactly where they are, or when a match or race starts. The contrast between these red highlights and the black background truly sets things apart and makes navigation and bet placing accurate and fast.
MidasBet uses the familiar three-column layout that could be considered the industry standard. There have been a few online betting sites that have tried something different, but we have not seen any for some time and those previous attempts at doing something different for the sake of doing something different did not end well.
The very top of the page is devoted to a ticker that shows the next race to jump. We think all bookies should have these. If we had anything less than complimentary to say about the ticker, it is that the icons from gallops and the icon for dogs look very similar. The icons do function correctly; sorting the ticker by racing code indeed filters the ticker.
Next comes the box with the MidasBet logo, where there are five highly visible oval boxes for Racing, Sports Promos, and to the far right of the page, two more for logging in or joining.
The left column contains the menu, which can be sorted by Racing and Sport. This is another opportunity to sort the menu for racing by All, Gallops, Harness and Dogs.
The rest of the elegant and simple menu offers links for Today's Racing, Tomorrow's Racing, etcetera, and three more links for the racing codes, just in case they are needed.
Finally, the menu contains links to Feature Races and Racing Results.
We like left-column menus that require no scrolling.

The centre column has all the markets and this is where we started to truly appreciate the colour scheme. When we were viewing racing markets, the white text of the venue and the time until the jump were clearly obvious.
Clicking on a race opened an equally well-designed page that displayed all the racers, the various types of bets and the quotes.
We might have mentioned this earlier, but the font MidasBet uses is big enough that no squinting is required.
This is where we first encountered the MidasBet Form Guide. The oval box for it is right below the Win/Place label. It opens in a separate window that is a little less than half the size of the main page. All the gallopers are listed with a down arrow to open each horse's form, where there are choices for Info, Performance and Starts.
The MidasBet Form Guide is quite possibly the best we have seen in terms of use. We believe this might be the first instance of a form guide that supplied information about a galloper's last 15 starts.
A minor complaint, one that could be applied to many online bookmakers, is that hovering a cursor over a race did not supply the name of the race. Once inside the specific race page, we would have liked to see a bit more about the race, such as the running conditions and the race grade, but that same information is seldom provided by any Australian betting sites.
The right column contains the bet slip, which is entirely adequate, though perhaps not the best we have seen. We are being fussy because MidasBet changed to a smaller font for the bet slip, so we had to lean in a little farther to verify our stake and potential return.
We have to admit, we wanted to dislike the wagering pages due to the colour scheme, but we are enjoying it more and more by the moment.
All the variable information, such as prices, time to jump and the sort are updated automatically in real time.
Our impression of the MidasBet website is that it is one that will serve every type of punter well. Pages are quick to load and the contrast between the text and the background leaves little doubt as to what is going on.
MidasBet Mobile
The rise of some mobile-only bookies is a clear indication of where the industry is heading.
MidasBet is not quite there yet, as they currently do not have dedicated iOS and Android apps.
Punters will have to muddle along, if muddle is the term, with the mobile version of the website, which we found more than adequate to the task of all functions associated with online wagering, whether it is lodging wagers, doing form research, or banking functions.
It seems often the case that new bookies do not have mobile apps, so we would not use that as a justification to steer punters to a different bookie.
MidasBet Sign Up Instructions
Australian online bookmakers have made it easy to sign up and MidasBet has kept that trend alive. Here are some instructions.
Open midasbet.com.au on your computer

Supply the required information – first and last name, D.O.B.

Continue with step one by supplying the rest of the identifying information

Provide a valid email and phone number, then click Go To Step 2 of 2

Create a Username and Password

Set a deposit limit if desired

Acknowledge the MidasBet Terms and Conditions

Confirm Registration

It took us longer to type the instructions than it took us to complete them and get a MidasBet login.
MidasBet Betting Instructions
Login to MidasBet account using Username and Password

Find a sports or racing market and click a price

Add a stake amount to the bet slip

Add more bets or Confirm Bet and you are done
MidasBet Deposit Methods
The MidasBet website lists Visa, MasterCard and POLi quite prominently, but we saw EFT and Bank Deposit given under the General Terms and Conditions.
MidasBet Withdrawal Methods
To withdraw, deposited funds must be turned over at least once and the account holder identity must have been previously verified. Withdrawals may be made to a funding credit card or by direct bank transfer to an account associated with a MidasBet verified account.
MidasBet FAQ's
Yes. It is based in Sydney

---

A bet placed before the final field is announced is lost. If that bet is part of a multi leg or parlay bet, the entire multi leg bet is lost. If the wager is lodged after the declaration of the final field, the bet will be refunded unless it was part of a multi leg bet, in which instance the rest of the bet will stand with the dividend adjusted downward to reflect the now missing leg.

---

$1.00

---

Zero. Same as for any Australian online bookie. Sign up bonuses were eliminated by government fiat in 2018.

---

No, as of mid-2022

---

Not at this time

---

This early on, MidasBet does not have mobile apps, but the website seems to function fine on a mobile phone.

---

Yes. MidasBet is regulated by the Greyhound Welfare and Integrity Commission, is a member of the NSW Bookmakers' Co-Operative, and complies with the rules of the Betting and Racing Act NSW.

---

No. Keep in mind that certain banks and credit card issuers may have fees on their end.

---

Contact MidasBet immediately via email or Live Chat

---
Conclusion
We are always cheered when a new Australian online bookmaker hits the scene. It is clear and direct evidence of the vitality of the online wagering industry. It is also a boon to punters who have another option in an industry where competition for punter eyes and dollars forces the bookies to stay on their toes.
We were pleasantly surprised at how well formed MidasBet is as a new bookie. There is certainly room for improvement, but we could say that about any online bookie.
The MidasBet Racing coverage is great by any standard and already better than some of the competition. MidasBet has one of the most extensive and easy to use racing form guides we have seen in 12 years of watching bookies come and go.
Codes offered, markets under those codes will inevitably expand, and MidasBet is one bookie we hope remains independent into the near future.
MidasBet deserves consideration as a sole provider or as one of an array of online bookmaker memberships.
Location: 
Melbourne Australia
Support: 
email and 24/7 chat
Email: 
support@midasbet.com.au
Types of Bets: 
Racing and Sports
Deposit Methods: 
Visa, MasterCard, POLi, Bank Transfer/EFT
Email Support: 
support@midasbet.com.au
Post: 
Cremorne QLD 4740 Australia
About The Author
John DeBiase has been following the online bookmaker industry since 2010. He takes pride in remaining objective and is immune to bookie pressure to supply favourable reviews. When he does not have a bookmaker under the microscope, John derives great satisfaction from his pursuits as a self-taught musician, handyman, and grandfather.