Malcolm Johnston regular rider on Champion Thoroughbred Kingston Town.
There have been numerous, perhaps too numerous to mention completely, famous jockey and horse combinations that paired to produce results, but on close examination, might tempt one to arrive at the conclusion that the combined efforts of the two surpassed what could possibly have been expected had the two not joined forces.
One of these formidable combinations has to be embodied by that of jockey Malcolm "Miracle" Johnston and his exploits aboard the redoubtable Kingston Town.
Kingston Town needs no formal introduction, and we covered his record in more detail in an article devoted to him entirely, so Kingston Town fans, don't be put off or imply that we intend to slight him by making Malcolm Johnston the primary focus of this article.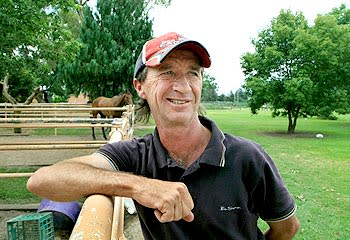 With no further ado, let's take a brief look at the jockey, examine his record and determine where he fits with regard to Australian horse racing history.
We'll begin with the Kingston Town/Malcolm Johnston connection, then shift to a broader look at Johnston.
Malcolm Johnston and Kingston Town first met up in 1979. By the time Kingston Town's days as a runner were through, he had made 41 starts, winning 30 and placing in nine, leaving only two unplaced, one first up as a two-year-old and the other in an embarrassing 20th in the 1981 Melbourne Cup.
He did, however, notch an unprecedented and never equaled three successive Cox Plates.
Johnston's contribution to the effort consisted of steering Kingston Town in 25 of the 30 wins including the first Cox Plate in 1980. He was steering for an additional four Group 1 wins that season.
Doubtless buoyed by the results Kingston Town brought to the table, Malcolm "Miracle" Johnston nonetheless has a record that very few jockeys have ever surpassed.
He earned a ride in no fewer than 12 Melbourne Cups, was in the saddle for the largest ever odds plunge in Australian horse racing history (Getting Closer from 100-1 to 5- 2), accrued over 2000 wins whilst riding in 11 different countries and managed these despite receiving more than 50 suspensions for various infractions that placed him afoul of race stewards.
Malcolm Johnson further polished his halo with three Sydney Jockeys' Premierships as an apprentice prior to taking a Senior Premiership while still an apprentice in a remarkable effort that produced a record-breaking 107.5 wins.
He added three more Sydney Premierships as a senior jockey, the last of these coming when the racing public considered Johnston's greenest turf behind him.
The 1980 Melbourne Cup provides some insight into Malcolm Johnston, the man, so in that interest, here's a brief accounting.
TJ Smith and Kingston Town came into the first week of November 1982 with lofty expectations.
For Kingston Town, it was his second to last run. After returning from leg injuries that cost him the better part of a year, he had posted his third consecutive Cox Plate in a remarkable come from behind victory that was dramatic not only for the feat it represented, but also for the fact that no less an authority than legendary race caller, Bill "The Accurate One" Collins, proclaimed to a vast audience, "Kingston Town can't win..." for a time afterward, it's reasonable to assume that Collins briefly became known as "The Inaccurate One."
Malcolm Johnston was not aboard for this occasion, the ride having gone to Peter Cook.
By some "miracle" Johnston was both eligible and fortunate in receiving the nod for Kingston Town's 1982 Melbourne Cup run.
Unfortunately, history has a way of choosing inopportune moments to assert itself, and in this instance, a brilliant ride by Mick Dittman aboard Gurners Lane denied Kingston Town and Johnston of the crown jewel of Australian horse racing. Johnson freely admitted that he sent Kingston Town too soon, resulting in his being drained at the finish.
Malcolm Johnston, in a post race interview, commented, "Everything went according to plan. Except getting beat by a neck. In our game, you win by a neck, you're a superstar. You get beat by a neck, you're a mug." No truer words could ever be spoken by any second finisher in any sport, at any time since contests of any kind have been held.
The narrow loss resulted in Johnston being replaced by Dittman as T.J. Smith's stable jockey.
Malcolm Johnston seemed to take his demotion in stride, however, and further evidence of his nature is contained in his response to a query regarding his personal assessment of his greatest disappointment in racing. "It was a shit of a year 1982, but everyone sort of says, is that your greatest disappointment in racing and they half expect me to say yes for mine.
The '82 Melbourne Cup was a horse race. I lost a couple of very good friends due to race falls. David Green and Ken Russell, who I was very close to. And Noel Barker. When they lost their life in a race fall, for me that was a disappointment. Not getting beat in any Melbourne Cup."
This is perhaps a fitting attitude for a jockey that was immensely popular, his record number of suspensions contributing to, rather than detracting from the regard in which the racing public held him.
Malcolm Johnson retired with 39 Group 1 wins to his credit, among them a Caulfield Cup, two Epsom Handicaps, a Doncaster Handicap double, two AJC Oaks and numerous others.
He took up training in 1997 and produced 200 winners including stakes winners Shags and Stella Maree. He also was a jockey training officer for racing NSW and fills his time as a popular corporate speaker.