Frank Bullock first rode in England in 1903, winning in 1905 the Steward's Cup at Goodwood Racecourse.
In the era before shuttle stallions, when the risk of sending a valuable sire to another hemisphere in order to service mares according to their natural reproductive cycle was too risky of a proposition to consider, there were jockeys that were able to make the journey successfully and produce impressive results.
Frank Bullock (1885-1947) was one such jockey. Then, in what is generally described as a holiday, he came to Australia late in 1905 to ride Blue Spec.
This was one of the most productive vacations in racing history, since Bullock managed to win both the Perth Cup and the Melbourne Cup that year.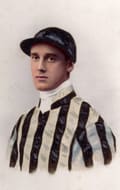 Bullock remained in Australia for several years, and then returned to England to participate in that country's racing season in 1908.
The following year, Frank Bullock found himself riding with great success in Germany. He won that country's jockeys' premiership five times in the run up to World War I.
He returned to England at the outbreak of hostilities, riding the German horse Cyklon. Even though it was not easy at the time, Bullock had Cyklon shipped to Australia after the war.
The two posted some wins together before Cyklon, retired to stud, sired Trivalve, the winner of the 1927 Melbourne Cup.
Between the end of the war in 1918 and 1925, Frank Bullock continued to divide his riding time between Europe and Australia. He won seven major races in Australia in 1918-19: two Caulfield Cups, the VRC Oaks and Adelaide Cup in 1918, and the Futurity Stakes, Perth Cup, and Western Australian Derby in 1919.
Frank Bullock won seven major races during his next sojourn in England. These included three victories in the Eclipse Stakes, a double including the 1,000 Guineas-Oaks, the Ascot Gold Cup and the Cesarwitch.
Bullock also has the singular honour of winning the inaugural Prix de l'Arc de Triomphe in 1920 while riding Comrade. He then repeated his victory in this event in 1922 aboard Ksar.
In the days before air travel was common, and it was often a matter of weeks to move between Australia and Europe , Frank Bullock proved that it was possible to be productive on the world stage.
While his total number of wins might pale in comparison to some of the more successful modern day riders, it must be remembered that Bullock had far fewer rides. Undoubtedly, had he ridden in the modern era when travel between continents has been reduced to hours instead of weeks, and he had the modern racing schedule where he could have ridden more, his statistics would have inflated considerably.
Frank Bullock was inducted posthumously into the Australian racing Hall of Fame in 2006.