All Australia loves horse racing. All Aussies love a party.
Combine the two and you arrive at the racing carnivals that are much more than the sum of their parts.
One such event coming at the start of the year is the Magic Millions.
Initiated in conjunction with the horse auction of the same name in 1986, Magic Millions has expanded in significance to where it is recognized as second only to the Melbourne Cup carnival among Thoroughbred social events.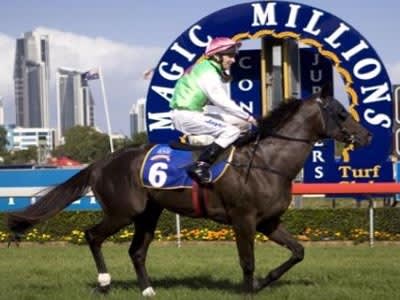 Combining a yearling auction, race and a multitude of parties, Magic Millions survived early financial turmoil and a brush with bankruptcy to achieve fiscal stability through the efforts of Australian businessmen John Singleton and Gerry Harvey.
In something of a surprise development, Harvey and wife Katie page very recently bought out Singleton to become sole owners, a move announced 28 January 2011. Harvey is seeking to revitalize Magic Millions, which seems to have run onto a rough patch, not unlike many other Australian companies affected by the recent global economic downturn and devastating floods.
They apparently succeeded, barely, and perhaps for the short term. International buyers, citing the strong Aussie dollar, were in short supply, but this year's auction nearly equalled last year's in terms of total volume, average price and clearance rate. It appears as though optimistic domestic buyers covered the international plunge.
Spending on discretionary items, and racing falls squarely into the category, always suffer during a downturn. In that light, former Melbourne Cup carnival director and newly appointed Magic Million managing director Steven Silk and Harvey are mulling other tweaks to stimulate participation from all sources. The exact nature of these and their results remains to be seen.
One effort worth mention: Harvey is cutting commissions on the Weanling and Broodmare Sale in May in an effort to incentivize vendors to lower their reserve prices and maintain an 80% clearance rate.
Magic Millions lays claim to some rather impressive stats. The 2009/10 racing season lists 156 stakes winners from among their alumni, over 500 winners at all levels in the past 12 months, a couple of the most recent being Shoot Out's Randwick Guineas and AJC Derby. 2009 featured Shocked bring home the Melbourne Cup and Dance Hero, the two-time Australian Champion 2 and 3 year old.
Other Thoroughbreds of note were Lovely Jubly, Brave Warrior, General Nediym and Testa Rossa, all winners of the Magic Millions carnival feature race for 2 year olds.
The auction has produced multiple Group 1 winners. Seven of the last 10 Golden Slipper Stakes winners attract noteworthy trainers such as Lee Freeman, Gai Waterhouse and David Hayes, along with interests from Godolphin, all perhaps looking for bargains to match the $15,000 investment that produced Shoot Out.
Magic Millions race day, along with featuring 8 races limited to entries from Magic Millions sales, added a three year old event in 2001, won by Paradiddle, with Golden Slipper Stakes winner Ha Ha encoring in 2002.
A 1400m event was added in 2003. 2007 introduced races for horses 3 year and upwards in sprints, endurance and Fillies and Mares.
The races are held at the Gold Coast Turf Club, directly adjacent to the Magic Millions sales complex at Bundall. The sales facilities can accommodate almost 1000 horses and has an air conditioned, enclosed sales ring. It remains to be seen if Messrs. Harvey and Silk will modernize the facility, which some feel is lacking compared to others.
Criticism aside, this year's carnival raised over $1 million for flood relief courtesy of celebrities and thousands of punters from among the estimated 15,000 in attendance. The charitable results realised during the celebration, with its social events, fashion shows and parties are proof positive that those fortunate enough to escape the disaster were willing to lend a helping hand to those that weren't.
Magic Millions maintains sales offices in Gold Coast, Adelaide, Melbourne and Perth and also has representation in New Zealand. Besides the major sale in January, sales also are held in Perth during February and Adelaide in March.