Bairnsdale Racecourse established in the region in 1862.
The Bairnsdale Racing Club which operates the Bairnsdale Racecourse has a long association with East Gippsland.
The club is well-regarded in the community, with support from major community partners including Patties Foods, East Gippsland Shire and East Gippsland Water together with a wide range of local businesses who support the race club through a range of sponsorship initiatives.
The Bairnsdale Racecourse is operated by the Bairnsdale Racing Club and holds seven race meetings in the racing season and will hold the Bairnsdale Cup Carnival from October to December which will incorporate three Cups over three months;
October - Patties Foods Bairnsdale Cup
November - Melbourne Cup Day at Bairnsdale
December - Christmas Cup Day
Throughout the year they also celebrate the Peels Cruisers Lakes Entrance Cup Day, Dahlsens Lindenow Cup Farmers Big Day Out and our Summer Race day on 2nd January all at Bairnsdale Racecourse.
The club follows up great racing with great entertainment, including live bands, fashions on the field, free children's activities, roving entertainers, marquees and dining packages. Be there track side...
Contact:
BAIRNSDALE RACING CLUB
Racecourse Road,
Bairnsdale,
Vic. 3875
Ph. (03) 5152 4057
Fax (03) 5153 1252
Email: bairnsdale@countryracing.com.au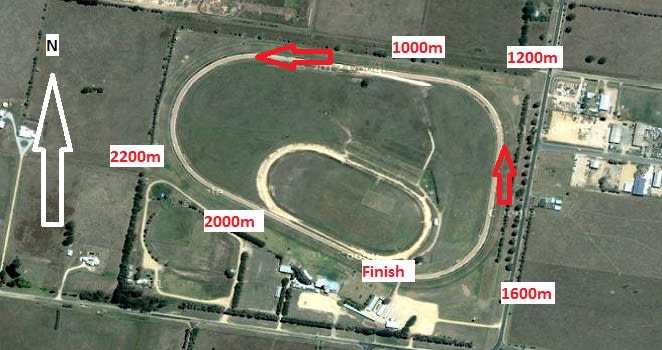 Bairnsdale Racecourse Information:
Based at its current Racecourse Road location for 33 years, Bairnsdale boasts Victoria's most-recently built race track. The Racecourse is a drought-proof facility based on an ongoing sponsorship/support of East Gippsland Water, who provide continual access to recycled water. Other features include:
18m wide track
Well grassed Sandy loam soil
Banked turns into the straight
Circuit has good straight runs
The Bairnsdale Racing Club provides the only professional training and racing facility between Sale to the west, Merimbula to the east, and Wangaratta to the north-east.
The training facility at the Bairnsdale Racecourse is utilised six days per week, all year round. It is regularly used by 21 trainers, and over 20 horses train at the facility. Features include
Sand track
Stabling
Horse wash facilities
Course proper
Permanent jump out stalls and chute direct to sand track