Alice Springs Racecourse also known as Pioneer Park Racecourse
The Racecourse is located at South Stuart Highway Alice Springs NT 0870.
Racing moved to Pioneer Park on the South Stuart Highway in 1977, following the closure of the Mount Nancy Racecourse, which was on the North side of town, approximately where Head Street is now situated.
The Mount Nancy Racecourse was established in 1928 after a Royal Dedication of land was made for public recreation.
The last race meeting at the Mount Nancy Racecourse was on 18 June 1977, with the last Race being won by a horse called Abeson trained by Gary Curnow and ridden by Tommy Gibbs.
The Alice Springs Turf Club operates the Alice Springs Racecourse and is just 7km from the Alice Springs CBD, is Australia's most centrally situated thoroughbred racing club.
Patrons to Pioneer Park are well catered for, from the well-appointed Members and Public Bars, to the fine fare served up from the Kiosk, to the pleasant surroundings that individuals and families can enjoy - and then there's the racing!
The Alice Springs Turf Club hosts many meetings during the year including XXXX Gold Alice Springs Cup Carnival at the Alice Springs Racecourse.
Contact:
ALICE SPRINGS TURF CLUB
Pioneer Park Racecourse
PO Box 181,
Alice Springs,
Northern Territory 0871
Ph. (08) 8952 4977
Fax (08) 8953 0426
Email: redcentreracing@octa4.net.au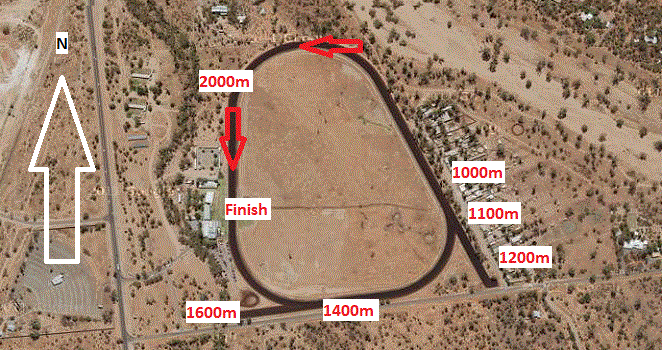 The Alice Springs Turf Club races approximately 34 times a year at its Pioneer Park Racecourse.
The Alice Springs Cup is run on the first Monday in May with the Pioneer Sprint run two days before on the Saturday.
The township puts on a great carnival atmosphere for the racing visitors so make sure you give the Alice a good thought for a fun weekend away if you are looking for a thoroughbred adventure.
Racecourse Details:
Alice Springs Racecourse being a dirt track is regarded by many as one of the most scenic and beautifully situated tracks anywhere in the country.
Located in the middle of Australia many may think that makes it the most out of the way racecourse, but in fact it's actually the most central.
The Alice Spring Racecourse is a good size track with a total circumference of 1690 metres and has a home straight being 270 metres long. The surface itself is composed of a special sand mixture.