New bookie launches often seem to be fraught with bugs and glitches, but Colossalbet seems to have emerged from concept to execution well-formed and they have improved with each passing day.
Colossalbet first became available for betting in March of 2021 and has survived for over two years, which indicates that they are doing things properly in order to attract and retain clients. This is impressive in a country such as Australia, where online bookies often seem omnipresent. To survive the fierce competition, Colossalbet has proven that their offerings appeal to Australian sports and racing punters.

Domestic & International Racing, Australian Owned
Popular For
Outstanding For Racing Punters
Great Customer Service Options
WHAT ARE YOU REALLY GAMBLING WITH? Set a deposit limit.
---
Outstanding for racing punters
Competitive fixed odds
Multiple Customer Service options
Website and mobile apps function together seamlessly
Offering domestic & international markets for racing & sports
---
Can be slow to post racing odds
Does not yet offer live streaming
Fewer sports markets than competitors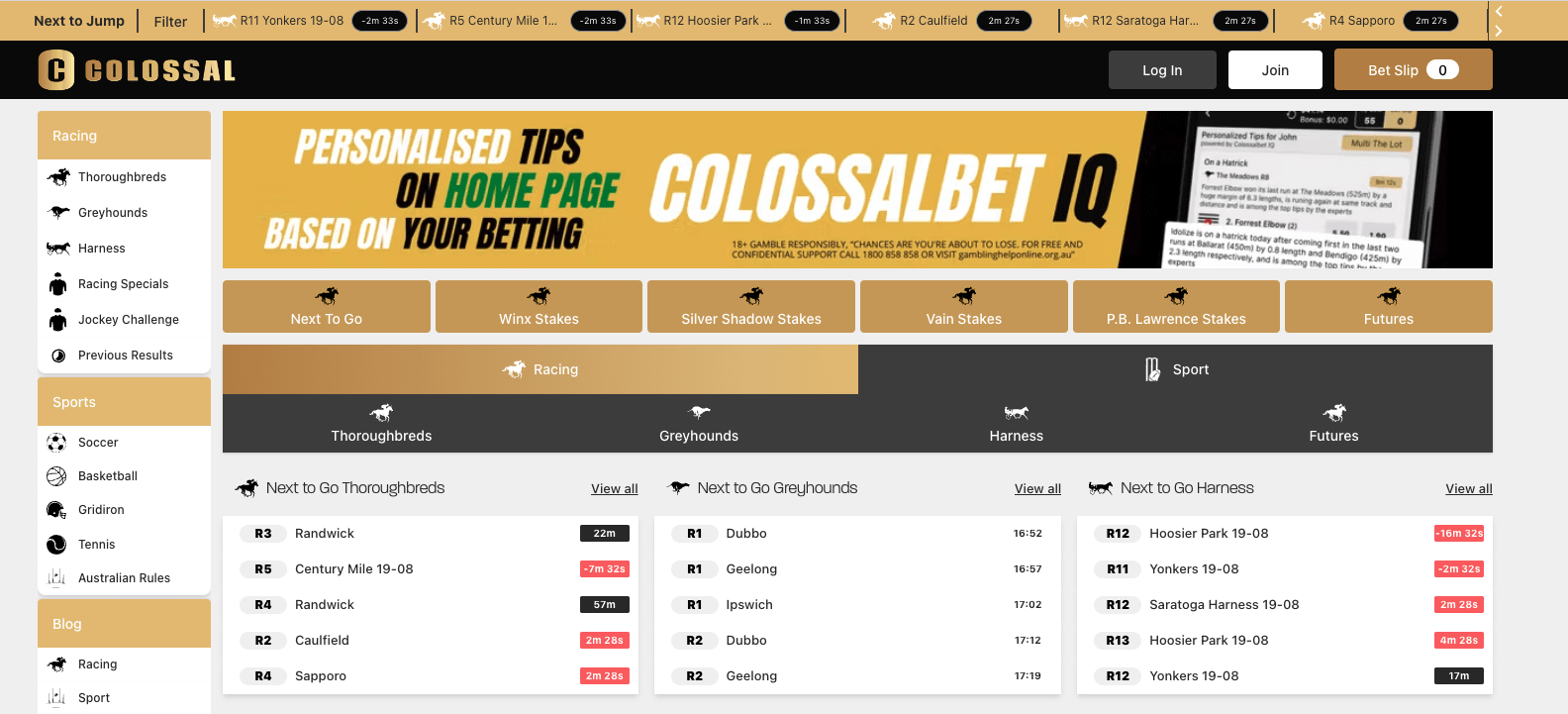 Colossalbet Odds
We have been comparing bookie odds quotes for almost 15 years.
During that time, we have never seen any major difference between bookies.
Here is an analogy, which we will follow with some specific examples.
It is possible to think of bookmaker odds similar to how petrol prices work. If you are out driving about and decide it is time for some fuel, you might notice that most fuel stations are around $2/litre. You will not drive around the corner, or drive as far as you can imagine, and find another station selling the same fuel for $1/litre. If you are fortunate, you might find petrol for $1.95/litre, but most of the time, the other prices you see will be along the lines of $1.99 or $2.01/litre.
If you want to punt a Thoroughbred race and the big bookies are quoting the favorite as $1.90 Fixed Win, you are not going to find a different bookie quoting a price of $2.90.
With all the choices Australian punters have for online bookies, competition dictates that if prices are too low, punters will not place wagers. If prices are too high, too high to be true, a bookie might go bankrupt paying winners double what those winners might have gotten with any other bookie.
To illustrate, here are a few quotes on a soon-to-jump race featuring the prices on offer from Colossalbet, Neds and Bet365.
We selected a footy match between Sydney and St. Kilda and a gallops race at Eagle Farm, the Stradbroke Handicap.
For the footy match, Colossalbet had Sydney for $1.62 and St. Kilda for $2.28.
Neds had it as Sydney $1.65/St. Kilda $2.20.
Bet365 was quoting Sydney $1.68/St. Kilda $1.91.
Shifting to the Stradbroke Handicap, Colossalbet was quoting the Fixed Win favourite at $2.60 for the win.
Neds' price for the favourite was $2.80 Fixed Win.
Bet365 had the favourite priced at $3.00.
Frankly, we did not expect to see a $0.40 spread on one race between three bookies, but it was mainly due to the race being five days out when we checked the prices.
Still, if you bet the favourite and the favourite does not salute, it doesn't really matter for what price you got the punt on.
The conclusion is that there are really only two scenarios that would make it prudent to continuously check prices between bookies.
The first of these is that you enjoy tracking down the best quote, even if you punt only recreationally. We ourselves enjoy a bit of shopping.
The other reason is that you have multiple bets week in and week out, where getting a good price can enhance profits over the course of a year. Still, this enhanced profit only accumulates if your punts win.
For the occasional, recreational punter, shopping odds as an end unto itself is potentially a futile pursuit in terms of expenditure of time and energy. For the more advanced punter, most will already have multiple bookmaker memberships, so shopping quotes is a foregone conclusion.
For the majority of people, the competitive nature of online bookmaking means that it is fine to find a bookie that offers the other amenities and features that are important to any individual punter, and stick to that bookie without fear of overpaying. Join Here
Colossalbet Markets
While it may be true that Colossalbet has fewer sports on offer and fewer sub-markets within those sports, it is not true that Colossalbet lacks sufficient depth. We did a rough count on the number of markets Colossalbet had on offer for the footy game we used in the above example comparing odds.
Of course, Colossalbet had the main markets, the ones most punters select, including head to head and line. For the line, Colossalbet and the other two bookies, Neds and Bet365, had identical line quotes.
As for additional markets, we counted 130 on Colossalbet; Neds had 158 and Bet365 approximately 180. Those numbers will increase as the start of the match nears.
We are fairly certain that if we were multi bettors, we could fill a bet slip with more legs than an octopus with any of these three bookies.
Our conclusion for sports punters is that unless you are seeking something bizarrely exotic, such as how many times the ref will bounce the ball off his face getting the footy game started, Colossalbet has all the secondary markets that anyone could want.
For racing punters, Colossalbet has all the bet types anyone could use. Those bet types are Best Dividend plus Starting Price, Best Dividend, Top Fluctuation, Mid Dividend, all the exotic bet types, Australia Dividend and Fixed Odds.
Colossalbet Products
A most innovative product from Colossalbet is the feature they call Colossalbet IQ. This feature alone should make many people want to create a Colossalbet login.
The feature learns from individual punter betting history and distills the vast amounts of information they have about betting down to make personal tips for each client. This feature is effective and useful to the extent that we wonder why no one thought of it before and we are sure it will be imitated by other online bookies.
Another feature is Colossalbet Cash In. This product allows punters to make cash deposits at thousands of retail stores all around the country.
Colossalbet already has their own MasterCard that permits clients to collect winnings from participating ATMs and retail outlets where MasterCard is accepted.
Of course, Colossalbet has plenty of promotions available to clients that have a Colossalbet login. There are daily and seasonal promotions that seem actually useful and once enough history has been generated, some of the promotions will be tailored according to a client's past betting.
We expect that Colossalbet will add live streaming to their product list at some future point, especially as they expand their sports offerings to appeal to those punters that like niche sports.

Colossalbet Racing Bet Types
Any online bookmaker that wants racing punter money has to offer all
of the bet types racing punters expect. Colossalbet fills the bill in this regard. Here are the racing bet types they offer. Bear in mind that not every race will offer all of the bet types. For example, races with fewer than eight runners will not pay the third place runner dividend. This is standard practice in the world of online racing bookmakers.
Win – The selected galloper must cross the finish line first.
Place – The selected galloper must finish in first, second, or third place.
Each Way – A way to combine Win and Place bets so that a selected horse must win or place in order for the bet to be successful. A $1 Each-Way bet requires $1 for each outcome, so the total bet would be $2.
Exacta – A bet where it is necessary to pick the first two to finish, in the exact order of the selection.
Quinella – Similar to the Exacta, except the horses can finish first or second in either order.
Trifecta – Requires picking the first three finishers of a race in the exact order.
First Four – To win this type of bet, it is necessary to pick the first four horses to finish in the exact order.
Quadrella – Usually abbreviated as the "Quaddie," this bet requires picking the winner of four races at the same track. The races are selected by Colossalbet.
Jockey Challenge – The jockey must win in selected meetings. This is a seasonal bet across multiple meetings and jockeys are ranked on a 3-2-1 system – Three points for a win, two for second and one point for third, very similar to how the Brownlow Medal is awarded in footy.
Futures Bet – A Fixed Price bet that can be placed ahead of the final field declaration. This is an All In bet, so if your horse is scratched, your money is gone.
There could be new bet types added, while there have been rare instances where a bet type that no one picks is eliminated. Join ColossalBet Here
Colossalbet Promo Codes and Betting Offers
It has been over five years since Australian regulations that prohibit online bookies from offering sign up bonuses, yet we still hear from people asking how to get a sign up bonus.
Here at PGR, we always considered sign up bonuses as something of a bait and switch tactic, since the geographical restrictions in most instances made almost everyone in the country ineligible to participate. On top of this, there were often additional bookmaker restrictions, such as requiring a sign up bonus to be used on markets with odds of $1.50 or greater, greater turnover requirements and other such rules that eroded the value of any sign up bonus. At any rate, sign up bonuses are gone and good riddance.
Colossalbet is permitted to offer various promotions to verified and funded customers. These include ongoing promotions that are always available, seasonal promotions that apply to an entire season of competition, one-off promotions for a major event and many other kinds of promotions that are creative and original.
Anyone who supplies some basic information and obtains a Colossalbet login can view current promotions at their convenience.
Colossalbet, being run as it is by online bookmaker industry veterans, does a nice job with promotions that pique punter interest and supply a reason to log in to see what is on offer.
Our Experience with Colossalbet
Experienced online punters will appreciate that Colossalbet uses the familiar and ubiquitous three-column layout that makes Colossalbet instantly navigable and comfortable. Those completely new to online punting will discover that it takes only minutes to get familiar and confident using the site and placing wagers.
Even for those of us that have been in the industry for years, though, there is something about the Colossalbet website that seems like the three-column layout has received a freshen.
The colour scheme is subtle, yet has enough contrast to set things apart for great visibility. Most of the content is in clear, sharp black text on a white background, with plenty of white space around any text to eliminate needing to squint at the page.
When it comes to online bookie websites, ease of navigation indicates a less-is-more approach, so Colossalbet has made the entire process of joining, funding, punting and collecting as easy as sending an email or posting on a social media site.
The left column is where the list of sports and racing markets can be found, assuming that any of the top banners do not make it even easier to find a code or a market.
The middle column will show price quotes and the right column is reserved for the bet slip.
We found that Colossalbet pages load instantly and any selected bets are immediately added to the bet slip.
Anyone who is new to online betting can explore free from anxiety, as all bets must be confirmed before they are placed. This makes it quite easy to take the process all the way up to the last step with the option of removing the bet from the bet slip.
Our conclusion is that while website betting has been overtaken by mobile betting for the most part, racing punters will appreciate bigger screens to explore markets and follow form, things that are not so necessary for sports punters. For those racing punters, the Colossalbet website will be an effective ally. In short, if there were some bizarre scenario that forced us to choose one online bookie according to websites, one of our top choices would be Colossalbet.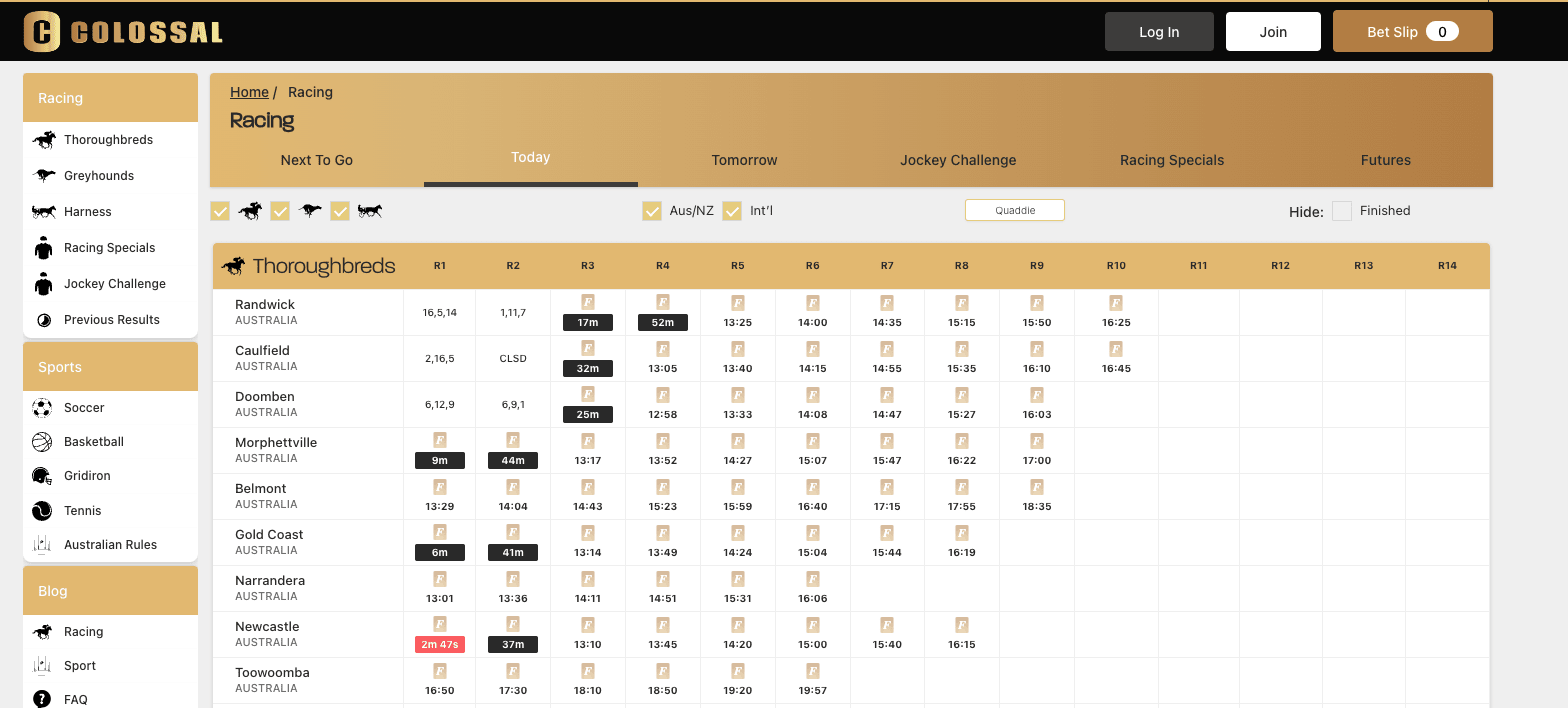 Colossalbet Mobile Offerings
It took very little time for mobile betting to overtake online betting based on desktop computers and tablets. It would have taken far less time if Australia would take a good look at an archaic 1998 law that mandates any betting placed during an event be conducted via a phone call to the bookie.
We tested the Colossalbet mobile app for iPhone and we are pleased to report that it is indeed very complimentary to the desktop site. The layout is slightly different as a necessary adaptation to the smaller screens of smartphones, but we found that shifting between a desktop Colossalbet page and a mobile app page was intuitive and easy, which is no faint praise coming from we of advanced years that still need our kids help to perform some of the advanced capabilities of modern phones.
The app was easy to download and install, although our preference for signing up would be a desktop computer or some device with a full-sized keyboard.
We at PGR are focused on Thoroughbred racing and while we appreciate large computer monitors when we are researching races, gallopers and odds, we can easily see those who are familiar with conducting the bulk of their online lives on a smart phone will gain a rapid appreciation for Colossalbet's mobile apps.
Colossalbet Sign-Up Instructions
It is easy to sign up with Colossalbet. Once begun, the process is streamlined and efficient and can be accomplished in minutes by the tech-savvy. We ourselves needed a bit longer, mainly due to our below average keyboard skills.
Use any browser, desktop or mobile, to go to www.colossalbet.com.au
Click or tap on "Join"
Follow the on-screen instructions, which require some identity information and some options for how you want to configure your account. You will need a valid email address and mobile phone number, which will be used to verify that who you say you are is who you are.
After all the information has been supplied, click submit. You will be asked to create a user name and a password.
You can elect to deposit funds at this point, as well as set up any sort of deposit and betting limits, but those can wait.
Verify your identity using the Colossalbet identity verification tools within two weeks of creating your user account.
Colossalbet Bookmaker Betting Instructions
Log in to your betting account using the credentials you chose during the sign-up procedure.
Pick a code, event, or other option from the horizontal bar near the top of the page, or use the left column to perform the same process.
Identify the market on which you wish to wager.
Click the box that contains the odds you wish to back.
Picking a price quote will open the bet slip and verify that the market you clicked/tapped is the one desired.
Enter a stake amount.
Confirm your bet.
Once your bet is confirmed by Colossalbet, you can check the status on any device. Bets can be cancelled up to a certain point and other bets for the same or another bet can be added. In some instances, it is better to start a new bet slip, rather than add to an existing one. Join ColossalBet Here
It is possible to cancel a bet at any stage of the process prior to submitting the bet by simply clearing the bet from the bet slip.
Colossalbet Deposit Methods
All the Australian bookmakers make it easy to deposit funds by offering multiple convenient banking options.
With Colossalbet, these are Credit/Debit card, bank transfer, BPay, Colossalbet MasterCard and Colossalbet Cash-In.
Deposits made with a debit/credit card, the Colossalbet branded MasterCard and Colossalbet Cash-In are available for wagering immediately.
The Colossalbet website Help section informs that deposits made with BPay and bank transfer require 24 to 48 hours to become available for betting purposes.
We would have appreciated if Colossalbet had PayPal, but we can overlook this because of the Colossalbet MasterCard.
Many Australian online bookmakers offer their own branded debit cards, but we appreciated that Colossalbet deployed theirs right away, which is not always the case when an online bookie is starting out.
The advantages so outweigh any disadvantages that we recommend the Colossalbet MasterCard to everyone.
The chief advantage is instant access to winnings after the market has been settled. In many instances, the winnings will be credited in moments, such that by the time you enter your user ID and Colossalbet password, your account will have been updated.
Some other advantages to the Colossalbet MasterCard is that it can be used for online shopping, for withdrawing cash from ATMs and any brick and mortar shops that accept MasterCard.
Withdrawing From Colossalbet Account
The methods for withdrawing from a Colossalbet account are the opposite of depositing.
The first step is to click or tap on the icon labelled "My Account." From the page that will be loaded, click or tap "Withdraw." All the options available for the account will be listed. Click/tap one of these, enter the desired withdrawal amount and confirm the request.
Colossalbet FAQ Section
The Colossalbet Help section will supply most answers to the questions for which punters typically need answers. It is a well-designed FAQ that offers simple but accurate answers to most inquiries.
They do have phone, email and chat customer support for those who prefer to deal with live people or have a question that falls outside the norm of frequently asked questions.
Here are some that are often asked.
Log in to Colossalbet with your Colossalbet login credentials. Navigate to the "My Account" page. The easiest way to do this is by clicking the account balance amount that is displayed on every page. Find the Change Password section. Enter and confirm the new password, which must be at least six characters in length and combine letters and numbers.

---

There is an overview that shows the account balance, the amount available for withdrawal, Bonus Cash and Price Pumps. Any pending bets will be summarised. The other information is resulted bets, an option to view or change your deposit and withdrawal preference. Any Available bonus offers and Price Pumps will be shown as well. There is also a listing of any previous transactions for the past 90 days, a settings option for notifications, password, personal details, wagering preferences, password and login preferences. The final area of the section has links to Gambling Assist, where there are options for setting a deposit limit if one was not set up during the joining procedure. Clients also have the ability to block themselves from betting for a period of time, or to close their Colossalbet accounts.

---

Any bet type is eligible for use of Bonus Cash, including Fixed Odds bets, Exotic bets and Multi-bets.

---

If necessary, the Colossalbet Finance team will contact the client to request photographs of the front and back of the card. For privacy and security, Colossalbet requires that the middle eight numbers of the card be obscured so that only the first and last four numbers are viewable. Send the pictures via email to support@colossalbet.com.au. Some people might find it easier to send the photos to their assigned Colossalbet Relationship Manager who will forward the verification information to the finance department.

---

In order to comply with Australian regulations designed to prevent money laundering and financing of terrorist organizations.

---

This is mostly a matter of punter preference. The keenest footy promotion in the history of footy promotions will not be of interest to anyone who does not punt footy. Another factor is that promotions change frequently, so to find the best promotions, we suggest logging in often to see what is on offer with a Colossalbet login.

---

Not at the moment, but we suspect that as has been the case over the years with other newer bookies, Colossalbet will add live streaming to their offerings.

---

Colossalbet are 100 percent Australian owned. Their headquarters is at Randwick Racecourse in Sydney, so it is possible to pay a visit without going on an excursion to Darwin, where most of the Australian online bookmakers are headquartered.

---

Add a wager to the bet slip. Input a dollar amount. Click/tap Bonus Cash to use any or all of the bonus cash amount.

---

For iOS users of iPhones and other Apple devices, the app can be found in the App Store. It used to be necessary for Android users to jump some hoops to get the compatible version, but Google has seen fit to now offer the app in the Google Play Store.

---

It is no longer legal, as of 2018, for online bookies to advertise sign-up and welcome bonuses, but there are incentives and specials for clients that have created a Colossalbet account.

---

Colossalbet customer service can be reached via email with an email form on the main and mobile websites. They strive to answer these types of inquiries in 24 hours. They have two telephone numbers – customer service can be reached by calling (02) 7202 7462. Phone betting is available at (02) 7908 6250 seven days a week from 8am to 9pm. Live chat is available, but at this time, it is not 24/7/365 as it is with some of the other online bookies.

---

$10

---
Conclusion
Conclusion
We have been following Colossalbet since their debut in early 2021 and unlike many new online bookmakers that seemed to launch prematurely, Colossalbet seems to have emerged fully formed and ready to handle everything smoothly and with minimum fuss.
To us, this was a clear indication that the agency was started and was being run by people with sufficient experience to anticipate and overcome tech glitches from the outset.
The Colossalbet website and mobile apps are on par with anything on offer in Australia and every other aspect of the operation, including odds, markets, bet types and customer service appears well thought-out and designed to allow punters to focus on the main task of finding and lodging bets as efficiently as possible.
We would not hesitate to recommend Colossalbet to family and friends.
Colossalbet would serve well for casual punters that want a broad range of betting markets with competitive odds without the bother of maintaining multiple online bookmaker memberships.
It is also a valid consideration for racing punters who bet entire meetings with multiple bet types and want access to copious quantities of racing information.
Those punters who do maintain multiple bookie memberships will find that Colossalbet is a valuable addition to an entire quiver of online bookie accounts.
About The Author
John DeBiase has been following the online bookmaker industry since 2010. He takes pride in remaining objective and is immune to bookie pressure to supply favourable reviews. When he does not have a bookmaker under the microscope, John derives great satisfaction from his pursuits as a self-taught musician, handyman, and grandfather.