BoomBet, as Sportsbetting, was one of the first online operators in Australia, dating back almost to the internet's infancy.
BoomBet is an entirely Australian owned and operated agency that first arrived in 1998. They maintain offices in Sydney, Melbourne and Darwin, where their Northern Territory license is lodged. With their extensive history, BoomBet developed a loyal clientele that gladly made the switch from Sportsbetting to BoomBet.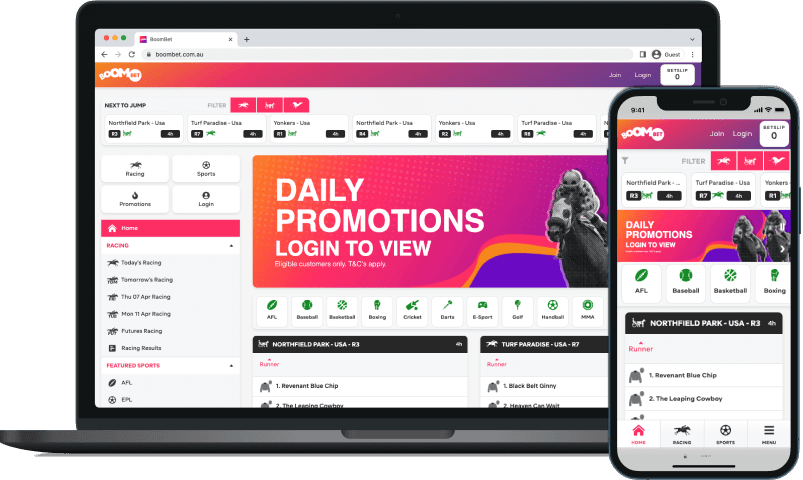 Best Prices, Best Tote & Top Fluc Available
Popular For
Competitive odds for all racing and sport
Low turnover requirements
WHAT ARE YOU REALLY GAMBLING WITH? Set a deposit limit.
---
Great website and mobile apps
Often offers inflated prices on particular runners
Customisation features unique to the industry
Competitive fixed odds
Sets their own prices as opposed to copying the larger corporate bookies
---
Fewer promotions
No phone or live betting
Has been known to restrict punters at their sole discretion

BoomBet Betting Odds
Everyone appreciates a bargain, which is the reason punters place so much emphasis on a bookie's odds. You could easily spend a lot of time checking multiple bookies for scant differences in quotes, find the best price, and then return to that bookie to find that the odds have shifted. This is common for gallops.
BoomBet alleviates the necessity of having multiple bookie memberships for those who seek simplicity in their online wagering needs by offering competitive odds, along with Best Tote and Starting Price, so racing punters know they will get a fair shake from BoomBet.
We did a brief odds comparison on a Wednesday and were a bit dismayed to see that BoomBet had not yet posted any odds for the Saturday meetings, even for major Group races at Eagle Farm.
We had to rely on quotes for a racecourse in England. The race we selected was at Brighton. It was the Sky Sports Racing Sky 415 Handicap. There were only four runners entered, with the favourite quoted at $1.78 for the Fixed Win.
BlueBet had the favourite quoted at $1.80 and we are certain that we would not find anything significantly better. We have been at this a long time and have learned that bookies that are well under the market don't get any punters, while those that are over the market lose money and shut down.
We also checked a sports market, mainly to reassure ourselves.
The nearest AFL match was West Coast Eagles versus Richmond Tigers. BoomBet were quoting West Coast for $2.44 and Richmond for $1.55.
Neds had it as $2.50 for West Coast and $1.53 for Richmond.
Unless you are betting on dozens or hundreds of events, the necessity of checking multiple bookies is needless, unless you enjoy the process of shopping.
Our conclusion on BoomBet's odds is that they are competitive and with their support for Best Tote and SP wagering, punters need not lose sleep over the slight price variances we observe.
Simply stated, there are times when BoomBet will have better prices and times when they will not, but the difference is so minimal as to be viewed by us as insignificant.

BoomBet Markets
First off, good news for racing punters.
BoomBet cover all the domestic and international races anyone could ever want or use, for all three codes, with all the bet types supported by the excellent BoomBet Australia website and mobile website version.
Having great coverage for racing is akin to a university course titled "Online Bookmaking 101."
Bookies have to support and encourage race punting for obvious reasons.
BoomBet has some of the best offerings for race punters that we have encountered, even next to the giant international corporate bookies.
Further good news is that BoomBet Australia allows punters to see all the racing markets and odds without joining or using a BoomBet login. It will be necessary to use a BoomBet login, though, to access any of BoomBet's promotions.
When we moved to have a look at BoomBet Australia sports markets, on a Thursday ahead of an AFL round with a Friday evening match between West Coast Eagles and Richmond Tigers, we found plenty of markets.
BoomBet's website reveals those markets differently than most Australian online bookmakers. For example, under the Additional Markets heading, the first one was for any player from either team to accumulate 20 or more disposals for the match. To see which players had been nominated for the 20+ disposals market, it was necessary to click a carat icon to reveal the price quotes for 16 players.
To some, it might appear that BoomBet have fewer markets, but when every Additional Market BoomBet had on offer was expanded, it was obvious that they had a huge trove of those prop markets that sports punters seem to appreciate. Even the very last option, the Tri-Bet, had three markets, so we have to conclude that BoomBet has more than enough markets for the vast majority of sports punters.
As for the steps necessary to find those markets, we think the way BoomBet goes about it is not merely okay, but it is an excellent way to go about it, and serves to stay within BoomBet's stated goal of making things simple for punters, whether they are old hands or just getting started.
BoomBet Products
BoomBet have an amazing array of betting products, more so when it is considered that at the time this BoomBet review was being prepared, BoomBet are less than two years old. If this were the Magic Millions Two-Year-Old Classic, we would quite probably put something on them.
Bookies add new products all the time, while they drop others, but here is what we observed on this occasion.
Great Fixed Odds – BoomBet set their own odds, rather than just copying the prices of other bookies. BoomBet have fiercely competitive fixed odds for racing and sport markets and the BoomBet handicappers often offer great value in taking on punters if BoomBet believe that a certain horse is overs/unders.
Best of the Best – Eligible members participating are assured of a dividend equivalent to the highest of the official win dividends of NSW Tab, Unitab, Supertab and Top Fluctuation.
HOT Bets – A tipping service that shares betting results of participating punters that includes punting history and profit statistics.
Protest Payout – A nice feature that pays punters whose runner was first past the post, but is later demoted when the official results are confirmed.
Multi Betting – A feature of the BoomBet bet slip that presents any available multi bet combinations.
Exotic Betting – Includes Quinellas, trifectas, first fours and quadrellas for racing bets.
BoomBet blog – A great source for betting news, form guides and betting tips.

BoomBet Racing Bet Types
Racing punters need not look to other bookies, as BoomBet has all the racing bet types anyone could desire. Many of these bet types will have BoomBet promotions associated with them, so be ready to sign on with your BoomBet login in order to learn of any such promotions.
Win – First runner to cross the line. This type is where promotions will often be found for current members.
Place – A successful punt if the selected runner finishes in the top three.
Each-Way – A method of combining win and place bets. Comprising a win bet and a place bet.
Exacta – Pick the exact finishing order of the first two runners in a race.
Quinella – Pick the runners that finish first or second in either order.
Trifecta – Pick the runners that finish first, second and third in the exact order.
First Four – A successful First Four bet is one where the punter picks the first four runners to cross the line, in the exact order.
Running double – Requires the member to pick the winners of two consecutive races at the same venue.
Daily Double – To earn this dividend, it is necessary to pick the winners of two nominated races at the same venue. BoomBet decides which races will be nominated and the nominated races are not necessarily consecutive races.
Quadrella – Often shortened to Quaddie, this bet type requires the punter to pick the winners of four nominated races at the same venue.
Super 6 – Often called Big 6, this bet type requires picking the winners of six nominated races. This is usually associated with a single meeting at a certain venue, but it is not uncommon for this type to be split across two or more racecourses.
Multis – Any bet that has two or more legs.
Line Betting – For sports punters.
Matchups – For match betting with only three possible outcomes, win, lose or draw. A draw bet will pay half of the value of the punt.
Total Points – For team sports mostly. Punters try to bet on whether the total points of both clubs combined will be over or under the quoted total.
First Scorer – Punters pick bets based on odds quoted on various players to score the first points in a match, for example, the first try in a rugby match or the first goal or behind in an AFL match.
BoomBet Promo Codes & Betting Offers
Knowing about and understanding how to use BoomBet promotions does require a BoomBet log in. After logging in, simply click or tap the Promotions icon on a BoomBet page to view all the current promotions.
If we had to pick a couple of promotional features that incline us toward BoomBet, it would be the protest payout. These can be examined by using your BoomBet log in and clicking or tapping on the Promotions tab in the top header of most BoomBet web pages.
Our Experience with BoomBet
The BoomBet website is a good one. It has everything most punters will ever need or use, without a bunch of distracting animation or garish colours.
Here is a snapshot of what we found on a recent visit by pointing our browser to boombet.com.au.
The top banner has just three things. One is the BoomBet logo. The other two are a button to join and a button to log in. That banner is an attractive spectral bar that begins with orange on the left, some reddish hues in the centre and eventually fading to purple on the right.
Directly below is the main content section of the website, which promotes Next to Jump in bold black text on a light grey background. There is a filter alongside that permits sorting by gallops, trots and dogs.
Six races are displayed immediately under that which shows the next five races to go and the time remaining until the jump. The earliest race is on the left. The latest race is on the right. As the races jump, this section of the BoomBet website will crawl to the left. This is quite possibly the best method we have seen for staying on top of the races. It is simple and effective – two good traits in our view.
Below those upper sections, the BoomBet website utilises the familiar three-column layout that has practically become the de facto design for all Australian online bookies. The layout has been used for years and many punters with multiple bookie memberships appreciate the instant familiarity this design affords.
New punters will need only minutes to gain navigational familiarity.
The top of the left column has four buttons – one for racing, one for sports, one for promotions and another option for logging in. They are black text on a white background. It seems like a really nice layout for us, as very little accuracy is required to make the right choice.
Below those four buttons are a box for racing that highlights Today's Racing, Tomorrow's Racing, the next Saturday meeting, Futures Racing and the Racing Results link to all the outcomes. This box can be collapsed if desired.
Next comes Featured Sports, which at the time of our most recent visit to the BoomBet website, were AFL, EPL, NBA, NHL and NRL. Like the Racing box, the Featured Sports box can be collapsed.
The next box is for help. It contains links for Live Chat, Betting Products, the BoomBet blog, ID Requirements, Responsible Gambling and Contact Us. It too can be collapsed, leaving a left column that is truncated in such a way as to be entirely free of distractions.

BoomBet prices are quoted in the centre column.
This is where BoomBet differs, in a good way, from many of its rival bookmakers. At the right side of the market is a carat, which when clicked, reveals the other markets BoomBet are offering for the match.
There is no similar carat with a link for racing, of course.
For racing, the centre column will show venues, the number of races being held at any venue, and the time until the race jumps.
Clicking on any race icon will show the field for the race, the available bet types and whether a runner is shortening or lengthening since the market opened. A nice feature of this section is the Flucs button, which when clicked, shows all the fluctuation prices any runner has accumulated. There is a double carat beside the link for Form. Clicking on it opens a comprehensive form analysis of any runner in the race. We think this is really cool.
Also to be found here are the price quotes for Fixed Win, Fixed Place and if available, prices for Best and Middle Tote.
The right column provides access to the nifty BoomBet bet slip. Nothing fancy, just a quick intuitive bet slip that has a box for entering a stake, with an estimated return calculation provided.
Our opinion of the BoomBet website is highly favourable, as BoomBet have taken measures to avoid clutter and confusing colour schemes.
BoomBet Mobile
We assume that at some point, BoomBet will add dedicated apps for Android and Apple devices, but as of mid-2022, punters who want to place mobile wagers can rely on the mobile version of the BoomBet desktop website.
Our encounters with that mobile version were unfailingly positive and we found we could do anything we wanted to do on the mobile site almost as easily as we could on the desktop version. It is a little tough to read the form without zooming in, but we do not consider that a serious inconvenience.
Anyone who has seen any of our reviews over the past 12 years, going back almost to the debut of the first smartphones, knows that mobile versions of websites are our preference, simply because we do not have to grant permissions that seem intrusive to those of us who remember when there was actual privacy.
BoomBet Sign Up Instructions
Punters with other bookie memberships will find it a matter of minutes to join BoomBet. Punters without other bookie memberships will find it the same. The process guides you through, step by step, and there are only a few steps.
It is not required, but we suggest that during the sign-up process, you do the verification procedure, so that when you want to make a withdrawal of any winnings, you are set. We do know of many, though, that skip this step until later, after betting has commenced.
Navigate to https://www.boombet.com.au
Click the Join button near the top right corner.
Fill in the requested details, such as name, email, date of birth, address and phone number.
Set up and User ID and Password
Set a deposit limit if desired; check the box to opt out of a deposit limit..
Check the box indicating acceptance of the BoomBet Terms and Conditions.
Click "Create Account"
Deposit funds if desired.
BoomBet Betting Instructions
Like signing up, placing a bet is a simple procedure, once a code and a market have been identified.
Navigate to the BoomBet Website.
Log In
Select a market, which will open the bet slip
Enter a stake amount
Press "Place Bet" and receive confirmation.
BoomBet Deposit Methods
We often see bookmaker reviews and BoomBet reviews that think BoomBet are inadequate simply because they do not have as many deposit methods as some other bookies have.
There are more than enough for the vast majority of people who are sincerely interested in establishing a BoomBet membership.
This is what BoomBet offer for depositing wagering funds with them.
POLi
Credit/Debit Card
BPay
Bank Deposit
POLi permits the instant transfer of funds from an Australian bank account to a BoomBet account, provided you have already established internet banking with the bank. There are no fees or charges associated with using POLi.
BoomBet accepts Visa and MasterCard for credit card funding. Deposits via credit card mandate the use of the Australian dollar.
BPay deposits also are exclusive to Australian customers. Transfers take place overnight and can be made over the internet or the phone. Remember that BPay deposits are only processed during the workweek, between the hours of 8am and 3pm.
Bank Deposit is the old school method of funding. Deposits can be made via cheque, or by transferring money directly from the bank account to a BoomBet account. Cash deposited anonymously is not acceptable.
BoomBet Withdrawals
BoomBet currently have two methods for withdrawing from a verified BoomBet account that has fulfilled the turnover requirement.
The first method is credit and debit cards. Withdrawals must be directed to the same card that was used for funding. This is where you will have to perform the verification procedure if it has not been done previously at account set up or some time prior to the first withdrawal request.
The second is direct bank deposits.
Australian members are eligible to have winnings withdrawals deposited directly into the member's bank account. These usually take place overnight, subject to the usual banking hours.
Any withdrawal request made by 3pm will be processed the next business day.
BoomBet FAQ's
Sign up bonuses were eliminated by government regulation in 2018, so no legitimate source, bookie or bookie affiliate is legally permitted to offer a sign up bonus.

---

Using a computer or a mobile phone, visit the BoomBet website at boombet.com.au. Click/tap the Join button. Supply the required information, create a user name and password, and then click Create Account.

---

Online bookmakers are closely scrutinised by various governments and other agencies to ensure transparency. Also, BoomBet, or the BoomBet name, may seem new, but they used to be the popular Australian bookmaker that went by Sportsbetting. They changed the name in 2020 due to punters getting them confused with Sportsbet.

---

BoomBet are entirely Australian owned and operated, with a keen grasp on the unique market that is Australian online wagering. They channel their profits into improving BoomBet, rather than sending them overseas to a foreign corporation.

---

Members must supply the necessary identification within 14 days of establishing a membership, or the punter account will be suspended until the required information is supplied to BoomBet. Some common ID documents BoomBet accept are Drivers Licenses and Passports.

---

Yes, BoomBet offers many good promotions on a daily, weekly, monthly and seasonal basis to current members only. The number of BoomBet promotions is lower than some bookies, but all of BoomBet's promotions are worthwhile, without traps to trip up the unsuspecting.

---

It is not necessary to look all over the internet for a BoomBet bonus code. All of BoomBet's extensive list of great products and features are available to all current members.

---

Yes, BoomBet have good odds that are completely competitive in the Australian online bookmaking industry. Sometimes, their odds will be a penny or two better than those of a rival bookmaker, but we have never encountered a wide disparity. For racing punters, having Best of Best Tote available is very reassuring.

---

Our BoomBet reviews now and in the past have demonstrated that BoomBet have plenty of markets for sport punters, all the way from head-to-head and line betting, all the way through quarter and half scores and ending with some exotic props. Our observation is that once the top 10 markets have been examined, many of the exotic prop bets seldom attract any punts.

---

Not yet, as of mid-2022.

---

Not as of now, mid-2022.

---

Not at this time.

---

As of mid-2022, BoomBet does not offer telephone betting of any kind.

---
Conclusion
BoomBet seems like a new bookie, as before 2020, the name BoomBet did not exist. They are simply the new name for one of the older online bookmakers in Australia. They used to be known as Sportsbetting.com.au.
We would be mildly reluctant to recommend BoomBet as a sole bookmaker, but we trust them and think every racing punter will find much value. Sport punters, too, will find plenty to engage their interest, so a membership with BoomBet would be a welcome addition to online bookie memberships.
The great thing about BoomBet is that it will be very exciting to follow them as they expand their membership base and are able to add some extra features.
Founded: 
BoomBet was founded in 2021. The original agency, Sportsbetting, has been around since the days of dial-up modems, 1998.
Owners: 
Sportsbetting.com.au Pty Ltd
Products: 
Racing and sports wagering, some novelty wagering.
Location: 
Northern Territory license, office in Melbourne.
Support: 
Phone, email and chat
Turnover on deposited funds: 
1x
Year Founded: 
1998 as Sportsbetting, 2021 as BoomBet.
Live Chat: 
8am to 10:30 pm, seven days per week
Phone support: 
International - +61 (0)8 8967 1609. Local: 1300 266543. These numbers are for support only. No live betting or phone betting is accepted.
Email Support: 
support@boombet.com.au.
Social Media: 
LinkedIn, Facebook, Facebook Messenger, Twitter
About The Author
John DeBiase has been following the online bookmaker industry since 2010. He takes pride in remaining objective and is immune to bookie pressure to supply favourable reviews. When he does not have a bookmaker under the microscope, John derives great satisfaction from his pursuits as a self-taught musician, handyman, and grandfather.