Since launching in 2022, BetR, under the guidance of Tripp, has established itself as a new bookie with old roots in the Australian online betting industry. The bookie claims to be 100 percent Australian-owned, something punters appreciate for from a bookie, the thinking being that the Australian market is best understood by an Aussie bookie.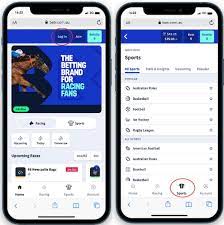 Excellent Mobile App, Vast Range Of Betting Products
Popular For
Industry Leaders For Promos
Racing Coverage Worldwide
WHAT ARE YOU REALLY GAMBLING WITH? Set a deposit limit.
---
Competitive odds
Excellent mobile betting apps
Interesting promotions from both quantity & quality perspectives
Australian-owned
Vast range of betting products
---
No live streaming as of late November 2022.
Not many futures markets as of yet
Website less than could reasonably be expected
BetR Betting Odds
BetR is taking a very aggressive approach to its odds quotes in order to attract punters, many of whom already hold multiple online bookmaker memberships. Join BetR Here
Their focus on racing will appeal to those types who enjoy the challenge of betting races and race meetings. Sports punters are not neglected either, with all the major sports well represented, not just for Australia, but also for other regions in the world where major sports contests are staged.
Here at PGR, we have been reviewing bookies for over a decade and have come to the conclusion that while odds quotes are important and the single most determinative factor when it comes to decisions surrounding online bookmaker memberships, all the bookies have competitive odds for one simple reason.
The battle for punter funds is fierce and unrelenting.
Failure to have proper odds can lead to two outcomes, possibly three. Odds that are too good will attract a lot of traffic, but profits could well be below the break-even level. Odds that are well below the market will result in a lack of trade that could result in the doors being locked and the lights permanently turned off.
This simple logic around economic reality is that odds quotes alone are not the only consideration to be made. Otherwise, Bet365 would be the only online bookie, at least when the major online bookies are involved.
For punters who enjoy bargain hunting and enjoy comparing the odds quoted by a selection of online bookie memberships, BetR could be included in the mix without any trepidation.
Comparing bookies using this method will generally reveal that one bookie might offer two cents better than another bookie on an odds quote for a favourite, while the under might be two cents better with another bookie.
Our conclusion is that BetR will offer great odds across a wide variety of sports and racing codes, as it would be hard to do otherwise, especially considering the involvement of Tripp.
BetR Markets
Just as it is necessary for a new online bookie to launch with competitive odds, it is necessary to offer enough markets to facilitate punters who enjoy the pursuit of multi-bets. The other sort of punter who appreciates plenty of markets is the one who likes to find some easy bets beyond the head-to-head or Fixed Win markets. Join BetR Here
One example is a proposition bet on the AFL where odds are quoted for players to exceed or fall short of a certain number of disposals.
Markets such as this add interest to the games, especially those games in which the punter does not have a preferred club that he or she supports.
Considering the wide range of sports and racing markets BetR promotes, it seems only natural that they would supply plenty of markets for any sports fixture. On the other side of the coin, with racing coverage that spans the globe, BetR would be viewed as a valid outlet for online punters.
There will be occasions where they will have fewer markets than the older, more established online bookies, but there are still more than enough to build multi-bet slips with any number of legs.
BetR will continue to grow for this area of number of markets, as have all the other online bookies that have expanded as their market penetration grew.
Our conclusion is that BetR already has enough markets to satisfy the bulk on Aussie punters, especially given that beyond the top 10 most popular betting markets, many of the extra markets do not attract any wagers.
BetR Products
Here are some BetR products that are designed to appeal to all punters, but the racing punters in particular will be pleased.
One of these services is a way to track all of the action at the tracks every day. Included with this feature are tipping and form guides. Those who would like a bit of help in making their selections should check out the "Expert Insights" section.
For the more advanced punters, BetR will supply Featured Multis for the day's action. These can be taken as supplied or modified if desired.
This BetR product also supplies a section labelled Line Moves, allowing punters to track the flow of money as the bets come in. Another section titled Streaks will be a godsend to lovers of statistics of every description.
Many online bookies have similar features, but it feels as though BetR has taken the time to truly understand what these features mean and how they are best used in the quest for punts that supply reasonable expectations of a win.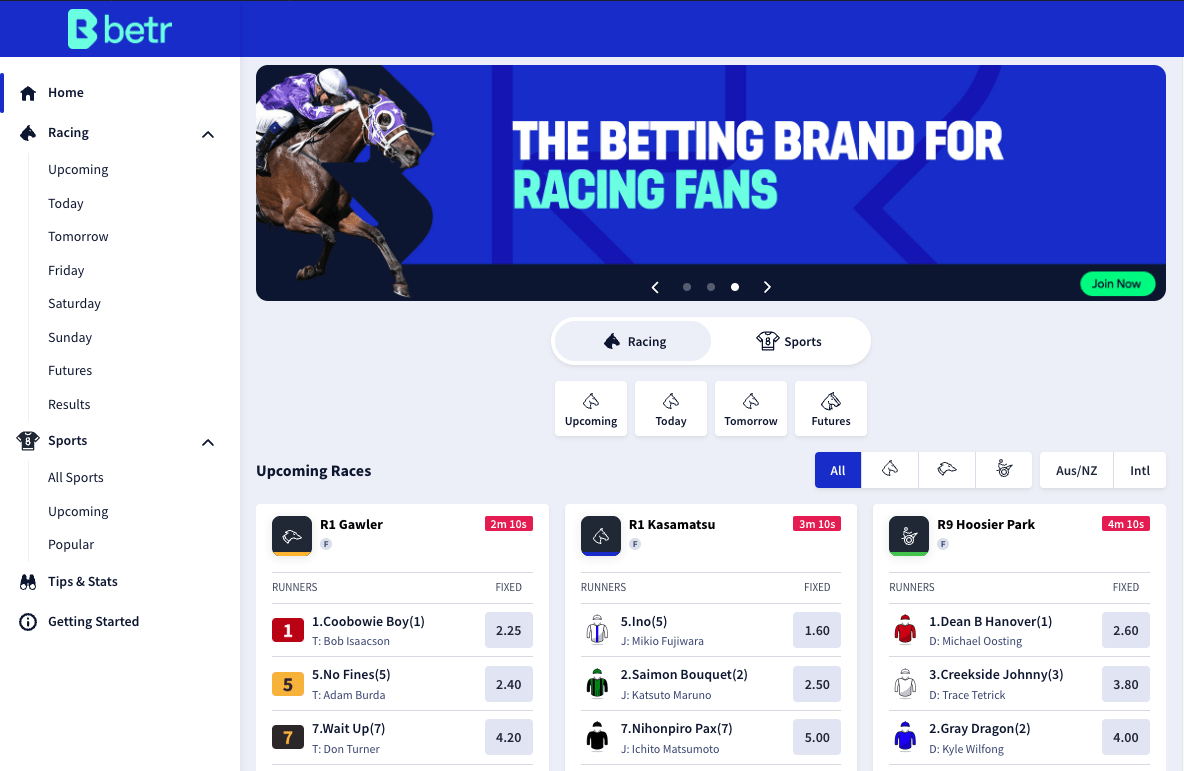 BetR Bet Types
As a racing site, PGR is always interested in finding online bookies that provide the best variety of bet types. Betting on racing is hard and race punters have the task of looking for a winner in a crowded field. Most races have six or more racers, so understanding that race betting is much more complicated by the scenario of any racer possibly winning.
For a race with six runners, picking the winner is six times harder than it is to pick the winner of a sports match.
Race punters use the different bet types to place multiple bets on a racer, a race, or an entire race meeting in order to account for some of the extra uncertainty race betting entails.
Here are the BetR racing bet types, along with a brief explanation of each one.
Win – The selected horse must cross the finish line first and be declared the official winner in the event of any lodged protests
Place – The selected horse must finish in the top three. There must be at least eight runners to win a Place bet. For races that have four or fewer runners, only Win bets will be accepted.
Each-Way – A betting strategy that wins if the selected horse either wins or places. A $100 bet Each-Way is a $100 bet to win and a $100 bet to place, meaning that the total stake for this bet will be $200. This same parameter applies to any amount staked.
Exacta – Requires picking the first two runners to finish, with the extra requirement that those two runners finish in the order selected by the punter.
Quinella – Similar to the Exacta, except the two runners may finish in either first or second, not necessarily in any specified order.
Trifecta – Similar to the Exacta, except three runners are required to finish in first, second and third in order.
First Four – Similar to the Exacta, except the bet will now apply to the first four to finish in the exact order selected.
Quaddie – Officially known as the Quadrella, this bet type requires a punter to pick the winners of four nominated races at the same track.
Multis – Multiple bets, also known as legs can be multiple bets placed across different events and/or races. BetR allows these types of bets for the same game or race. Some bookies do not support same game and same race multi-bets.
These bet types are of increasing difficulty as the types progress from Win to Multi, with the possible exception of the Quinella. As the difficulty increases, so does the potential payout.
While some online bookies may offer a promotion that will supply a free bet if one of the legs of a multi-bet fails, the industry practice is that one leg failing makes the entire bet a loser.
BetR Promotions
Good news here.
BetR has upped the ante on promotions, which is good news for any punter, regardless of where he or she lodges their bets.
To see all the BetR promotions, it is necessary to sign up and get BetR login credentials, but signing up is free, so there is zero risk associated with joining BetR to ensure being in the know with any future promotions.
Our conclusion is that is BetR continues its aggressive attack with regard to promotions, other online bookies will have to respond and if there is anything that is good for punters, it is an escalation of the methods by which online bookies attract and maintain members.
Finally, it seems as though everyone in Australia should know that since 2018, bookies have been prohibited from offering sign-up bonuses of any sort.
Our Experience with BetR
The BetR desktop website is exceptionally functional for such a new bookie.
We suppose it would be fair to expect something effective, given the background of Matthew Tripp. He also has other experienced hands looking after things, so while BetR is a new online bookmaker, the website appears as though it could have been around for years.
We have heard it described as "bare bones" and "minimalist," but our preference has always been for a simple design that stays out of the way as we examine potential betting markets.
The colour scheme is subtle – primarily grey, black and white, with some occasional red, such as that used when it is getting close to the time for a race or event to begin.
We found it easy to navigate because it uses the ubiquitous three-column layout that has been the de facto format for online bookies for many years.
The left column lists all the important links a punter might be using frequently, a list of the supported sports presented alphabetically and important information unique to BetR.
The centre column shows all the prices and it includes filters for Racing and Sports, along with buttons for future events in general of important events for popular codes.
The right column is reserved for the bet slip, which is easy to use for such things as placing bets, estimating dividends and keeping track of pending bets.
BetR uses the Betmakers software platform that is equally user friendly for new and experienced punters.
We conclude that BetR has a desktop website that gives every appearance of an online bookmaker that has been around for years.
If this is how good it looks now, we can only imagine what it will look like as BetR grows and continues to invest in improvements and options, something that will benefit BetR members.
There have been instances where there were some technical glitches, mainly from punters rushing the site in order to capture some of the exceptional promotions BetR used for their debut. Those are either sorted or close to being sorted at the time this review was prepared.
BetR Mobile
We found that on a mobile phone, BetR mobile apps closely replicated the views found on the desktop version. Some elements have been moved around to accommodate the smaller screens of mobiles, but racing punters who use their desktops and big screens to locate and place bets, and then follow those bets during the course of a day on their mobiles, will find the BetR mobile app experience satisfying. Join BetR Here
Younger punters and many sports punters know of no other way to bet online outside of their mobile devices and that segment of the clientele will download, install, fund and place bets almost instinctively.
Mobile betting has come to dominate online wagering, so the availability of well-designed and easy-to-use mobile apps is something BetR has handled with grace and style.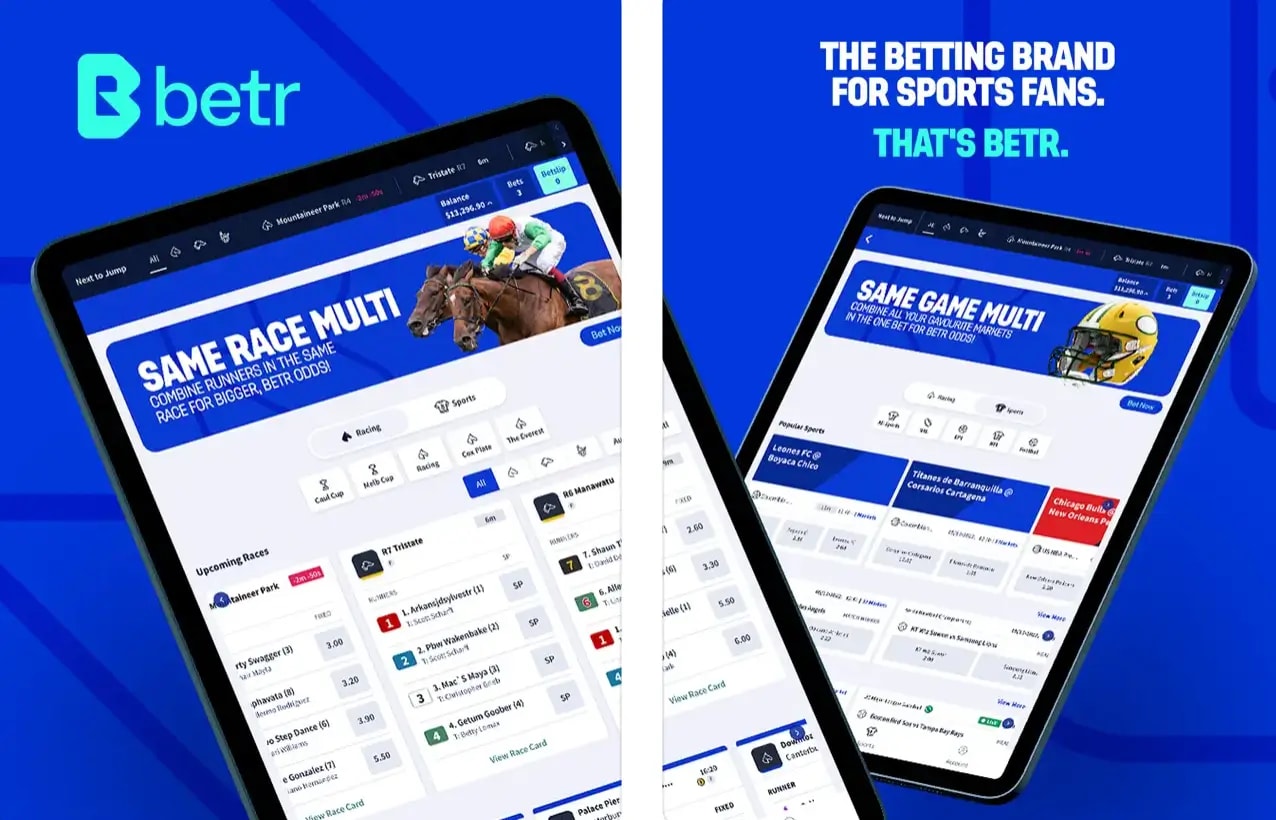 BetR Sign Up Instructions
It is easy to sign up with BetR. Here are some brief instructions, but the process is essentially self-guided and straightforward, no matter if the sign up is on a desk or laptop computer, or a mobile device.
Direct a browser to BetR.com.au, download the mobile app from the Apple App Store, or follow a link to get the Android version.
Click or tap the Join button.
Provide the required registrations details in the short form provided.
Click or tap the button to accept the BetR Terms and Conditions that is labeled 'Agree and Create Account.
You now have a BetR login that you can use anytime you need to visit the site and see the content that is exclusive to members.
The next page will supply options for funding an account, set any pre-commitment levels and other financial options, such as funding method.
That is all there is to it. We have found that downloading and installing the BetR app and signing up is a process that can be completed in about five minutes, even by those of us with balky thumbs and poor typing skills.
BetR Betting Instructions
This, too, is a simple process and only requires such amount of time as the user is willing to devote. A punter could sit down at his or her desktop, or pull up the app on their phone and have a bet lodged in well under a minute, if, for example, the punter knew the exact market in which he or she was interested and had a wager amount in mind at the very outset of the process.
Here are the simple instructions.
Log in to BetR.
Select a market from the left column, or navigate to any of the easy links BetR provides for major events.
Click or tap on a price.
Enter a stake amount
Finish by clicking or tapping Place Bet.
As can be seen, signing up and betting with BetR is simple and fast, just as we have come to expect from online bookmakers.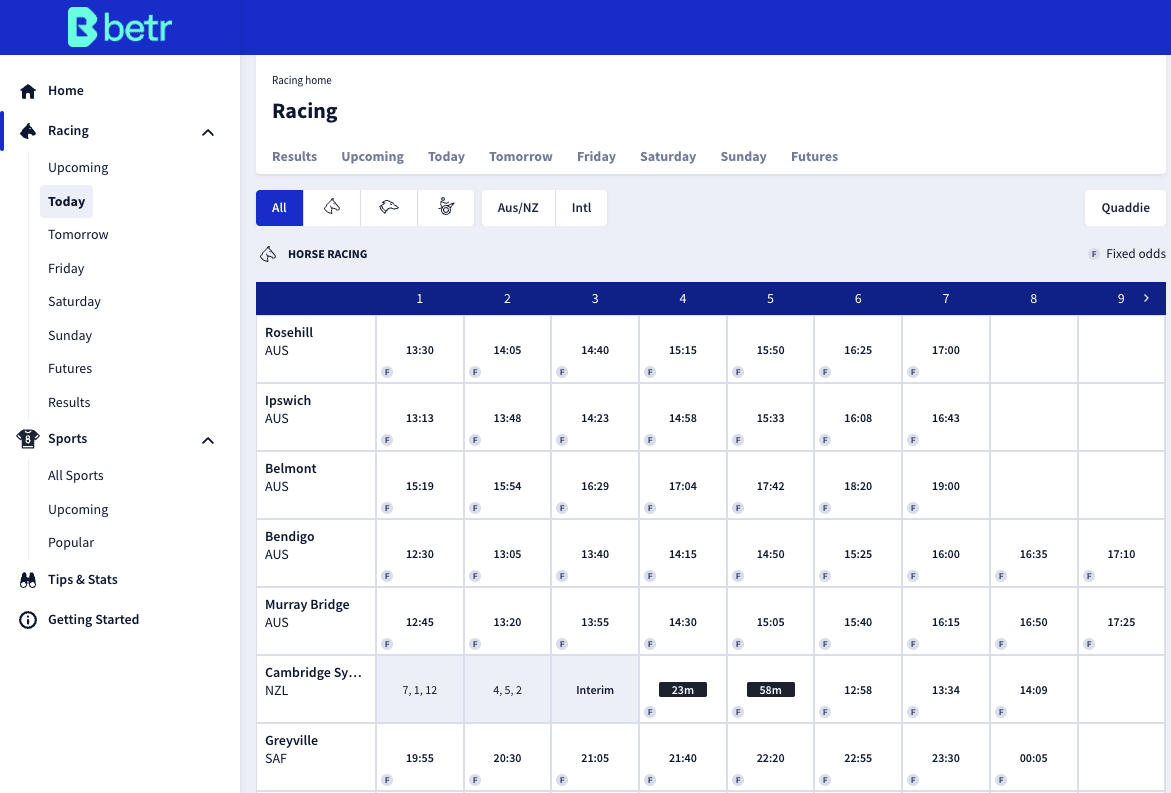 BetR Deposit Methods
This is one area where new online bookmakers sometimes fall short of the more established agencies.
At this point, it appears that credit cards, debit cards and POLi are the methods BetR promotes. Direct Deposit and BPay are other options. We have seen other bookies debut with similar options, and then add additional funding and withdrawal options as they evolve.
The withdrawal methods for the time are limited to bank transfer.
Although it is speculation on our part, we would think that BetR would one day have its own branded debit card. Other instant electronic payment methods, including PayPal, will come along when the time is right. Join BetR Here
Not at this time.

---

There were some early reports that BetR servers were crashing because of more online traffic than those servers could handle. That seems to have been addressed and rectified.

---

Not at all. The process can be completed in minutes. It could possibly take a little longer if the decision is made to fund and/or verify personal details at the time of joining. It is really very simple and no one need feel intimidated, even those amongst us who are paranoid about technology.

---

The BetR endeavour is one-third owned by News Corp. One third remains in the hands of Matthew Tripp and the final piece of the pie belongs to a Las Vegas called Tekkorp.

---

Live chat, for now, is available from 8am to 12pm AEST. Their email address is customerservice@betr.com.au and the telephone number is 1800 002 387. Phones are staffed from 8am to 11pm AEST.

---

Matt Tripp and News Corp are solid Australian entities. The Las Vegas owners are mainly for technology and support services.

---

BetR is licensed by the Northern Territory Racing Commission.

---

Yes. This should be done within 14 days of joining and must be completed before any winnings can be withdrawn.

---
Conclusion
As the newest online bookie in Australia, BetR relies on the vast experience of Matt Tripp in order to lend a note of legitimacy. Not in the sense that we are suggesting that BetR is doing anything illegal, but in the sense that industry veterans are in charge and are dedicated to supplying a positive betting experience to all Australian and New Zealand residents.
The look and feel of the website and mobile apps put us in mind of older, more established bookies.
The excellent racing coverage is easily equal to anything to which Australian punters have grown accustomed over the years.
This is one online bookie worth, at the very least, following in order to see how they grow, evolve and innovate.
Whether as a sole source for the casual Grand-Final-Melbourne-Cup punter, or as one of a collection of memberships for the more dedicated betting types, we would have no problem recommending BetR to friends and relatives.
Owners: 
Matthew Tripp, News Corp and Tekkorp
Products: 
Racing and sports betting
Location: 
he Parent company BetR is NTD Pty Ltd and the bookmaker license is issued by the Northern Territory Racing Commission
Support: 
Email, chat and phone
Phone Support : 
1800 002 387 8am to 11pm AEST
Live Chat: 
Yes, from 8am to midnight AEST
Email: 
customerservice@betr.com.au
About The Author
John DeBiase has been following the online bookmaker industry since 2010. He takes pride in remaining objective and is immune to bookie pressure to supply favourable reviews. When he does not have a bookmaker under the microscope, John derives great satisfaction from his pursuits as a self-taught musician, handyman, and grandfather.