Betfair is different from most online bookies in that it acts as a betting exchange in addition to its traditional racing and sports betting offerings. Members can post odds on the exchange side of Betfair and Betfair will match those odds with punters who wish to participate at the quoted price.
The Betfair exchange is the largest betting exchange in the world.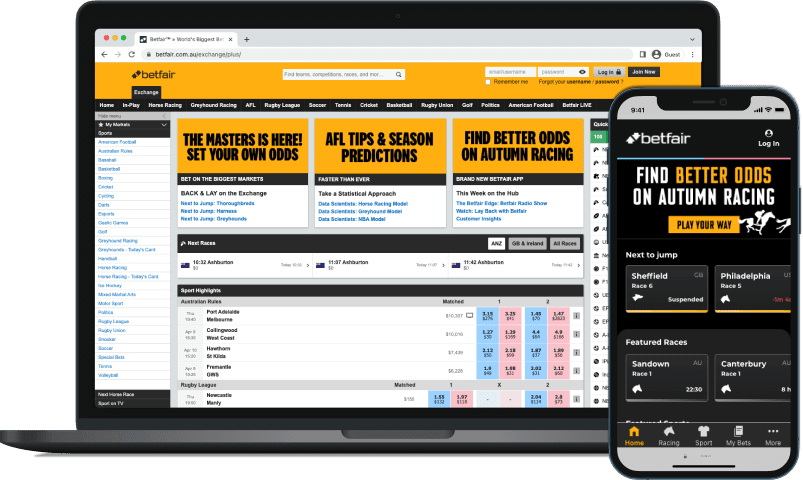 The BSP consistently
Beats the Best Tote
Popular For
xtensive Betting Insights
18+ T&Cs and wagering requirements apply
Betfair Betting Odds
Betfair Australia is not the same as Betfair UK, as we have discovered in times past when we did not specify the URL www.betfair.au.com. This is easy to do, but most punters will catch it quickly, more quickly than we did.
Regarding Betfair Australia odds, we can say without looking that Betfair odds are competitive with the other bookies participating in the lucrative Australian online wagering market.
We have been comparing online bookie odds for over 12 years and that has given us enough time to reach the conclusion that odds alone are not the only criterion that figures into the bookie selection process.
Here is an example.
This review was prepared early in the week, so we picked a meeting at Kembla Grange.
The first race for the meeting found the favourite, a gelding named Highballer priced at $2.70 with Betfair, Neds and Sportsbet.
Of course, odds fluctuate and it is possible that one of these three bookies will shift to $2.69, or $2.71, but that is about the entire extent of any difference that might be found.
You will not find another bookie pricing Highballer at $12, or even $3, unless Highballer has one too many of himself and loses a leg.
It is fun to get a better price on something, but the better price with any online bookie is always going to be a scant price difference. It is fun to shop odds and we do it even when it is not part of our job, but in over 12 years of doing this, we have never been able to say that odds is a major make-or-break part of the bookie selection process.
We find that the competitiveness between the odds on Betfair Australia and the odds on any other online bookie is reassuring. This price parity eliminates the anxiety that we
need memberships with every bookie in Australia in order to get a punt on at the best price.
Betfair Australia offers great odds on all the codes they cover. It is one of many ways they have combined to grow into one of the largest online bookies in the entire country.
Betfair Markets
Tracking the market's Betfair offer is a little different.
For our example, we used an upcoming footy match between Brisbane Lions and Collingwood Magpies. While Neds and Sportsbet were showing 158 and 146 markets, respectively, Betfair required us to click on the match before we could see the available markets.
These were displayed in the left column, where we are accustomed to seeing a list of racing and sports markets arranged vertically with other bookies.
Betfair had a list of the prop bets they were offering for the match. To find the number of markets per each category, one of the bets had to be clicked. For example, clicking on First Scoring Play opened a window in the centre column that revealed that for First Scoring Play, Betfair were offering Brisbane Goal, Brisbane Behind, Collingwood Goal and Collingwood behind.
Totalling the number of markets based on the categories Betfair had posted beyond the match result revealed that Betfair had 50 markets where some actual betting was taking place. This number will grow as the bounce of the match gets nearer, just as the Neds and Sportsbet markets will expand.
The point we have been making for the past 12 years is that the number of markets seen from online bookies is ludicrous. Most of those prop markets will never see a wager.
A big salute to Betfair for showing everyone which markets matter.
Anyone should be able to get a punt on with 50 markets and most people can go their entire lives never needing more than five.
There is nothing like a great betting exchange such as Betfair to prove our point, which is that it is nice to have a large number of markets, but not essential to the decision making process of which bookie to join. Additionally, Betfair offers the ability to wager on markets beyond those normally associated with sports and racing. Some of these include elections and other political events, financial markets, such as interest rates, cryptocurrency and esports. Of course, Betfair offers plenty of live markets, where Betfair tips might come into play. Live bets can be placed from jump to first past post where bets can be back or lay, as well as traded. Betfair assumes a more traditional bookie role for all of their Tote and multi betting. A great feature is that multi bets can be combined with Australian and overseas markets.
Betfair Products
We will confine this section to Thoroughbred racing products.
First off, Betfair offers a product that is unique to Australia.
They are the only major Australian bookmaker to act as an exchange, which means punters cannot only back an outcome; they can lay an outcome as well.
For a racing punter, this means that they can bet against a horse winning, so long as the horse has a backer betting on a win. The effect is to offer members of Betfair the ability to act as their own bookie.
Another unique Betfair product is the ability for punters to trade their bets with another punter.
This next thing might not exactly fall under the classification of a product, but it is so important that we need to mention it here.
Unlike the other online bookies that have been known to restrict the accounts of winning punters, Betfair actually encourages winners to join and bet with them.
The reason is simple. Betfair takes a commission on every winning bet, so the more winning bets that are turned over, the more they earn. Punters can also enjoy Betfair Starting Price betting, which is the exchange's way of giving members the equivalent product of Best Tote dividends.
Betfair Bet Types
Betfair racing bet types are a little different from those offered by other Australian online bookies, those who accept only Back bets in all the various forms.
It appears, according to the Betfair Rules and Regulations section of the website, that there are bet types for Each Way and winning distance bets.
They do offer some of the traditional Thoroughbred race types. Punters placing a racing multi bet have options such as 'Trixie,' which comprises of three selections and four bets, equivalent to three doubles. Another type is the 'Patent,' that consists of three singles and one treble. Finally, they have what they call the 'Yankee,' which is built from six doubles, four trebles and a fourfold.
The best feature, in our view, of Betfair's Thoroughbred racing bet types is what Betfair calls BSP, which stands for Best Starting Price. This feature is the one that ensures punters do not have to wonder if they have gotten the best dividend possible.
Betfair Promo Codes & Racing Offers
If you are looking for a Betfair Promo Code, forget about finding a sign up bonus bet. Those types of bonuses have been extinct in Australia since 2018, when government legislators halted the practice out of an abundance of caution over protecting new online punters from joining thinking that they were getting something for nothing.
The thing anyone accustomed to most of the other online bookmakers will notice is not the presence of something, but the absence.
When you use a Betfair login and get inside the site, the missing thing will be an active link to any promotions.
The only reason for this is that as a betting exchange, finding a Betfair promo, Betfair free bet or Betfair promo code is not as evident as it is with the more traditional online bookmakers.
Our Experience with Betfair
The Betfair website is different from other bookies, in a way.
They still use a three-column arrangement, but they use the columns slightly differently than the other bookies use them.
Beginning with the URL www.Betfair.com.au, site visitors are greeted by an interface that uses some of the same colour scheme that we here at Pro Group Racing use, but there is no direct connection. The primary colour at the top of the page and a lot of Betfair's headline-sized text is a mustard shade of yellow. They also use blue to indicate active links. These are located in the left column, where the list of offered codes is displayed, not by popularity or by events soon to begin, but in alphabetical order. This is actually kind of nice for anyone who enjoys order of any kind, but punters coming over from other bookies will need a few moments to become oriented.
The centre column is used to display prices.
Betfair makes their prices easy to read by leaving some space. The bulk of the centre column is done with black text on a white background, with a couple shades of grey used for less important data. Prices are on the right side of the centre column, with blue used for Back and red used for Lay bets.
A very noticeable difference with Betfair is that if you click on a price, for example a footy match, a mini bet slip opens right beneath, with the selected price highlighted. The options at that point are to cancel, enter a stake amount and a box to place the bet.
The bet slip is in the right column for horse racing and we have to say that it is our favourite out of all the bookies. Our reason is simple. The bet slip is a little wider. It has just two options – Place Bets and Open Bets. The bet slip displays the selected runner and the price. When a stake is entered in the Stake box, the Betfair bet slip calculates the potential profit.
At this point, we want to mention some Betfair website features that truly differentiate Betfair from other online bookies, features that racing punters will truly appreciate.
When a race is selected and the website shifts to the page for that race, there is extensive form data displayed under the prices. Timeform is provided for three runners and immediately below that is Timeform Comments for every runner in the race.
That amount and depth of information right on the race page is really nice, but it is just a small sample of the punter information that Betfair supplies. This is mainly due to the difference between exchange betting and traditional betting, but even still, Betfair offers so many data resources that it almost seems as though they are running the best tipping service in Australia.
This information is easily accessed by clicking on Betfair Hub, Betfair's name for a vast suite of pages designed to assist Betfair members.
The Betfair Hub section resembles the main landing page in many regards, but the top of the Home page of The Hub has a prominently displayed Search function that actually finds things.
The Betfair Hub is further divided into sections labelled Learning, Racing Sports and Resources on the left half of the page. The right half has categories labelled as Exchange, Betfair Live, Help and Login/Register.
Those new to exchange betting and those who want to improve their punting results are highly encouraged to scroll past the Headlines and spend some time in the Strategy section, where there is educational material on Lay Betting, In-Play Betting, Introduction to Horse Ratings (must read regardless of which bookie you choose to use), and much more.
The right half of this page has the latest articles from Betfair Insider, Data Scientists and The Analysts. There are also quick links to Racing Results, Expert Tips, a tracker for the Brownlow Medal, Racing Models, and a form hub that supplies information for all three racing codes.
Betfair live betting is easy to find. It is shown on most pages and on some, Betfair live betting is shown in the right column that shifts to a bet slip when a price is selected.
On our most recent visit, at a time of day when we seldom see many live betting markets, Betfair live betting had nearly 100. This may be an advantage to an international such as Betfair.
Betfair Mobile
Betfair mobile offerings are as good as any we have seen. After we became accustomed to the Betfair full website, it was easy and intuitive to find our way around the Betfair mobile version. This feature sounds innocuous enough; after all, most Aussies could not recall how they managed to exist before there were apps for everything. Being able to find a market, evaluate that market and get the punt on without wasting time trying to figure out what action is next is critical, even more so for those who want to play Betfair live betting offers or look for Betfair promotions.
As for the dedicated mobile apps for Apple and Android devices, they were easy to find, download and install.
As the Betfair exchange has grown, they have ploughed some of their profits into keeping their apps current, so the result today is an experience that travels well from desktop to the smaller screens of mobile devices. Betfair video functions well on mobile devices and the settings permit punters to use the same Betfair login as they do for desktops. We mentioned earlier that Betfair video was a great resource for punters of all skill and experience levels who want to develop a firm grasp on the possibly unfamiliar elements of exchange betting with Australia Betfair.
The Australia Betfair login will grant access to punters looking for the Betfair promotions and Betfair betting offers. Live Betfair markets are a pure pleasure on the Betfair mobile apps. We noticed no issues using the mobile apps to stream Betfair video.
To sum it all up, the Betfair online experience, including Betfair results, is easy and reliable and requires only a few visits for punters new to exchange betting to become acclimatised. There is often some initial trepidation for punters accustomed to only back betting, but it takes just a few times of acting as a bookie and laying bet outcomes to dispel that trepidation.
Betfair Sign Up Instructions
It is hard to imagine anyone having issues with the Betfair sign up process. A few simple steps is all that is required to obtain a Betfair log in and start sampling the vast trove of punting information in general and racing info specifically.
Direct an internet browser to www.Betfair.com.au.
Click a "Join Now" button at the top right corner of most Betfair pages.
Complete Step 1 by providing personal details, including gender, first and last name, date of birth, country or residence, address and mobile number.
Provide an email address and create a password.
Select a Security Question and supply an answer.
Select a currency, which will be the Australian dollar in most instances. This cannot be changed at a later date.
Set a deposit limit, if desired. This can be changed at a later date.
Enter a Betfair promo code if applicable.
Click "Join Now," which also indicates acceptance of Betfair Terms & Conditions, Betfair privacy policy and cookie policy.
Betfair Betting Instructions
The instructions for betting on the Betfair exchange are very similar to placing a bet with any online bookmaker. The biggest difference is that a punter selection must be matched with another punter who is taking the opposite side of the bet.
Use your Betfair log in to access the members' area of a Betfair desktop or Betfair mobile app.
Use any of the supplied links to identify a desired market.
Click a price to open a bet slip.
Enter a stake.
Place your bet.

There are some variables that may come into play during the process of getting a punt on with the Betfair exchange, but no more or less than there are with any online bookie.

A great feature Betfair offers for punters who want to gain familiarity with exchange betting can test drive a Live Demo of Betfair by calling 1300 238 324 between the hours of 8am and 10pm.

Betfair Deposit Methods

We sometimes run across bookie reviews lamenting a lack of enough options for account funding. Most of the top line bookmakers have more than enough funding methods. Betfair has gone far beyond more than enough.

Their website lists 10 ways to fund. Six of them are instant. Those six are Visa, MasterCard, PayPal, Neteller, POLi and Skrill.

The minimum deposit with those methods is $10 for Visa and MasterCard. PayPal and Skrill require a minimum of $15.

POLi can be used for a minimum of $5 and Neteller has a $25 minimum.

BPay and Bank Transfer have a $30 minimum. It takes two to five working days for a BPay deposit to be available for betting, while a traditional Bank Transfer takes one to three working days.

Pay ID and Osko have $30 minimums. The Betfair website reports that these two methods require anywhere from 10 minutes to 12 hours to clear.

POLi is not an option for New Zealand punters in New Zealand. POLi cannot be used for withdrawals.

Betfair Withdrawal Methods

POLi and BPay cannot be used for withdrawals. Neither can Pay ID or Osko.

Withdrawals made with PayPal and Bank Transfer have a $15 associated minimum.

None of the other available methods has any fee attached, but there are some devilish details.

Visa and MasterCards issued in Australia cannot be used for withdrawals.

PayPal seems to be the fastest way for withdrawing funds, given as up to 24 hours.

It is worth noting that Betfair does not levy any processing fees on deposits or withdrawals, but a credit card issuing bank might treat deposits made through Visa and MasterCard as cash advances, with a fee determined by the bank.

As an international agency, Betfair discloses that punters may encounter a fee for currency conversion if a credit card is in a different currency from the Betfair account.

Finally, Betfair will not accept paper cheques and third party deposits are not permitted.

It would be great if Betfair would offer a branded debit card for deposits and withdrawals, but they do not and given the number of Australian bookies who offer this feature, we would speculate that there is some regulatory hurdle in Betfair's way.
Betfair FAQ's
There is no maximum payout with Betfair. As a betting exchange, they are paying winners with losers' money and taking a commission from the winners.

---

Any bets not submitted can be cancelled by removing the bet from the bet slip. Another form of cancellation is to cash out of a submitted bet before the event. Betfair also has auto cash out for punters who treat exchange betting similar to stock speculation.

---

The best way is to follow one of our links to the Betfair registration site. The next best way is to go to www.betfair.com.au and click on a Register link.

---

Betfair has a license issued by Tasmania. With few exceptions, online Australian bookmakers hold licenses from Northern Territory. Betfair now has a license issued by the Northern Territory Government.

---

Betfair is Australia's only licensed betting exchange and so is the only place where a punter can lay bets. "Back" means to place a bet on a race, sports or other supported event on a positive outcome. "Lay," on the other hand, means the money at stake is on a negative outcome. A $100 stake on Melbourne to win the AFL Grand Final is an example of a Back bet. A $100 stake on Melbourne to lose the Grand Final is a Lay bet.

---

In Australia, Betfair functions as a betting exchange. They match punters on one side of an outcome with punters who want the other side. Betfair then takes a commission of from five to ten percent from the winner of the matched bet.

---

It works by allowing the punter to act as both punter and bookie. A punter might lay a certain horse to lose a race and as long as that horse finishes second or lower, the lay bet is a winning bet, provided that the bet was matched with a punter who placed a bet in anticipation of the certain horse winning. That is a simplified answer and there are various other scenarios that could come into play that are beyond the scope of this answer.

---

Bear in mind that you cannot withdraw money from Betfair until your account has been fully verified by Betfair. The Betfair website has specific details on verification methods, including online, by phone, etc.

---

The best place is on the Betfair Hub. This feature of Betfair on its own is enough justification for a Betfair account. Almost every race gives all manner of form data and comments about the main chances in every race. We would go so far as to say that the racing and sports information presented by Betfair is worth joining – even if another bookie is used for the bet.

---

Betfair operates as a betting exchange only in Australia. There are no free Betfair bets.

---

That is probably the most frequently asked question we receive, but sign up bonuses were made extinct by government regulation in 2018.

---
Conclusion
Betfair runs a good betting exchange and as far as we know, they run the only one in Australia.
Exchange betting requires a slightly different mindset from conventional betting. With exchange betting, you can be wrong and still make money, or you could be wrong and cash out your bet without losing your entire stake.
Betfair's live betting is top rate. The website and mobile apps are often held up as examples of how to do things the best possible way.
Punters who are accustomed to the traditional way of online wagering will want to spend time on the Betfair Hub, where the resources of every kind are some of the best we have seen in the online bookmaking industry. They can also request a Live Demo of exchange betting between the hours of 8am and 10pm by calling 1300 238 324.
Owners: 
Flutter Entertainment
Products: 
Races & Sports Betting
Location: 
Headquarters in England London
Languages: 
English, Russian, German, Dutch, Spanish and Portuguese
Support via: 
Phone, email & live messenger
Social Media: 
Betfair will be found on all the major social media sites
Turnover On Deposit Funds: 
1x
Phone Support: 
1300 238 324
Live Betting Phone: 
132 238
Email support: 
service@betfair.com.au
Post: 
L 3 47 Mitchell St Darwin, NORTHERN TERRITORY
About The Author
John DeBiase has been following the online bookmaker industry since 2010. He takes pride in remaining objective and is immune to bookie pressure to supply favourable reviews. When he does not have a bookmaker under the microscope, John derives great satisfaction from his pursuits as a self-taught musician, handyman, and grandfather.