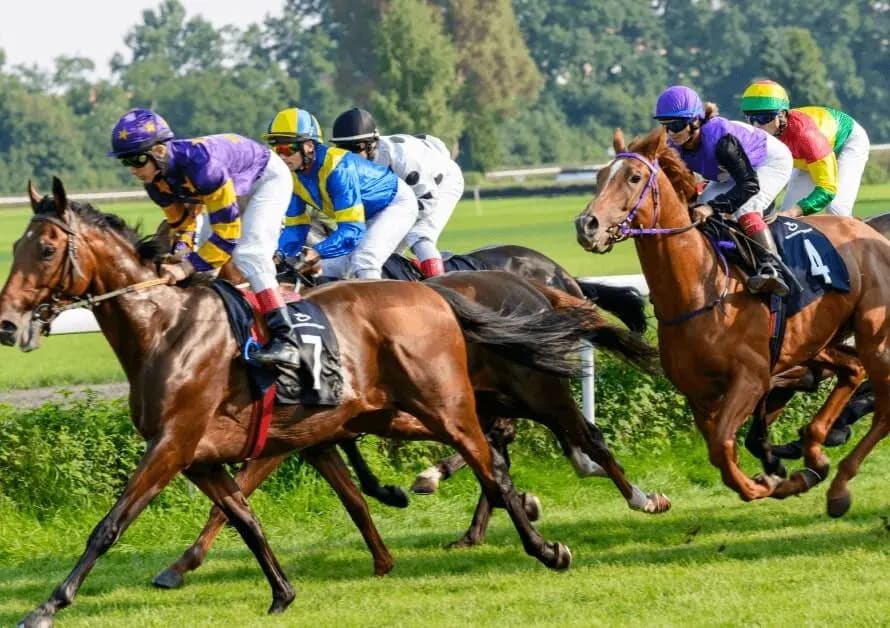 How are horses in Australia Handicapped. Learn here about Bench Marks.
Ever since organised horse racing got its start, and in the case of Australia, we trace that back to the early 1840s, it has been necessary to do something in order to make it interesting from the perspective of wagering.
The primary way this has been done for the entire history of racing is to make the top performing horses carry more weight than the lower performing horses.
The better horse, in other words, is given a handicap. This does not mean that the horse gets a stall that is closer to the track. Sorry, could not resist the opportunity for a bad pun.
At any rate, horse racing has grown to such an extent that in order to fill a field for a race, an elaborate system has been developed for determining exactly how much of a burden should be assigned to each horse in an event. Handicapping means that races will be more competitive, this introduces an element of suspense, which in turn increases the entertainment value of racing and supplies an incentive for punters to make wagers.
Today's top betting sites
CHANCES ARE YOU'RE ABOUT TO LOSE. Set a deposit limit
Trainers Use the Handicapping System To Prepare
They do everything in their power to gain every possible advantage for their runner in terms of ratings and assigned weight for races that follow the handicapping format.
For example, a trainer preparing a horse that appears to have the potential to develop into a stayer, and thus participate in the longer prestige events that offer larger purses and the future potential of enhanced stud fees, would do whatever is possible within the rules of racing to get that horse assigned a lighter weight when it was going to be tried for the first time at a greater distance.
The trainer might look for an event of slightly lower quality to go against competition that was not as accomplished, or he might consider a jump in race quality that offers the prospect of running his horse lightly burdened. All the possible strategies and permutations provided by the handicapping system make for some quite difficult and interesting decisions.
For a punter, some understanding of how handicaps are calculated and how those handicaps affect the odds is necessary in the quest to develop wagering skill that rises above betting on favourites and hoping for the best. The precise level of understanding is up to the individual punter's discretion.
Someone with a keen head for that sort of thing can devote hours and years to gaining proficiency, and enjoy the process immensely, while someone else might be content to be able to find a runner that seems light, yet has odds that offer a worthwhile payday.
The different states of Australia have some small differences in how a handicap is assigned. These differences aside, the end result is that horses that are proven top performers carry more weight than horses that are untested or only moderately good.
Basic Rudiments of Handicapping Follow
Some races are designated as Benchmark Events. A computer is used to compile an extensive database that compares one horse to another, takes track conditions into consideration, and even looks at where a horse happens to be in terms of spell, mid-campaign and most recent results.
Data from multiple years is combined with races that have recently been contested, meaning that handicaps are constantly updated. There are many other criteria that are part of the equation. Past performance for a horse is used in merit based handicapping that assigns a benchmark figure to that horse, without taking into consideration the expectation of any thoroughbred that it will improve its performance over time.
The racing officials that determine handicaps use many factors, some of which will involve watching race films, assigning a value to the event and the field participating in that event, recent times, and many more. All this data is used to determine how much weight a particular horse should carry for any specific event.
If a horse has a benchmark rating below the benchmark rating of a race, it will qualify for a reduction in weight. A horse with a benchmark rating above that of the race will have weight added.
The starting point for these reductions or additions is 59 kg. Using this system, it is possible for a lower rated horse with a lighter weight, having a good outing, could get the better of a higher rated horse that has to schlep a bit more around the track. As you might imagine, there are many occasions when an assigned weight is considered a monumental injustice, depending, as they say, upon whose ox is being gored.
Some trainers have achieved a level of notoriety for having a jockey ease a horse in a lead-up event to get it into the feature event with as low a weight as possible, and while it is doubtless possible that this and other similar shenanigans take place, the handicapping system is generally equitable, and not all that much different from a footy manager trying to give his side the best shot at winning.
How Benchmark Event Handicapping System is Administered
Now, let's switch to a look at Ratings Based Events. It is in many ways pretty much the same, but not precisely. The framework of the plan is in effect in all the states.
The Ratings Based Events Handicapping System give each runner a ratings band. A horse with a rating band equal to or lower than any given race is eligible for that race, assuming it is nominated, but a horse with a rating above that of the race cannot compete. Horses are assigned to eight separate ratings bands, with the lowest being a band of 0-58 and the highest being 0-95.
These bands can change, at times dramatically, when for instance, a longshot with a ratings band barely inside the minimum to qualify for an event, running to fill a field, wins a race that is close to the upper limit of its ratings band. This is not a common occurrence, but it most definitely has happened and will continue to happen. Regarding the variables that are introduced to the handicapping system by the various states, it should be kept in mind that the differences are not all that significant.
Elsewise, the turmoil induced by a horse from WA running in a race in VIC or NSW would have the punters and the bookmakers running for the hills. Victorian handicappers, in addition to handling handicapping duties in Victoria, fill the same role for Tasmania.
Western Australia places a "+" symbol after the race rating. Horses whose benchmark rating is above that of the race are assigned an additional ½ kg. for every point by which it exceeds the race rating, up to the maximum permissible weight.
Other States Similar
Queensland use a hybrid combination that has races classified from class one to class six. Handicapping came about as a way to level the playing field in order to generate a high level of interest in racing, and wagering on that racing. Without it, horse racing would be something along the lines of a footy match betwixt the Crows and Port, where the Crows were permitted to field only 15 players. You get the gist.
The debate that accompanies the perception of injustice, as in the case of a trainer manoeuvring his horse so as to get into a major handicap race with a ludicrously low weight, is just another element that elevates the entertainment value of The Sport of Kings.