Virtual Decisions: RV Using VR To Pit Superstars Side By Side
There will always be questions and debates in social circles as to who was the best. Who would win between Winx and Frankel? Was Phar Lap just simply the greatest ever?
Those questions will never go away and be discussed in pubs and racecourses around Australia for years to come. However we can get one step closer with the Ladbrokes Greatest Ever Cox Plate.
Similar to the virtual running of the Pomes Grand National back in April, Ladbrokes have partnered with Racing Victoria to create a virtual running of the Cox Plate featuring its greatest ever competitors.
The race will be dedicated to the celebration of the 100th year of the Cox Plate which will this year run on the 24th October. It has been built by Inspired Entertainment and will feature all the household names from previous runnings of the race including Winx, Deep Impact and Might & Power.
Punters will be allowed to bet on the race with a 14 strong field to choose from: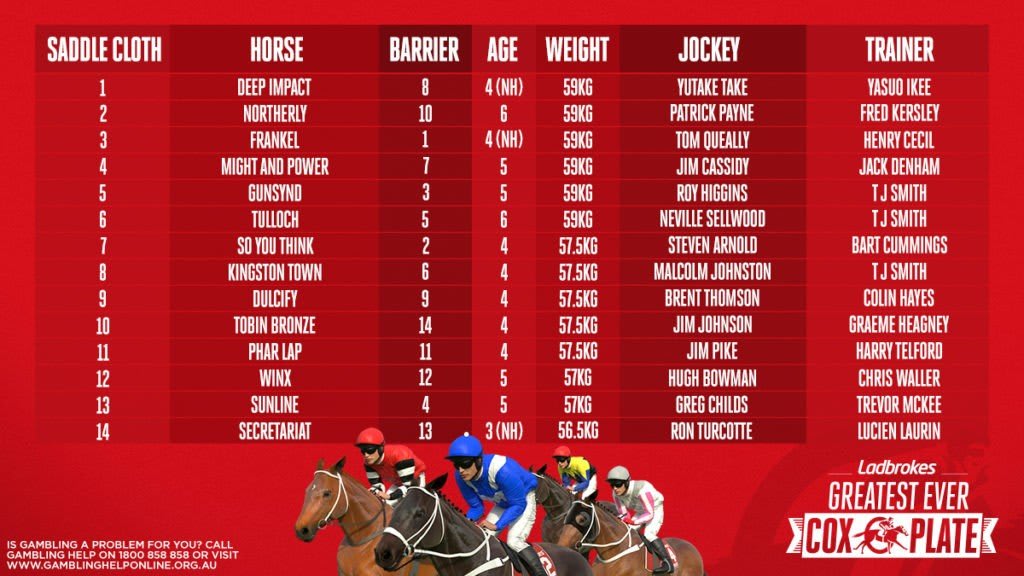 Lucky Lucky: Punter Wins $600K By Mistake. Yep Mistake.
Personally i don't know a single punters who hasn't at least once, looked at their bet slip to put on a exotic thinking the dividend was the stake and then ended up over outlaying. Its one of the oldest troubles of the online punter and usually it yields little reward.
Not in the case of one punter at Newcastle on the weekend though. In the case of one punter looking for the quinella at the Northern New South Wales track the slip of the finger proved very beneficial.
It was the sixth race at Newcastle he was focusing on, or not really focusing on, and the horses he selected were certainly roughies with Amorita ($35), Keiai Tsubaki ($19), Dodecanese ($6.50), Mosht Up ($41) and Opinions at $151 the rank outsider in the field, so his box quinella numbers were 8,10,11,13,14.
With 5 runners selected the punter would have been looking at staking $60 on 10 combinations meaning a $600 wager but a slip of the finger and an extra zero added meant they put $600 on per combination leading to a $6000 bet.
The race seemed to be a two horse battle between favourite and Mosht Up however when they hit the line Amorita drops from the clouds on the outside to grab Mosht Up in the last bound, and in doing so cuts out the $2.20 favourite Commanding Missile.
The late burst sees the lucky punter win the bet and then sees the result flash onto the semaphore 8-14-9 with the quinella a massive $1036.40.
The late burst wins the punter a whopping $621,840 return!.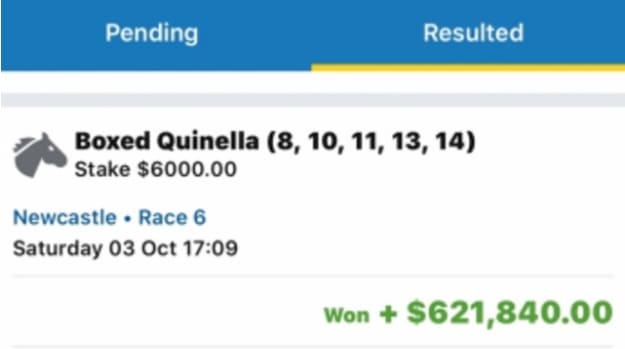 Spring Watch: O'Brien Stable Confident With Travelling Contingent
The Aiden O'Brien camp are in particularly bullish form this year with claims by stable manager and travelling foreman TJ Comerford that this these are the best horse ever to set hoof down under for the legendary trainer.
O'Brien sent a total of 6 horses down under overall and with them about to leave the Weribee quarantine punters will be looking towards the likes of Derby winner Anthony Van Dyck for a true indication of ability.
One of Ireland's greatest ever trainers O'Brien has had previous success down under winning the Cox Plate with Adelaide and the McKinnon Stakes with Magic Wand in recent years however the big two cups have always escaped in a decade of attempts.
Comerford said this week: "We try to bring good horses every year and we try to make a plan. We were even talking about bringing Magical this year."
"It just works out that these are the best bunch that we've ever brought.
"We came here last year and we got two winners, Hunting Horn (in the Moonee Valley Gold Cup) and Magic Wand, and Magic Wand ran three times last year.
"This is probably the best bunch we've brought as a whole."
TAB has Anthony Van Dyck as an $8 equal favourite to win the Caulfield Cup, while Armory is an $11 chance in Cox Plate betting.
O'Brien's main Melbourne Cup hopes Tiger Moth and Santiago are $9 and $15 chances respectively.
Trainer John Gosden has spoken to the media for the first time since Enable was denied an unprecedented chance to win a third Prix De L'arc De Triomphe when she finished 6th in the race on Sunday.
She was denied by an impressive Sottsass in extremely wet conditions. Sottsass upgrade on the 3rd place his third place 12 months ago beating home In Swoop and Persian King.
Gosden speaking to the media cited the horse not handling the ground for the poor finish but was nonetheless complimentary about her performance and career.
"She seemed great afterwards," said Gosden. "It was sporting for Khalid Abdullah to allow her to come back and try again this year, and had she not she wouldn't have won another King George.
"We'll see what the plan is with her and whether she's retired immediately. As always, Prince Khalid will want a report on her a week after the race and we'll see what happens from there.
"She didn't have a taxing race because they didn't go a good old gallop like they do in England and Ireland, but that's horseracing. If you can't take the punches in this game you shouldn't be in it."
The stable and the King will also be looking at options for Stradavarius also after a seeing a dip in performance in recent months.
Stop Start: Aussie Bred Horse Takes The Long Way To Win At Happy Valley
Stock Legend will not be a household name in Australian racing but the maiden gelding definitely put himself on the fore of racecourse and pub discussions after an incredible race at Happy Valley on Wednesday night.
The Francis Lui-trained four-year-old was having his 11th career start trying to break his duck having previously run under the training of Jimmy Ting to no avail.
It looked as though things would be heading in the same direction as Ting saw after the Aussie bred runner was slow away and missed the jump by 7 lengths.
"It was a good line away apart from Stock Legend, who made a right hash of the start and missed it by six or seven lengths. He was particularly awkward out," declared racecaller Mark McNamara.
What was seen after was a recover almost Chautauqua like in status when Stock Legend tacked onto the back of the field and when turning the last corner appeared to be making good headway into the race.
Even the most steadfast punters would have been amazed though as the Lui runner gave a huge kick at the 200m mark winning the race by 3/4 of a length.
Off The Mark: Hotham Won By Tassie Star Bimondo
The most famous maiden race in the world took place on Friday at Ballarat racecourse with SportsBets $75,000 race the Hotham being won by Tassie horse Brimondo.
The tongue in cheek race aimed to emulate the heights of the Everest saw a field of 12 compete with just over 700 starts and no wins between them.
Bimondo the winner of this years edition was beaten a combined margin of 299.17 lengths throughout her career however today was her day. The pride of Tasmania was able to sit just off the leaders with Alana Kelly aboard before powering over the top of them to secure her first career victory.
"The Heavy tracks worried us, but when we heard we were on the synthetic we were confident she'd handle it well," stable representative Dean Larson said.
"Vern (Poke) rang me about four months ago and said I might have the horse for the race. He rang me about three weeks ago and said he was definitely going to bring the mare."
It was the first start in Victoria for the mare and she didn't disappoint with a 1.5-length defeat of fellow $31 chance Whitsunday, with Nievre ($12) finishing third a further length adrift.
The victory also means that Lexton FNC also receives $25,000 for being the club that Brimondo was representing.
https://twitter.com/Racing/status/1314446569958117377?s=20
Probably one of the most recognisable names in WA racing had a day to remember on Saturday as William Pike rode 4 winners on a stacked Guineas day that include two Group 1 wins.
Pike who hadn't had a Victorian group 1 win in his career, changed that quickly as he rode Arcadia Queen to victory in the Neds Stakes by beating red hot favourite Russian Camelot.
He then followed up with probably the biggest win of his Melbourne career as he rode a powerful Ole Kirk to victory in the Caulfield Guineas. It was a tremendous run, where the jockey had to overcome several front runners to take home the prize.
"I took about three different paths on Ole Kirk and made about four different runs," Pike said.
"I thought Tagaloa was the one to beat and when I got onto his back I was pretty chuffed with myself.
"That's one of the main reasons I'm not a form student because look what happened there – I got in behind the right horse's back and that horse was gone before acceptances.
"Form on a bit of paper doesn't help you much out in the race."
Check out Pikes first ever Victorian G1 win below:
To Powerful: Ole Kirk Wins the Caulfield Guineas
Ole Kirk lived up to his to prestigious equine connections on Saturday as a close relation to the great Black Caviar he powered home in a breathtaking victory of the Caulfield Guineas.
Earlier in the week our Pro Group tipsters had all but declared Ole Kirk as too good and that he had another gear on the field in front of him. They proved to be on the money as a win which brought trainer Wayne Hawkes to tears was up there with one of the greats.
It looked as though at several points in the race that Ole Kirk didn't have look on his side as he got stuck behind a fading Tagaloa and had to make several weaving runs to get out wide and power home over the top of the field.
Hawkes felt it was a strong Caulfield Guineas and admitted the nerves were rumbling beforehand as he saddled up the equal $4.20 favourite.
"I didn't have much to do with Black Caviar and I was lucky I didn't have anything to run against her because there were a couple of years we didn't have any good enough," Hawkes said.
"I don't normally get nervous but it hit me about five minutes before the race because I thought if he wins this he is going to be the best three-year-old in the country and with the pedigree he has got, it doesn't get much better.
"The owners spent a lot of money, when Ole Kirk's uncle is All Too Hard and his aunty is Black Caviar."
Rewatch the race below:
Hot Water: Top Jock Hugh Bowman In More Suspension Trouble
It might just be since Winx has retired Hugh Bowman has decided to go all out on every race with no worry that he may not be able to ride his champion mare but he has yet again found himself in trouble with the stewards for his ride with Kings Legacy at Caulfield on Saturday.
Bowman was riding the Snowden trained runner in the $2m feature race when the stewards deemed action was required after he veered to the rails and caused interference a furlong from the start.
As a result Bowman has been handed a 10 meeting suspension which means that Bowman will be missing Cox Plate day. A day which was long associated with the aforementioned champ Winx.
This isn't the first time Bowman has found himself in trouble with officials after causing a fall in Sydney during winter which landed him a 6 week suspension and then having a further 20 meeting suspension over turned for his ride on Farnan in the Run to the Rose.
It remains to be seen if Bowman will appeal however given the time of the year it is hard to navigate a pack group one calendar.
Check out more of the latest PGR news >>>
Don't miss out on the best offers from Australia' top bookmakers >>>