At this time of year, when every billboard, every television and cinema advert assaults you with pictures of a fat, jolly gentleman, with a bushy white beard, dressed all in a red suit; when you can't escape this figure of enforced jollity, complete with attendant reindeer in almost every shop (or so it seems), it's worth remembering another Santa Claus, who didn't need any reindeer, or fancy costumes, or Ho! Ho! Ho's! to put people in a mood to rejoice.
Let's cast our minds back to June 3rd, 1964, to Epsom downs in the UK - the day when Santa Claus ran in and won the Derby and made many thousands of people happy. His jockey that day was the famous Australian jockey, Scobie Breasley, recalled by many as a small man but an Australian giant, who commented after his victory that the horse was "a dream to ride, a beaut!"
Santa's win in the Derby brought smiles to almost all of the horse racing fraternity, apart from the bookies, who reported the biggest losses on one race ever recorded to that date, since he was heavily backed not only by those in the know, the form-followers, but also by the once-a-year punters who jumped onto the idea of Santa coming once a year. One leading firm of turf accountants reported their single biggest ever payout when Santa Claus, as it were, came down the chimney and left a present of one single payment of £350,000 staked at 15/8 which in today's money would equate to over £3.2million – not a bad take -home sum!
Santa Claus - Breeding and Sales
The legend of Santa Claus, the thoroughbred, that is, not the fat bearded bloke, began almost three years before his Derby triumph at the Warwickshire stud of Dr. F. Smorfit. His sire, already a classics winner over a decade earlier triumphing in the UK St. Leger Stakes in 1945, was Chamossaire. His dame, Aunt Clara, unfortunately had failed to perform in any of the three races for which she was entered and was given over to the life of a broodmare. Santa himself was a dark coloured bay, standing over sixteen hands high and at the end of 1961 was offered up for sale as a "weanling" at the Newmarket December sales. He fetched at auction only 800 guineas and his buyer was so disappointed by the potential displayed by his new "toy" that he was returned to the sales the following year. This time he was bought by John Ismay and Mrs Darby Rogers for the sum of 1200 guineas – almost a steal considering the earnings Santa Claus was to generate in the following years. Subsequent to the purchase the colt was dispatched to the training stables of Mick Rogers, son of his owner at the Curragh in Ireland. This was to mark the beginning of the sleigh ride which would bring goodies to most of the horse racing community, as Mick coaxed, harried and bullied Santa into the champion he became.
Santa Claus - An Early Racing Career
Santa Claus' first appearance on the track came as a two-year-old in the Anglesey Stakes, a six furlong race, held at the Curragh, his home track in August 1963. His performance was described as mightily unimpressive as he finished way down the field, unplaced and appearing uninterested in events around him. A month later, however, results were entirely different when he made his second track appearance in Ireland's most prestigious race for two-year-olds, the National Stakes, also run at the Curragh. Clearly, Santa Claus had been given the equine equivalent of a stiff talking to by his trainer, Mick Rogers, and over the seven furlongs of the race left his opponents trailing in his wake as he glided serenely home to win by eight lengths. So impresssive was this display of athleticism and pace, that Santa was immediately established as one the fancied horses for the British and Irish classics in the 1964 flat race season.
His debut in the 1964 season came in May when he turned out in the Irish 2000 guineas, a group one race over the distance of a mile. Competing in a top class field, he ran the race in a style which was to become his signature – sit comfortably in midfield until two furlongs out and then burst through the ranks of the opposition like and express train to take the lead and the prize. This he did to perfection in the Guineas in an "attractive and spectacular style", winning by three lengths. Following this triumph, his next race would be the one for which he is best remembered, the Epsom Derby, but there would be difficult circumstances to overcome.
Diminishing Talent and Racing Threats
First of all, prior to the race rumours were being circulated suggesting that Santa Claus was "inexperienced" - this being only his fourth appearance on a race track. Next came the story that he did not have the stamina to cope with the distance of the Derby and the ups and downs of the Epsom Downs course itself, followed shortly by a claim that he would not cope with the "rough and tumble" - whatever that might mean- of the Derby running field. All in fact were later demonstrated to be nothing more than a whispering campaign by a number of bookmakers to try and lengthen the odds on Santa and avoid having to make monumental payouts. It didn't work!
And then there were whispers that he might be "got at" or kidnapped before the race to prevent him running, again with the simple aim of lengthening the odds, such was the poor quality of the opposition in the race. Once again nothing ever came to light and Santa Claus, following a security campaign such as might be expected for a monarch or a president, turned up, as required on June 3rd, ready to run and relieve the bookies of their cash. A bit like taking from the rich to give presents to the poor. Originally, it had been planned for the horse to leave Ireland and fly directly to Epsom on a specially chartered plane, complete with armed guards. However, as the saying predicts – the best laid plans of mice and men …...and the weather intervened in the shape of thick fog, leaving the plane grounded for twenty four hours. A day later than planned, Santa Claus, still complete with armed guards, duly arrived in Epsom to a chorus of "he won't be ready" and "he won't be acclimatised" from you-know-who, to be installed as the firmest favorite for the race for many years.
Santa Claus - Winning The Epsom Derby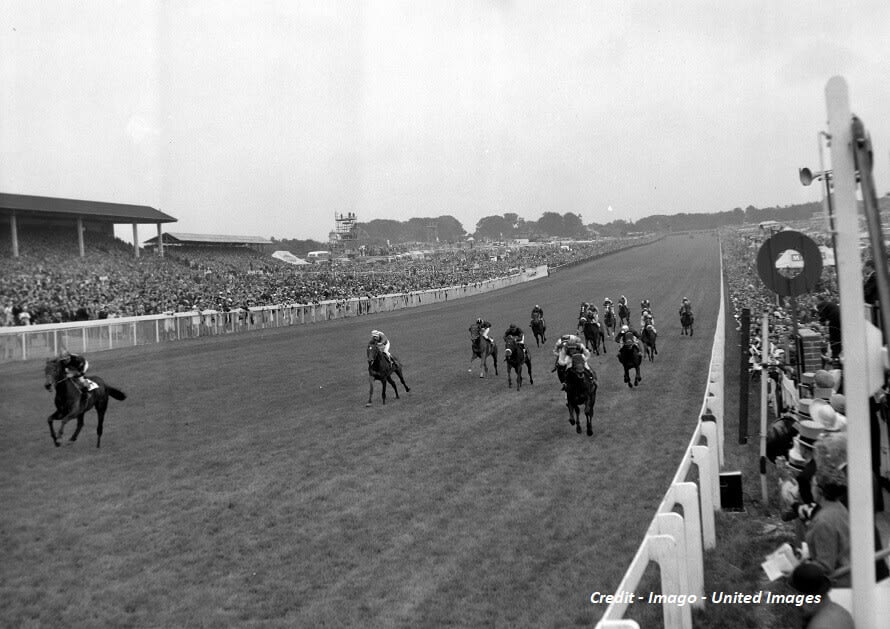 As the starters lined up Santa Claus showed himself to be in fine fettle, despite his trials and tribulations and all the whisperings and mutterings against him and began the race at a price, as mentioned earlier, of 15/8. Seventeen horses lined up for the race and as the galloping began Santa Claus was to be found in his usual position, dawdling along at the rear of the field. With seven furlongs gone and five to go, jockey Scobie Breasley eased him into tenth place as the peloton rounded Tattenham Corner to begin the downhill run into the finishing straight. At four furlongs out Santa Claus looked disinterested and beaten, at three Breasley had coaxed him up to join the leading group comprising Baldric II in front, Indiana and Dilettante. Over the next two furlongs, with every lengthening, quickening stride Santa hauled himself level and then ahead of two of these three until only Indiana was in front of him. The final hundred yards or so of an uphill gallop proved crucial as Santa, drawing on the reserves of stamina he reputedly didn't have, flew past Indiana to win the race by a full length.
Santa Claus had indeed come early that year, for trainer, Mick Rogers, for his owner Mum and co Owner, John Ismay, for the thousands of punters who had gambled on an early Christmas present, and most of all for jockey Scobie Breasley, riding in his thirteenth (lucky for some) Derby, who finally achieved his longed for ambition. The only group of racing "fans" left unhappy by Santa Claus win were, of course, the bookmakers. Shame!
Building his Horse Racing Career
A month after his Epsom triumph, Santa was again victorious, coming home first with Irish jockey Willie Burke in the saddle in the Irish Sweeps Derby at the Curragh. Starting at odds of 4/7, the horse performed majestically, beating Lionhearted into second place by a margin of four lengths. With this achievement Santa became the first winner of the British and Irish Derbies in the same year for fifty seven years and took his earnings to a record (for that time) of £135,000. Unfortunately this was to be his last win.
His next appearance on the track was at Royal Ascot in the King George VI and Queen Elizabeth Stakes, where he started at the almost unbelievable price of 2/13 competing against three other horses. Whether it was the firm ground – to which he was not accustomed – or the fact that he did not have a large field to coast along behind until the crunch came, he could only manage a second place finishing two lengths behind the winner, Nasram, who crossed the line first to thunderous cheers from the serried ranks of bookmakers on the course. On this occasion Santa did not bring any presents to his adoring faithful.
This failure led to Santa Claus being scratched from the English St Leger stakes in September at Doncaster, when the ground could be expected to be unsuitably firm again and saw him entered directly into the field for the Prix de L'Arc de Triomphe in Paris in early October. In a field of twenty two, Santa Claus followed his usual plan: dawdle at the back till half way, work your way through the field until around two and half furlongs out and then turn on the after burners to leave the field floundering in your wake. Only in this race it didn't work. Bursting out from the pack, as was his wont, he discovered that he had left his final burst too late and had to settle for second place, three quarters of a length behind rank outsider, the American horse, Prince Royal.
With this loss, his life on the track as a racing superstar came to an end. Although he had only raced seven times, such was his prowess that he had won four of his seven starts, achieved two second places and had been unplaced only once, in his very first start. At the end of the British flat racing season Santa Claus was named Horse of the Year, with earnings including his two second place winnings of almost £154,000, equivalent today to getting on for £2million. At this stage of his career he was sold for £400,000 to stand at stud in Ireland and in theory live out a long and happy retirement. Sadly, he was prevented from reaching his full potential in this area, his life being cut short by equine thrombosis in 1970, with him having had little opportunity to pass on his winning genes to his progeny.
He did have one heir who was to go on to enjoy some success on the track; a colt, ironically named Reindeer, who was the winner of the Irish St Leger Stakes in 1969. And this links neatly to the description of him given by Scobie Breasley earlier – a dream to ride! A beut! Add to this the epithet: "imagine how good this Santa Claus would have been if he'd been pulled along by eight reindeer!" and you get the picture.