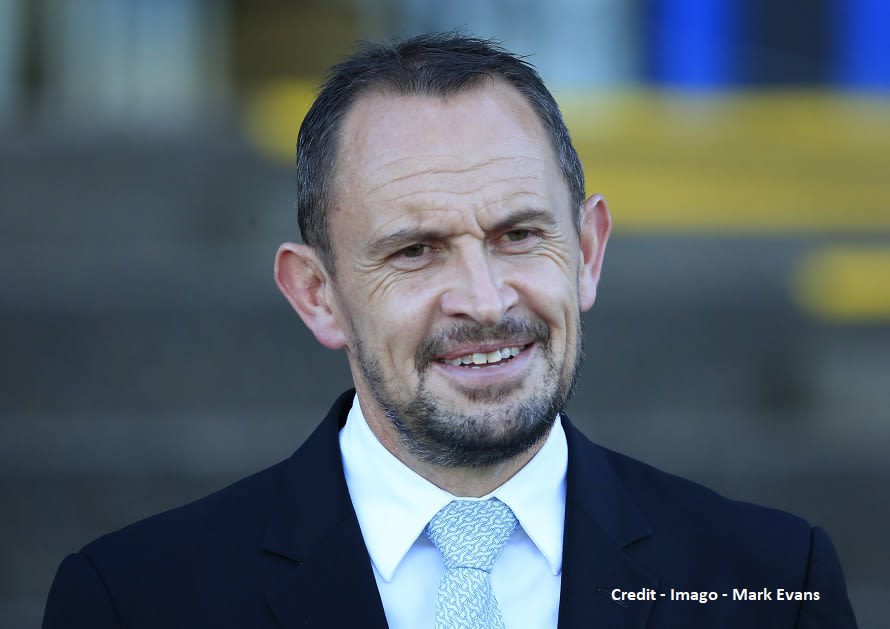 Chris Waller - I See In Her A Bit Of Myself
With these words super trainer, Chris Waller, summed up his relationships with super horse "Winx" - arguably the greatest horse he has ever trained.
Waller, renowned for being at the training gallops as early as four in the morning to observe his horses, has always worked with meticulous professionalism to get the best out of his charges, and this led to a steady and constant procession of winners since he first established his stables, both in his native New Zealand and in Australia. And then he met Winx, a heavenly partnership which was to create new levels of success on the track.
Waller is reputed to have described his "love affair" with the horse in the following way:- "When I see her, I see a normal horse, but I then can see that inside that horse there is a determination to rise to every challenge. I see a sense of purpose in her when she goes about her job. I have said from the very start, she is a very serious horse!" Waller was impressed by the fact that Winx did not make a fuss about anything or have any special demands or needs but exuded a sense of understanding and purpose when he worked with her. On the track or off it, on the gallops or off, or even before a race she was always the same unfussed horse.
"Maybe that's why I see in her a bit of myself" was Wallers' summing up.
In her first two seasons of racing, Winx did not exhibit the talent she would later show for winning. Waller displayed an almost indifferent attitude to this lack of success, calling her a late developer, and his prediction proved correct. Despite winning her only two races as a two year old, Waller managed her development the following season by carefully selecting the races in which she competed.
Bloodstock manager, Peter o'Brien, commented "Chris managed her beautifully and never over taxed her." With this judicious training and management, Winx developed to her true potential and the Australian Oaks, held at Randwick in 2015, would be the last race which would see her bested, following this race with a string of 33 victories before retiring from the track. Indeed, Winx represents an important milestone in the career of Chris Waller, although his instinctive ability to recognise talent and determination in horses would prove to be a major factor in his success.
The Early Years
Born in New Zealand in 1973, Waller spent his formative years on his family's' dairy farm not far from Palmerston, on North Island. As he grew up, he could see only two possible career options for himself - either as an All Black rugby player, the preferred choice of every schoolboy in New Zealand, or to go into the family business. And then came the "light bulb" moment which was to move his life and career path along completely different lines.
In November 1983, watching the Melbourne Cup on TV, the young Chris was captivated by the success of a horse fortuitously named "Kiwi", trained by another kiwi, Snow Lupton. His interest was aroused, the more so as Lupton came from a place less than an hour away from his home, Waverley. As a result, and very shortly afterwards, while other lads of his age adorned their bedroom walls with pictures of rock stars and super models, Waller decorated his bedroom with a poster of Jimmy Cassidy, Kiwi's jockey.
Through family connections to Lupton and his stables – Chris's uncle and grandfather had trained horses – he was able to gain a position at the age of eighteen as a strapper at stables of Foxton trainer, Paddy Busuttin. He quickly rose to the position of stable foreman, and by 23 received his trainer's certificate, when Busuttin left to pursue a training opportunity in Singapore.
It was while working for Busuttin that he was to learn a valuable lesson and one that has guided all his professional life – recognize every horse as an individual and treat it as you would a human being. Learn to look after the animals and take note of each one's individual needs and character. This simple maxim would seem to be self-evident, but applied as Chris Waller has used it, clearly is one of the signposts to success.
Thanks to horse racing, and his trainers ticket, Chris was able to travel the country with his animals, and used every opportunity to learn about the horses and the sport. He frequently appeared in the early mornings with a notebook and pencil, recording his observations on the steeds for later use. Busuttin commented that he was so intent on learning that it almost became an obsession. Nevertheless, the observation proved worthwhile when his first winner, Go Morgan, came home first at Trentham in 1997.
Waller was on his way! At this time, however, horse racing in New Zealand was far from thriving and opportunities limited, so when Paddy Busuttin left, Chris took advantage of his training certificate and stepped up and take charge of the stable.
Chris's appetite for the big time had already been awakened when Busuttin asked him, while he was still a teenager, to accompany one of the stables' leading horses, Castletown to a meeting in Sydney. This was to stand him in good stead when he took over full control of the stable, where he inherited a four year old maiden by the name of Party Belle. Party Belle had enjoyed several run outs on various different courses on North Island, New Zealand, without covering herself in glory.
Drawing on his limited knowledge and experience of tracks in Australia, the young trainer decided that Party Belle might benefit from a change of scenery and climate and took her across the Tasman Sea to prepare her for a try out season there. By the time she lined up for her first race she was five years old, and unsurprisingly, probably due to her inexperience with the conditions she failed to place. Nonetheless, Waller persevered with her and two races later, she led the field home in a maiden race at Wyong.
Moreover in the next two races she also placed first, making the results of the Australian excursion three wins in five starts. Not bad for a horse almost written off as a failure and Waller had plenty to mull over on his return to his home stable in Foxton.
The following season, Party Belle was raced again on tracks in New Zealand, five times, without success, so it was off to Sydney once more. Once again Party Bell seemed like a new horse, winning three races in the month of May, in 1999.
In her third victory, she was ridden by a New Zealand jockey, and perhaps it was this more than anything that made up Waller's mind that the future would be brighter in Sydney rather in his home country. At the turn of the century, redevelopment work had been undertaken at Rosehill Gardens, creating openings for new trainers. Waller talked to the Sydney Turf Club to present his credentials, such as they were, and was duly offered an allocation of 20 posts for his horses – despite the fact that as a virtual unknown, he might have trouble finding the horses to occupy them!
Building The Reputation - The Rise Of Randwick
In the early days, much of the financial support for the stables was provided by his wife who enjoyed a highly successful modeling career, but gradually, by dint of hard work, application, professionalism, and his "horse sense" Waller began to be noticed by the Sydney racing establishment. The quiet Kiwi was steadily building a reputation for his racing knowledge and training skills combined with a name for honesty and straight dealing. His breakthrough moment came in 2008, when the Waller trained horse, Triple Honour, won the Group one race, the Doncaster Handicap at Randwick – a result which put the stables firmly on the map.
Two years later he was to repeat the feat with Rangirangdoo, a magnificent steed which finished in the first three in no less than seven Group1 races between 2009 and 2012. In 2013, he was successful with Sacred Falls in the Doncaster, a horse which had already demonstrated a winners pedigree in the New Zealand 2000 guineas, and in2014 the victory was repeated to give him his fourth Doncaster win.
This latest race was noteworthy not simply because it marked his fourth win in the race but also because all the first three across the line were all Waller horses. In 2015, another Waller horse, Kermadec, waltzed away with the victory, and in 2016, the renowned Winx gave him his sixth win in nine years. Much of his success in these early years was built on the backs of horses bred and/or brought in from New Zealand, simply because, at the outset, the financial wherewithal to find horses for training and breeding from other more established sources were simply hot available. However, as his successes increased and his reputation grew, this would soon change.
Although this is now a well worn path for bloodstock, Waller led the way, as a means of overcoming his handicaps by looking overseas, in Europe and the USA, for new talent. By importing established middle distance runners and staying gallopers purchased at horse-in-training sales or by a close contact, Guy Mulcaster, who, as a privately operating bloodstock agent, was able to buy "likely" horses on his behalf.
Several significant successes were achoeved through this method, among them Stand to Gain who won the Sydney Cup in 2011 and Grand Marshall, winner of the same race in 2015, and in 2018, a hat trick of wins was notched up when the unusually named Who Shot the Barman, a nine year old, came home in first place.
A Sight Of The Winning Post
It has often been said that training one winner is down to a little hard work and a lot of look, bit training ten winners is all hard work and a little luck, and as Waller's list of winners grew and grew, more and more of the Australian racing fraternity began to sit up and take notice of the relative newcomer from across the Tasman. More and more owners began to place their horses with Waller, notably the Ingham family, and Denise Martin, who announced in 2014 that she would henceforth be directing her Star Thoroughbreds syndicates to Waller for tender loving care!.
Martins' action, in particular, allowed him to make major progress in building a reputation in the field of 2 and 3 year old races and spectacular successes were achieved with Star Thoroughbred horses Foxplay and D'Argento.
By 2011, having started out at the turn of the century as an impoverished unknown with no reputation, Wallers' determination, professionalism and innate "horse sense" saw him become champion trainer for the first time. By 2013, he won the title again, training twice as many winners (167) as the runner up (83) and in 2018 he achieved a similar level of performance with 189 winners on the Sydney tracks as opposed to 95 by his nearest opponent. All in all he racked up a total of 258 winners state-wide in that year.
Subsequent campaigns have seen his successful streak continue with such horses as The Autumn Sun, Yes Yes Yes, Kolding, Funstar and the unforgettable, champion of them all -Winx.
Winx ran her last race for Waller at Randwick in 2019 in front of an enchanted crowd who had come to see her almost in a spell of religious fervour. It was so special that it was reported the jockeys riding other horses came to have selfies taken with the great horse and more than $4 was wagered on her to win.
In almost a mirror image of Wallers career, Winx was slow aout of the gate and settled towards the rear of the field. Gradually, through skill and physical ability the "wonder horse" worked her way up the field to hit the front at 200m from the post and stayed there, always to be remembered for her spectacular achievements. When Chris Waller finally decides that getting up at four in the morning to watch the horses he loves is no longer for him, then he too will be similarly remembered for his achievements – although retirement seems to be still a long, long way away.