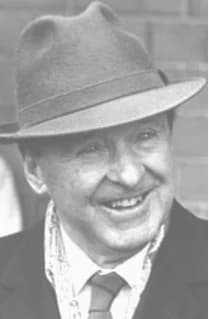 Trainers with outstanding records often assume mythical proportions. TJ Smith is one of these trainers.
Names such as Bart Cummings, John Hawkes and Colin Hayes combine the ability to get the most from one of their Thoroughbred charges with the management skills to produce results year after year, stroke the sometimes rock-star egos of jockeys and convince owners to fund most or all of the whole enterprise.
One of the most adept ever at managing this juggling act was a trainer by the name of Tommy J Smith (1916-1998).
TJ Smith's record as a trainer along with that of some of the renowned horses associated with his name are more than adequate to ensure that his name will always be a part of Australian horse racing history.
TJ Smith Born 1916
TJ Smith was born 3rd September 1916 in New South Wales. He was compelled at the age of 7 to work for his father driving draft teams and breaking horses, so he never received much in the way of schooling.
He did develop a love of riding at this early age and dreamt of becoming a jockey.
At the age of 13 TJ Smith left home and went to Sydney and Melbourne in pursuit of that dream. Before long, however, he grew too big for flat racing and turned to hurdles. A fall costing him a broken hip put an end to his jockey days.
Trainers Licence 1941
Tommy Smith finally received a trainer's license in 1941 as a twenty-five year old man with no backers, no education of which to speak, and little more than a horse named Bragger. He trained this horse while renting two boxes at Kensington, using one to live in himself.
Bragger won 13 races for TJ Smith, including the Tramway Quality Handicap at Group 3 level. His rapidly growing reputation as a trainer caused him to adopt a flamboyant lifestyle of expensive clothes, fancy cars and excessive drinking, which had all the ear marks of turning into a flash in the pan story.
Fortunately, Bragger continued his winning ways until reaching the age of ten, when he died in a fire, but during the interim Tommy Smith reformed himself.
TJ Smith's next horse that contributed to Smith's good fortune was named Playboy, a distant descendant of no other than Carbine. Playboy brought Smith his first Group 1 win, the 1949 Australian Derby.
Punters would be interested to know that Playboy went off at 100/1, with Smith's backing on him earning him a considerable payoff.
Playboy also brought Smith wins in 1950, most notably the Fisher Plate, STC Hill Stakes, the Craven Plate and the St. Leger Stakes. T
TJ Smith flirted with disaster again this year, receiving a five year suspension for allegedly failing to prevent a 2 year old under his management from being doped. He appealed, was upheld, and managed to escape with a severe reprimand.
Career Upwards
From this point, TJ Smith's career began a steady upward curve.
In 1953, he won the first of 33 consecutive Sydney Trainer's Premierships. The run was not interrupted until the 1985-86 season, then just for an encore, he won again in 1987-88, a record that boggles.
This time period included a 1955 Melbourne Cup victory courtesy of Toparoa over none other than Rising Fast. TJ Smith also trained Redcraze, who between 1955 and 1957 brought home a Cox Plate and a Caulfield Cup, and Tulloch, whose record needs no explanation. Gunsynd and three-consecutive-year Cox Plate winner Kingston Town are also Smith alumni.
Tommy Smith added his second Melbourne Cup in 1981 with Just A Dash doing the honours.
His overall record, by way of a brief summary, includes statistics such as these: 279 Group 1 wins, 4 Caulfield Cups, 7 Cox Plates and 6 Golden Slipper Stakes to go with his two Cups. Let's not forget a world record 16 Chelmsford Stakes.
He was a pioneer in training methods, being an advocate of keeping his horses in constant top form as opposed to other trainers' policy of resting them, and he was a pioneer of nutritional supplementation, providing protein in his horses' feed.
TJ Smith Dies 1998
TJ Smith died in 1998, but left a legacy in the form of his daughter, Gai, who is establishing her own legacy as a trainer, and also wields considerable influence through her marriage to Robbie Waterhouse, perhaps proving that bloodlines are not limited entirely to horses.
Randwick Racecourse in Sydney puts on the T.J. Smith Stakes each year to honour Smith and the indelible marks he left on Australian horse racing.