Lee Freedman, five Melbourne Cup victories are more than adequate credentials, all else aside.
When great thoroughbred horse trainers is the subject, Lee Freedman absolutely must be a significant portion of the discussion.
Lee Freedman was born 12th August 1956 to parents Anthony William and Estelle Dawn Freedman in Sydney.
When he was a young lad, his dad switched careers from property developer to horse breeder and sparked an interest in racing on the part of Lee.
Growing up around the spectacle and pageantry represented by Australian thoroughbred racing, Lee Freedman abandoned college after a brief stint at Australian National University to himself become associated with the horse breeding industry, operating the family stud farm near Yass in southern New South Wales.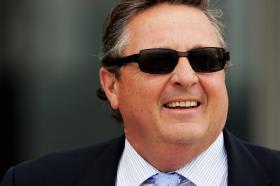 Stud farming proved uninspiring to Lee Freedman, however, and he soon decided to have a go as a trainer. He and his brother, Anthony Jr., set up shop initially at Warwick Farm Racecourse where they trained a small stable.
The two soon decided to upgrade to Sydney's Randwick Racecourse.
There, Lee purchased a stable and house from another great trainer, Bart Cummings.
Lee Freedman experienced some degree of success with filly Sauna and gelding Affected, then produced his initial Group 1 winner with another filly, name of Ms. Clipper, who took first in Adelaide's 2000 metres Australasian Oaks in 1986.
From that point, it wasn't an inordinate amount of time before Lee Freedman earned the distinction of training both the winner and runner-up of the 1989 Melbourne Cup when Shane Dye steered Tawriffic, going off at long 30/1 odds after finishing second-last in the Caulfield Cup, blazed home just ahead of Super Impose. Tawriffic's time of 3. 17. 10 is the third fastest time in the 150 year history of the "Race That Stops a Nation."
Lee Freedman enjoyed his zenith as a trainer during the early and mid-90s. He trained successful Group 1 Sprinters and middle-distance horses that won at distances ranging from 1000-2500 metres.
There were also additional Melbourne Cup victories via Subzero in 1992 and Caulfield Cup-Melbourne Cup double winner Doriemus in 1995.
Between 1992 and 1996, Lee Freedman notched four consecutive Golden Slipper Stakes, when considered along with Super Imposes's Cox Plate victory as an eight year old, demonstrated that distance and age were no hindrance to Freedman's ability as a trainer.
Lest this exhaustive list of impressive accomplishments should sound like a campaign for Lee Freedman's been nominated for sainthood, some mention should be made of the suspension he served in 1995 for a barrier trial ring-in involving Central Express.
Lee Freedman, wanting to run Central Express in blinkers for the first time, was asked to run the horse in a barrier trial the day before the upcoming event to demonstrate the horse's ability to do so safely.
Freedman substituted Spanish Reign, qualifying Central Express, who went on to win easily the next day.
Freedman, having failed to incorporate the lessons applied by the Fine Cotton Ring In Affair, was discovered.
His protestation for engaging in the subterfuge merely out of a desire to prevent Central Express from being flattened before a race fell on deaf ears, and he received a four-month suspension, leaving training duties to brother Richard.
The suspension expired in time for Damien Oliver and Doriemus's Melbourne Cup victory.
Another instance of less than cherubic behaviour involved three-year-old Encosta De Lago the following year. Three tests showing positive results for the presence of an excessive amount of performance enhancing bicarbonate failed to prevent and Encosta De Lago from running and winning handily, which somewhat ironically marked the beginning of a drop in Freedman's productivity.
Of course, this drop would be considered extreme good fortune by most trainers. Freedman trained "only" 15 group 1 winners between 1997 and 2003.
In 2004, Lee Freedman experienced a major recovery when he was chosen to take over trainer's duties for Makybe Diva. It's not certain he did, but he would have been well advised to purchase sweeps tickets on that occasion. "The Diva" supplied Freedman with a BMW win, an Australian Cup and a along with the 2004 and 2005 Melbourne Cups, that gave Makybe Diva her unlikely ever to be matched three.
Some might posit that Freedman was the beneficiary of outrageous good fortune, but those could be countered by the maxim of success breeding success.
Whatever the case, and it's reasonable to admit some combination of the two, David Lee Freedman is justifiably spoken of in the same breath with names such as Bart Cummings, Gai Waterhouse, Colin Hayes, Tommy J. Smith and John Hawkes as the elite of the elite of Australia 's thoroughbred trainers.
Lee Freedman has on his list of accomplishments five Melbourne trainers premiership's between 1996 and 2005 and has had Australian Hall of Fame induction added to his resume in 2003.
With 25 years of experience at his disposal, and just in his mid-50s, is not unrealistic to expect continued success to embellish his already impressive achievements.