Gai Waterhouse: Following in the footsteps of a successful parent has always proved difficult.
Gai Waterhouse: It is made even more problematic when the venue being considered is one that so dominates public awareness and also provides elaborate statistical evidence to facilitate comparisons.
Multiply these two pressure inducing elements by a factor of a parent who has not only posted considerable achievements, but is often mentioned in the category of all-time greats, and the pressure mounts by an order of magnitude.
Given the circumstances, it's small wonder that offspring seldom equal or even come close to achieving a favourable comparison with the parent.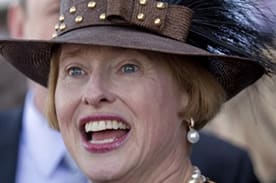 Australian horse racing history can provide a more than adequate number of examples to back this claim.
There are the horses that had legendary racing careers, yet failed to produce any significant progeny.
There are the sons of Hall of Fame jockeys who capitalized on the father's name to be offered good mounts only to produce results firmly mired in mediocrity, and there are trainers' children who crumbled at the prospect of filling enormous boots.
Consider then as exceedingly remarkable, the achievements of trainer Gai Waterhouse.
Imagine the pressure on Gai Waterhouse of being compared in the same breath as father T.J. Smith. Add to that the burden of being associated through marriage with the Waterhouse clan.
Throw in the final ingredient of the ingrained gender bias against women in the Sport of Kings, and no one could cast aspersions her way if Gai Waterhouse failed to live up to the expectations that must at least be classified as gargantuan.
Let the statistics made the case in her favour.
Gai Waterhouse has trained to date, and it should be noted that these figures will do nothing but expand, 2130 wins and 2744 places from just over 10,000 starts. The starts alone are noteworthy, but when you factor in the realization that roughly four out of 10 starts results in a prize money finish, they become more so.
Gai Waterhouse's total prize money is rapidly approaching $130 million. The current season alone has very nearly equaled the entire previous campaign with considerable time on the clock still. That equals a rather cool $8.3 million if you were wondering.
Look next to such facts of having done what few, if any, can claim: 324 meetings with two winners, 124 with three wins, and skipping the substantial middle territory, on two occasions she has posted eight, and one time fielded 10 winners. It could fairly be speculated that these numbers are in serious jeopardy should a meeting with 20 events ever transpire.
Gai Waterhouse, in comparing the current to the previous season, is well on pace to surpass her victory total, and it would not be completely beyond the realm of possibility that she threatened her 200+ victory totals in the 2002/03 and 2005/06 seasons.
Given that our case for Waterhouse's greatness rests on establishing a favourable comparison between her and father T.J. Smith, further evidence is offered.
To begin with, and again remember these statistics can only grow, there are over 100 Group 1 wins to Gai's credit. Producing on the main stage must be in the mix, and Ms. Waterhouse has earned formidable bragging rights in this regard.
Gai Waterhouse supplied the winner of the 1992 Metropolitan Handicap when she fielded Te Akau Nick. She firmly established her credentials with Nothin' Leica Dane's Victoria Derby win in 1995 when that colt very nearly took the Melbourne Cup as the first three-year-old to win in over 50 years, running a close second on a heavy track to no less formidable a triumvirate than Doriemus/Damien Oliver/Lee Freedman.
1996/97 produced the first of five Sydney Trainers' Premierships, equaling her father's Sydney training record in the process.
Gai Waterhouse has also three Golden Slipper Stakes, two Epsom Handicaps, and to prove her longevity no fluke, a 2010 Caulfield Cup to her credit.
While some might claim the lack of a Melbourne Cup victory a blemish, it could be countered with the fact that the future may well eliminate that deficiency.
There are no less than 10 horses trained by Gai Waterhouse with at least 10 victories recorded and 10 that have produced over $2 million in prize money.
Something near and dear to the hearts of punters, Gai Waterhouse, since 2002, has brought home over 1400 winners at odds between even and 5/1. Her name on the form, along with the prospect of a healthy payday, has brought many smiles to the face and more than a few tenners to the wallet of any astute punter.
Last, and by no means least, Gai Waterhouse was inducted into the Australian racing Hall of Fame in 2007, one of fewer than 30 trainers to be accorded this honor.
At this point in the proceedings, our case for the claim that Gai Waterhouse can stand up to scrutiny as to whether or not she has overcome the barriers to greatness that often cause the offspring to pale in comparison to the parent is rested.
All that need be said to any lingering naysayers is that the record is not completely written yet and will undoubtedly grow.