From a humble beginning to one of the richest businessmen in Australia, John Singleton.
John Singleton: He has come a long way, well known as a larrikin in Australia, Singo holds no bounds when it comes to celebrating victories on the Australian turf.
As a horse owner and breeder, Singleton tasted success from his early days, owning several stake winners. He also has varied business investments in hotels, media companies, and sports teams and radio stations.
Australian entrepreneur John Singleton although well known for the success of his advertising business during the 1970s and 1980s, is a man with diverse interests, which includes thoroughbred breeding and racing.
While hotels, sports teams, media companies and radio broadcasting are all part of the high-profile entrepreneurs investments, John Singleton has always had a strong passion for horse racing.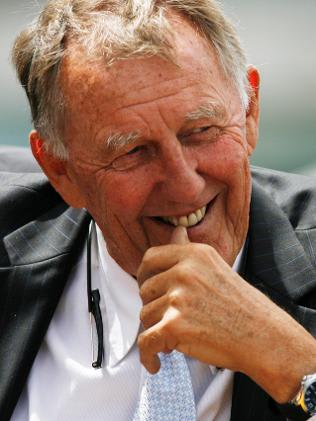 So much is the high-profile entrepreneur's interest in the sport that he seeks to rationalize Australian horse racing with a number of proposals.
These include the adoption of a turnover tax model, a centralized body for administration purposes, and Group One status for the Magic Millions.
John Singleton remains one of the nation's leading horse owners, breeders, and director of the Magic Millions. A straightforward person, he never hesitates to speak out on issues that matter to him most when it comes to horse racing.
When John Singleton does raise issues, others in the racing fraternity do sit up and listen, while even prime ministers at the other end are also known to heed his advice.
According to Singo, as he is commonly known as by many, Australia has the best racing in the world but the sport continues living in antiquity.
For him, the 18 th century mentality of the race club does not gel well with the gambling scene in the 21st century, allaying fears of a downward spiral in the sport if changes are not brought about.
Due to the number of race clubs, Singleton favours race club mergers and is visibly happy with the merger of the Sydney Turf Club and Australian Jockey Club.
Top of his wish list for the sport is a nationally structured body such as a commission to control the sport which would possibly put an end to the internal power struggle. Singleton is also in favour of corporate bookmakers paying a 1.5 percent fee as turnover tax, a move that could brighten the future of horse racing.
Known as one of the richest men in Australia, John Singleton is virtually a brand himself. He was adorned with the membership of the Order of Australia in 1994. Born in Sydney in 1942, Singleton attended Fort Street High School and went on to launch an advertising agency with other associates after a stint as a mail boy in the office of J. Walter Thompson and creative role at Berry Currie Advertising.
However, the company was sold in 1970, after which he ventured out on his own, achieving phenomenal success with diversification into radio, publishing, and advertising.
John Singleton, renowned for his fruity language and boisterous style, is among the top owners and breeders, winning most major races in the racing calendar. As a young boy, John Singleton always desired to own a horse when others dreamt of owning a car or house.
His lucrative career in advertising brought him a small fortune between the ages of 18 and 23 which he confesses he blew up on gambling. Jockey Athol Mulley was the first to introduce Singo to buying horses although his first lot failed to succeed.
His first success as an owner came with Castlereagh Kid which eventually led to the beginning of his breeding business with a share in the Magic Millions sales bringing him a significant sum.
Apart from his diverse and high-profile interests in brewing, advertising, radio, and lingerie, John Singleton owns Vinery Stud and 17 racehorses. John Singleton admits to learning from his own mistakes, taking elaborate steps to ensure the success of his sires, broodmares, and racehorses.
The latest in his stock of champion thoroughbreds is More Joyous, winner of eight successive stakes races, trained by Gai Waterhouse.