When the Australian Racing Hall of Fame announced its 2002 class of thoroughbreds, some of the most significant names in the history of Australian horseracing were recognized. One of the five horses back here was Wakeful, considered by some to be the best mare to ever grace in Australia. That is high praise indeed, when you think of some of the other mares that have graced the turf over the years.
She was foaled in 1896 by breeder W. R. Wilson at St. Albans Stud in Geelong. She got off to a slow start due to issues with her shins and did not commence racing until she was four years old. She more than made up during the next four seasons when she ran 44 races and won 25 times, placed second 12 times and third four times, meaning that for her connections, she was reliable money in the bank.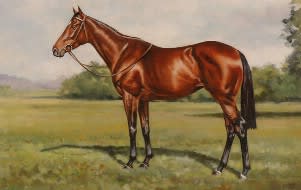 Here is a closer look at her career from her racing days from the very start of the 20th century until she retired after her last race in 1903, where she nearly capped off her glorious career with a win in the Melbourne Cup whilst carrying 64 kg, 22 kg more than the winner Lord Cardigan, and more than any mare had ever carried previously.
Wakeful Pedigree
Breeding records from that era tend to be a little skimpy and at times subject to inaccuracies, but what is known is that her sire Trenton, was from New Zealand. In something of a reversal from the usual case, Trenton, rather than being shipped from Great Britain to Australia, went to stand at Cobham Stud in Surrey England, where he died in 1905. As was the case with most thoroughbreds of that time, he was expected to race any distance. He did well, winning six furlong sprints and longer races of up to 3 miles. Out of 13 starts, he failed to place on only one occasion. His services as a sire in Australia earned him the title of Champion Sire on two occasions.
Trenton's sire was the English horse Musket that did follow the pattern of leaving England for the Southern Hemisphere, arriving in New Zealand in 1878. It is in one generation further back where an anomaly appears. Musket's dam is given as "West Australian Mare," which we could overlook as this horse was foaled in 1857, but the country of origin is given as Great Britain. Information on that horse credits it with being the first winner of the English Triple Crown. One more generation prior, however, lists a stallion foaled in 1850 named "West Australian." The country of origin is also Great Britain and this horse is also credited with being the first winner of the English Triple Crown. This information would make it appear that being the first winner of the English Triple Crown is far from a singular experience.
Wakeful's dam was the Australian Insomnia. Insomnia's sire was the Australian Robinson Crusoe, an 11-time winner from 19 starts.
Wakeful Racing Results
Competing as a four-year-old in the 1900 – 01 season, Wakeful ran second in her first race at Caulfield, and then not again for over a month when she ran unplaced at Flemington. Early in 1901, she won three significant consecutive races. Those were the Oakleigh Plate, the Newmarket Handicap, and the Doncaster Handicap. Her last race that season was in April of 1901 with a third-place finish in the Sydney Cup where she was jumped from eight to 16 furlongs.
Wakeful had 15 races as a five-year-old in the 1901 – 02 season. Beginning in October of 1901, she beat Hymettus in the Caufield Stakes. That result was reversed the following week in the Caulfield Cup. On 2 November, she won the Melbourne Stakes, but three days later was unplaced in her first attempt at the Melbourne Cup. After a second place finish in her last race of 1901, she won the St. George Stakes in February of 1902. Her next five races saw her doing no worse than third, winning twice, including the All Aged Stakes at Flemington. Following a third-place finish at Flemington in March, Wakeful finished out the season with four consecutive wins, including the Sydney Cup and the AJC Plate.
Her results as a six-year-old were equally impressive. She ran 15 races again in the 1902 – 03 season, picking up where she left off four consecutive wins to end the prior season with three wins in a row, all at Randwick, including a Craven Plate at 10 furlongs. She won her second consecutive Caulfield Stakes and Melbourne Stakes and other than a third-place finish at the Futurity Stakes in February of 1903, she ran first or second in every race in which she competed that season.
Wakeful ran only eight times as a seven-year-old in the 1903 – 04 season, but she was still producing impressive results. Her first race was a second followed by a third in September of 1903 in the Craven Plate. Her next win was the October Stakes at Flemington, coming right after she had finished second in the Randwick plate over a distance of 18 furlongs. Those two efforts may have drained her somewhat, because she was unplaced in a race that she had one twice before, the Caufield Stakes. She redeemed herself by winning the Eclipse Stakes, and then won her third consecutive Melbourne Stakes on the last day of October 1903.
Three days later, Wakeful made her final attempt at the Melbourne Cup in her final start. She was given the seemingly impossible impost of 10 stones, yet she still managed to finish second in the race that perhaps did more to cement her legacy than any other in which she had competed or won.
Wakeful Stud Record
Fifteen years after concluding her racing career, Wakeful produced Night Watch, the winner of the 1918 Melbourne Cup. Two of her other offspring that fared well as racers were Blairgour, winner of the Memsie Stakes and the Oakleigh Plate, and Baverstock.
It may be a bit of hyperbole to declare Wakeful the greatest mare in Australian racing history when you stop to consider names such as Makybe Diva, Black Caviar and Sunline (part of the same HOF class), to mention but a few. It would be entirely legitimate, however, to modify the statement with the adjective one, as in, one of the all-time greats. For that matter, she passes scrutiny even amongst the great stallions for racing performance.