One of the most notable horses in Australian racing history was a colt named Tulloch.
Tulloch was named after the Scottish town where the mother of owner E.J. Haley was born.
Foaled in 1954, Tulloch was a hero to the nation renowned for its love of punting. He broke many records, and established a legacy that only a few Thoroughbred horses have equalled or surpassed.
Tulloch was trained by the legendary Tommy Smith, he compiled a career racing record of 36 wins, 12 seconds, and 4 third place finishes. Only once in his fifty-three starts did he fail to place.
The most remarkable aspect of this record is that Tulloch did this despite almost dying from an undiagnosed digestive disorder that caused severe weight loss and constant recurring infections. This illness caused him to miss two years during what could reasonably be considered prime racing age.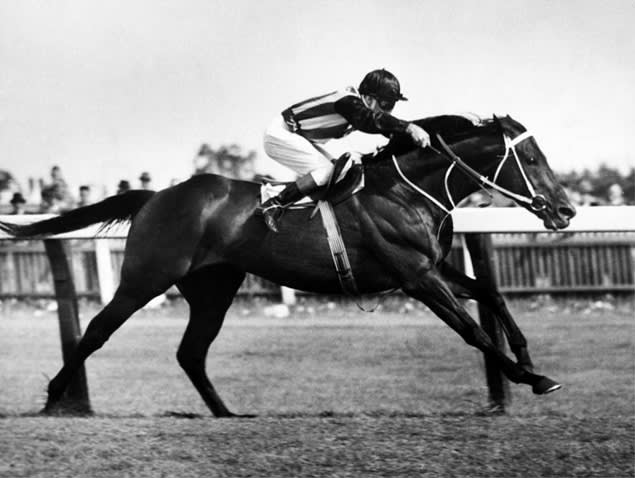 Tulloch: Birth and Bloodline
Tulloch, a bay colt, was foaled in 1954 in the town of Cambridge's Trelawney Stud, the oldest commercial Thoroughbred stud farm in New Zealand.
He was sired by Khorassan and dammed by Florida. Florida's sire was the legendary British horse Salmagundi.
Tulloch was purchased as a yearling in 1956 at the Trentham Yearling Sales for 750 guineas by Tommy J. Smith. He in turn offered the colt to E. A. Haley who thought Tulloch's breeding, intelligence and manner portended a bright future.
This keen appraisal of talent would serve to produce a remarkable return of the original investment.
Tulloch went on to produce over 110 thousand pounds in career earnings, almost 50 times his purchase price.
Tulloch: Racing Career - Two Year Old
Tulloch's first start was in 1957 as a two year old in the Australian Jockey Club's Breeders plate, where although he went out as a three to one favourite, he was beaten by Flying Karuna, who was ridden G. Moore.
The very next week, this time ridden by G. Moore, he won the Cannonbury Stakes beating Prince Darius over five furlongs in a time of 1:01 and 3/5ths.
Tulloch's next start in the VATC Gwyn Nursery at Caulfield produced another win, again at five furlongs, where A. Ward rode him to victory over Good Summer.
This was followed by a second in the VRC Maribyrnong Plate, where again with G. Moore aboard, he was edged by Concert Star.
The rest of Tulloch's career as a two year old included five more victories and nothing worse than a second place finish. His record after the 1956-57 season stood at 13 starts, with 7 wins and 6 seconds.
Racing Career - Three-Year-Old
Tulloch was money in the bank as a three-year-old, winning his first eight races, including four triumphs over his old nemesis Prince Darius.
He dropped to second and third in his next two races, the VATC St. Georges Stakes, where Prince Darius extracted a small measure of revenge, and the Victoria Racing Club's Queen Elizabeth Stakes, where his only third place finish as a three-year-old occurred.
He finished the 1957-58 season with 6 consecutive wins.
Jockey G. Moore was aboard for 13 races where the two racked up 11 wins together.
Tulloch was the pre-race favourite for the Melbourne Cup, although owner E.A. Haley eventually scratched him from the race, claiming concerns for the horse's well being over a long distance carrying the 53 kg burden he drew.
A particularly notable victory was the AJC Derby, again beating Prince Darius and in the process shaving two seconds off the track record of no less a horse than Phar Lap that had stood since 1929, covering 12 furlongs in 2:29 and 1/5th.
Of 16 starts, Tulloch posted 14 wins, one second, and one third, bringing his career record to 29 starts, 21 wins, 7 seconds and one third.
In April of 1958, Tulloch fell ill to the previously mentioned stomach malady and numerous subsequent infections, causing him to almost die and miss his four-year-old season.
Tulloch returned in the fall of 1960, in what, considering his brush with death, has to be considered as no less than one of the most remarkable comebacks of all time.
Tulloch: Racing Career - Five-Year-Old
After having missed the Spring Carnivals, Tulloch returned to the track on March 12, 1960, where he again won the VRC Queens plate, this time over a ten furlong course, where he defeated multiple winner Lord, this time with N. Sellwood aboard.
Competing at distances ranging from 10 to 14 furlongs, he won his last four races of the autumn season: The AJC Chipping Norton Stakes, Queen Elizabeth Stakes, and Autumn Stakes, finishing up with the BRC PJ O'Shea Stakes, all with jockey N. Sellwood aboard.
Tulloch's lifetime record now stood at 34 starts with 26 wins, 7 seconds, and one third place.
Tulloch: Racing Career - Six-Year-Old
The 1960-61 racing season saw Tulloch race 19 times. What would have been considered enviable results for many Thoroughbreds represented something of a decline for Tulloch.
He posted 10 victories, five ridden by N. Sellwood, four with G. Moore, and one with B. Pyers.
Tulloch did start in the Melbourne Cup that year, where at his longest distance and carrying the most weight of his career, he turned in the only race of his career where he did not place, finishing seventh.
His final career record total was 53 starts, 36 wins, 12 seconds, 4 thirds, and one unplaced. His winnings of over 110 thousand pounds was impressive by any standard, and any punter who placed his money on Tulloch could walk away from the track with a smile on their face.
Tulloch: Stud Record and Death
He stood at E.A Haley's Te Koona Stud where he sired Dahma Star, winner of the 1967 Christmas Cup, and Valide, winner of the 1968 SA Oaks.
Along with Carbine, Phar Lap, Bernborough and Kingston Town, he was inducted into the inaugural class of the Australian Racing Hall of fame, and also the New Zealand Hall of Fame.
Tulloch died at Old Gowang Stud near Coonabarabran on 30 June, 1969, at the age of fifteen.
Tulloch's stellar career would lead many to speculate what he could have accomplished had he not fallen ill and missed two years of his racing prime.
The fact that he is mentioned in the same class as horses such as Phar Lap and Kingston Town is justification for considering him as one of the all-time greats of Australian horse racing history.