When we look at recent thoroughbreds, we often see two things: specialisation and limited racing careers.
There are the sprinters that race exclusively at 1,000, 1,200 and 1,400 metres. In the middle are the horses that prefer 1,400, 1,600 and 1,800 metres. Finally, the stayers generally find their best performance zone at 1,800 to 3,200 metres. Of course, there are any number of sprinters that stretched things out a bit, middle-distance horses that did well in sprints and could move up a bit farther when properly prepared, and stayers that could make a good showing at the middle distances. This situation is positive from the point of view that the growth or racing has seen the number of races grow to the extent that versatility is no longer as critical as it once was.
Racing careers have gotten shorter as the growth in prize money has made it possible to recover the investment on a thoroughbred, even though the cost of a highly regarded yearly has skyrocketed. The days of spending £160 and winding up with Tulloch are gone. The other factor in that equation is that stud fees can be collected for far more years than it is possible to race in most cases, so the owners of expensive horses would be foolish to risk their investment and race a horse beyond the point where stud fees reach the maximum.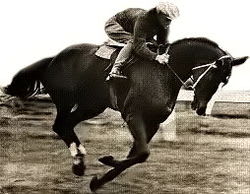 Just a little less than 80 years ago, however, distance versatility and racing longevity were not so rare, as we hope to demonstrate with our examination of 2008 Australian Racing Hall of Fame inductee Tranquil Star. She represents half of the class of 2008, since only her and another mare, Wenona Girl, qualified for entrance that year.
Tranquil Star made 111 starts (4.44 times as many as Black Caviar, 3.08 as many as Makybe Diva) and won at distances ranging from 1,000 to 2,800 metres. She began racing in 1939 as a two-year-old and did not retire until 1946, when she competed as an eight-year-old, averaging nearly 16 starts per season.
Tranquil Star Pedigree
Tranquil Star's sire was Gay Lothario. He grandsire was Gay Crusader, a very capable racer that won a World War I version of the British Triple Crown that was unfortunately limited to 10 races. The fourth generation previous to Tranquil Star reveals the British horse Bay Ronald that had and has had considerable influence in thoroughbred lines, even to this day.
Her dam was an Australian mare, Lone Star. Going back three generations finds Magpie, a British horse sent to Australia in 1917. One fairly reputable source credits him with winning the Caulfield Cup, but no other source substantiates this claim, so when this same sources names Magpie as the 1928/29 Australian Champion Sire, we did find it necessary to seek verification. According to Wikipedia, Magpie did indeed win an honour that is based on stakes winnings of progeny, unseating Valais that had held the position from 1923/24. The Wikipedia article was lacking much in the way of citation, however, so we did delve further and find a more authoritative source in the form of the Thoroughbred Heritage website.
Where we found Bay Ronald four generations back on Tranquil Star's sire's side, we see Dark Ronald on her dam's side and Bay Ronald is the fifth generation previous to Tranquil Star on the dam's side.
Tranquil Star Racing Results
Out of her 111 starts, Tranquil Star won 23. She ran second 20 times and third 12 times. Considering the level of the races she did win, it is hard to conceive of what could have caused her to run unplaced in over half of her races. Her most serious injury was a broken jaw that threatened her as a six-year-old. If it must be granted that she was versatile and durable, it must also be acknowledged that she was unpredictable at times. She jumped as favourite in 18 of her races, only to be beaten. Nine of her wins were principal races at the time that now would be considered Group 1.
She won the most prestigious weight-for-age race on the Australian racing calendar, the W.S. Cox Plate for the first time as a five-year-old in 1942. When she won it again in 1944 whilst being steered by Scobie Breasley, she became the first seven-year-old mare to win the race, an accomplishment that would not be matched until Makybe Diva took the post in 2005.
She had a bit of a slow start as a two-year-old, winning twice from 13 starts, adding four second place finishes. When she raced as a three-year-old, she started to win big races, including the Edward Manifold Stakes, the St. George Stakes, St. Leger Stakes, and the Chipping Norton Stakes. As a four-year-old, she won twice in 21 attempts, posting seconds in the Underwood Stakes and the Cox Plate.
Along with the Cox Plate win in the 1942 – 42 season, she won the Caulfield Cup where she beat three horses, Colonus, Skipton and Dark Felt that had won the Melbourne Cup. That would have to be considered her best season, with six major wins. She won only once as a six-year-old, the season where she broke her jaw in her final race.
In addition to the aforementioned second Cox Plate win in the 1944 - 45 season, she won the Mackinnon Stakes for the second time and also won the Memsie Stakes.
Tranquil Star won her third Mackinnon Stakes in her final season as an eight-year-old. One of the horse she beat was 2007 Hall of Fame inductee Flight.
Tranquil Star Progeny
Tranquil Star produced nine foals. Her daughter Tranquil Dawn was the fifth dam of the 2002 Golden Slipper winner, Calaway Gal. Her colt Tranquil Sun by Helios won seven races in Melbourne. Another colt by Helios, Tranquil Glow, won 11 races, nine of them steeplechases. In her last effort in 1956, she foaled Night Ride by Landau, a five-race winner.
Tranquil Star certainly defies expectation when compared to current thoroughbreds. Her inconsistency adds somewhat to her charm and when she raced, she was quite popular. These days, the Melbourne Racing Club runs the Group 3 Tranquil Star Stakes in her honour and she will best be remembered as a horse that was not afraid to work, was not afraid of top-flight-competition, and successfully passed her abilities to future generations.