When we recently went back and looked at something we had posted on another site concerning horses that had been somewhat undistinguished save for making a big splash on one or two occasions, we wrote about the career of Think Big, a horse with two consecutive Melbourne Cup wins but not much else on his racing resume that did not, as of 2015, satisfy the criteria for Australian Racing Hall of Fame inclusion.
The case for Think Big suffered another blow since he was gelded, he did not contribute in a way where it could be said that he had a considerable influence on racing.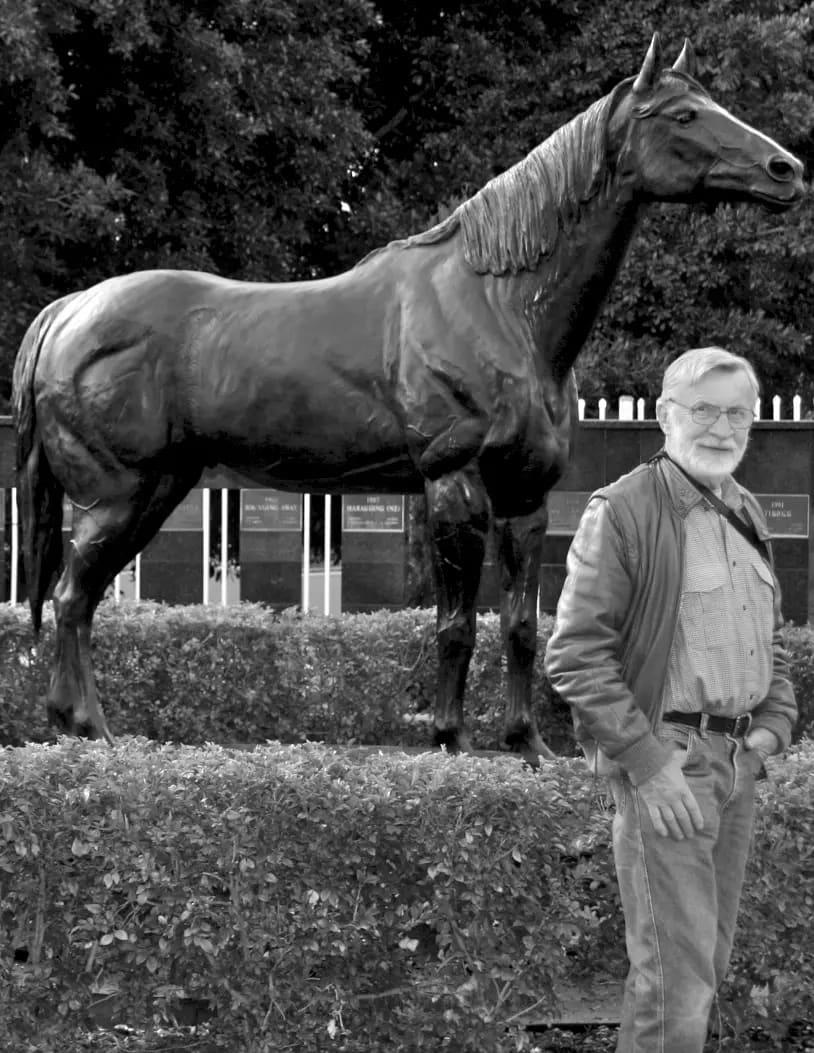 At this point, we want to take a look at a horse that did get into the Hall of Fame, a horse that only ran 12 times, producing 10 wins, with no Cox Plate, Caulfield or Melbourne Cup victories. This horse was a sprinter predominantly, winning mainly at six and seven furlongs (identity clue: raced prior to metrification), although he did manage to win once over 9.5 furlongs. His most prestigious win came as a two-year-old, when he won the inaugural 1957 edition of the Golden Slipper Stakes. A Hall of Fame jockey, Neville Sellwood, rode him in all his races.
As a sire, he did quite well at passing along the genes that had made his sire and dam quite well known, so even if we feel that racing results should far outweigh breeding results, his 2005 induction into the Hall of Fame might be valid. Along with Chatham, Eurythmic, Galilee and Gunsynd, our subject, Australian Racing Hall of Fame.
Todman Pedigree
Foaled in 1954 at Baramul Stud in New South Wale's Widden Valley, Todman comes from exceptional Irish stock on both sides of his lines. His sire was Star Kingdom, although he was Star King in the Emerald Isle and ran under the alias of Star Kingdom as there was a contemporary horse from the same year in Australia of the same name.
On results alone, Todman's sire should have been able to claim the name, since the Australian Star King did not seem to do much of anything. Well, we will use Star Kingdom and mention that after Todman, the next four Golden Slipper winners were his progeny. He could have been called Sprinters-R-Us if best possible accuracy had been the goal. Further back in that line is Hyperion and Gainsborough.
Todman's dam Oceana, a fine Irish mare if ever there was one, contributed in addition to Todman, Noholme, Faringdon and Shifnal by Star Kingdom.
Noholme won the Cox Plate in 1959 whilst being ridden by Neville Sellwood, so there is one hoop who should appreciate that line. Incidentally, Noholme, who is not in the Hall of Fame, was Australian Horse of the year in 1959 and won six races that would today be considered Group 1 quality, ran 41 times and added 11 placings to his tally. His shortcoming apparently lies in the fact that he was sent to the USA, which if not bad enough, the place to which he was sent was the state of Arkansas.
Todman Racing Results
In the 1956 – 57 season, Todman's connections could not have been blamed for optimism. In his first race, he ran an Australian record time for five furlongs when he won the Juvenile Stakes at Randwick. He followed that with a win in the AJC December Stakes, needing only a minute and 11 and 6/10th seconds of Randwick race fans' time to pass the post.
He won his next race as well, the STC Welter Handicap at Rosehill, running even faster than he had in his previous race. His fourth consecutive win was the very first Golden Slipper Stakes and you could probably hear the champagne corks popping as he matched his previous Randwick time at Rosehill.
Note, now, that he won this short sprint race by eight lengths, an almost inconceivable margin for a sprint, the kind of margin Phar Lap used to put on his stayer opponents. His streak was interrupted by a second in the AJC Sires produce Stake, his first try at seven furlongs. He resumed with another reason to pop the corks when he finished out his season as the AJC Champagne Stakes champion, where he bettered his previous times at six furlongs and beat Tulloch in the bargain.
All that promise somewhat fizzled in the 1957 – 58 season where Todman competed as a three-year-old. He started on a positive note, winning at seven furlongs for the first time in the AJC Hobartville Stakes, even though he required more time than he had the previous year to run second in the Sires Produce Stakes to Tulloch at the identical distance.
Track conditions certainly could have accounted for the difference. He next won the STC Canterbury Guineas, which at 9.5 furlongs would turn out to be the longest winning race of his career.
The third and last time he ran during that year saw him breaking down and finishing dead last in the Hill Stakes. He was not able to compete as a four-year-old and it was over two years before he was able to return to the track in the 1959 – 60 season as a five-year-old. Kudos to his connections for not destroying him.
Todman ran three races in his final year in Australia, winning them all. Those races were the STC Flying Handicap, the VRC Lightning Stakes and the VATC Futurity Stakes, run respectively at Canterbury, Flemington and Caulfield.
Todman Stud Career
Our subject did well here when he commenced standing in 1960. Given his injury history, it was probably wise to retire him. Standing at the stud at which he was foaled, he sired 30 stakeswinners that produced 63 stakes wins. Some of his progeny followed his hoof steps to win the Golden Slipper Stakes.
His offspring made lots of money, earning Todman 13 financial sires' premierships. Not long after his death in 1976 at the age of 22, he had 51 sons standing in Australia and New Zealand.
We will leave it to the reader to decide. Was it his racing or his breeding that earned him inclusion in the Australian Racing Hall of Fame? The Hall does at times seem to have an affinity for sprinters and Melbourne Cup winners, but our observations are nothing other than opinions, lacking the true expertise to be considered authoritative.