Even when all you look at is a photograph, Tobin Bronze looked fast. Well, when he got out on a racecourse, he confirmed that appearance.
He was also durable, making 60 starts during his racing career, winning 28 and placing 16 times. His first 44 starts and 24 victories were in Australia. He was still good at the end, winning his 60th and final race on a dirt track in America, where coincidentally, they can grow turf on which to race thoroughbreds, they just prefer to make golf courses out of any grass they can. Tobin Bronze not only raced well, he lived well, being 32 years of age when he passed away in 1994, an outcome we wish all thoroughbreds could experience.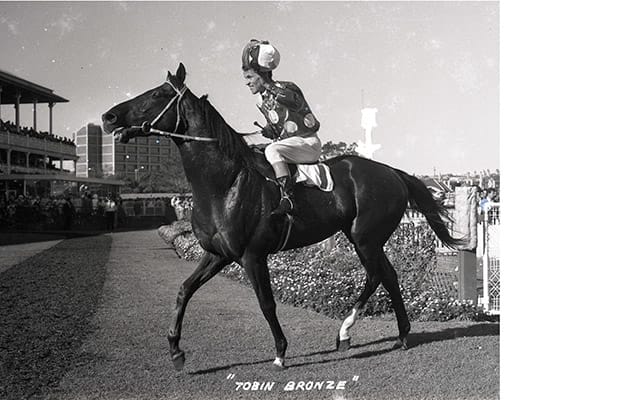 "Toby," or "The Bronze Bullet," as he was affectionately called by his fans, was one of the giants of Australian racing. Consider his 2003 class of the Australian Racing Hall of Fame, which included Heroic, Malua, Peter Pan and Vain. None of those was your everyday competent gallopers to even the most laconic racing fan; they were some of the all-time greats. Tobin Bronze could have been part of the inaugural class of horses without too much of a stretch, for which we must complement the Racing Hall for not rushing to include every horse from the previous 150 years of Australian horse racing at one swoop when they announced the first class in 2001.
Here are some additional details about this formidable horse.
Tobin Bronze Bloodlines
A famous Australian bodybuilder and five-time Mr. Universe winner, or perhaps he was Austrian (a couple letters can make a big difference), Arnold Schwarzenegger, was asked one time what it took in order to win the Mr. Universe title five times, to which he responded, in his inimitable tongue-in-cheek manner, "Choose your parents very carefully."
Arnold was being glib of course, but there is an element of truth in the statement that is even more apt where racehorses are involved, which may partially explain our fixation with the subject of breeding, even though a successful racer has not always gone on to pass good racing genes to succeeding generations.
Tobin Bronze was foaled in 1962 at Paramount Stud. Depending on how you prefer to interpret your borders, he was considered a South Australian horse, but the stud straddled the border with Victoria, and the horse was registered there, so technically, he was a Victorian horse.
On his sire's side, Tobin Bronze was almost exclusively of British descent, beginning with sire Arctic Explorer, although the omnipresent Italian, Nearco, aka. The World's Busiest Stallion, appears in the fourth generation prior. Artic Explore has also to his credit multiple Group 1 winner and second place Melbourne Cup finisher Igloo, and nine-time winner Frozen Section. A little bit of Irish blood, along with a little bit of French, is also included in Toby's lines.
Tobin Bronze's dam, Amarco, was foaled in Australia out of an Australian dam, Ronolive. Further back are more Australian mares, Mount of Olives, preceded by Sister Olive, so someone apparently appreciated olives, hopefully as a martini garnish or as raw material for olive oil.
Both Tobin Bronze's sire and dam were good racers.
Tobin Bronze Racing Results
Tobin Bronze brought in $89,586 in Australia dollars and $63,145 in American dollars, most of that from California. Those figures come from racing.com. If they are accurate, it means that Toby earned an average of $2,036 for his 44 starts in Australia and $3,946 for his 16 starts in the U.S. One factor is this disparity would have to be the differential in prize money betwixt the two countries, but he won only four of the 16 starts he made overseas. Nonetheless, it would seem that the assertion that he could not adapt to dirt tracks is overstated, although if we were horses, we would much prefer turf to dirt, since as well as a better surface on which to run, it would also supply the occasional meal or snack. We intend to put as much distance as possible between ourselves and the earnings figure supplied by another source: A£89,586.
Purse money aside, Tobin Bronze excelled at weight-for-age racing. He was never unplaced under those conditions, winning 12 times with three seconds and one third from 16 starts. He also managed quite well under handicap conditions. When they started piling the weight on him, he responded by establishing records for weight carried in the 1967 Toorak Handicap, where his burden of 62.5 kg still sets the standard. He won the Caulfield Cup lugging 61.5 kg, a mark surpassed only by another Hall of Famer, Redcraze in 1956.
Tobin Bronze first posted major wins in 1965 with the Bloodhorse Breeders' Stakes at Morphetville, 1200 metres at set weights for two-year-olds, and the Victoria Derby at Flemington, also at set weights for three-year-olds, when the race was 2400 metres.
He started to exert his influence in a more pronounced fashion in 1966 when he won seven major races, including the first of his two Blamey Stakes and Cox Plates. One of the horses he beat on that occasion was the one and only Light Fingers. He continued his exceptional productivity in 1967, winning eight major races, including his second Cox Plate and the Caulfield Cup, two of the toughest tests of a horse's racing ability. His final win in Australia was the second Cox Plate, where had a relatively easy time of finishing ahead of Terrific and Craftsman.
He was then shipped to the U.S. His first race was in the nation's capital, where he finished third in the Washington D.C. International Stakes. He was relocated to California, where he won the 1968 Azucar Purse at Los Angeles' Hollywood Park Racetrack. One of the horses he beat was Proud Land, whose jockey was the legendary Laffit Pincay Jr.
Tobin Bronze Stud Record
As has often been the case with great champion runners, Tobin Bronze produced no offspring that approached his talent as a racer. He did sire 15 stakes winners, the two most significant being Trojan Bronze, the winner of the 1975 San Luis Rey Handicap, and Noble Bronze, winner of the 1978 California Derby.
The California climate apparently agreed with Toby, since he lived on there until he died at 32 years of age.