Great Thoroughbreds, of any gender or era, would need to include a Bay mare by the name of Sunline.
Of course, it could be safely stated that Sunline's high rank on the career money list (over $11.3 million), was the result of running in modern times where prize money has escalated, but that stance could easily be countered by her ranking third for all time Group 1 wins - in the world.
Only Kingston Town and American John Henry surpass her total in this category.
Sunline advocates could also point to a record of 32 wins - 27 of which were stakes races, 9 seconds, 3 thirds and 4 unplaced out of 48 starts - impressive whatever year is considered, so much so that even if this record were inverted, most breeders and owners would consider their investment well rewarded.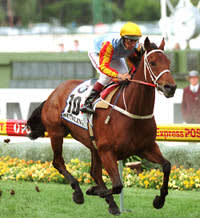 Neither a stayer nor a sprinter, Sunline was in top form in the middle length events, with 1400m seemingly an ideal distance for her speed and stamina.
None of her Group 1 wins was below 1200 metres and only her two Cox Plates had her coming in beyond 2000m.
It would seem to place her squarely between stayer Makybe Diva and sprinter Black Caviar, fine company indeed.
Sunline was foaled 29 September 1995 near Cambridge, on New Zealand 's North Island. Her family tree has been undistinguished of late, but she does have lines connecting her to Northern Dancer and Danzig, Bold Ruler and Nijinsky.
The great Phar Lap was a further-back contributor to the gene pool. Her breeders kept rather than sold her and she was leased to trainer Trevor McKee.
Sunline wasted no time attracting attention as a two year old. The filly won her first four in New Zealand commencing in May 1998. Shipped to Australia, she won her next three starts, with the exclamation point being her first Group 1 win, the AJC Flight Stakes at Randwick Racecourse where Jim Cassidy steered her.
Sunline was then spelled, some say to her disadvantage. She ran third in a Group 3 event, then followed up with a win in her next start, and again with Cassidy aboard, she prevailed in the Group 1 Doncaster Handicap, in the process becoming just the fourth filly to win in the recent history of the race.
She then turned in the first unplaced finish of her career, perhaps due to fatigue or being untried at 2000 metres, but it meant another spell for her.
That rest apparently was effective, for the filly posed a victory first up over 1400 metres in the Group 2 Warwick Stakes. Three more starts produced two close seconds and a fourth.
Next, Sunline mastered the 2040 meters of Moonee Valley Racecourse to take the 1999 Cox Plate with Greg Childs taking the ride.
The partnership between Sunline and Greg Childs began to produce dividends. Eleven Group 1 wins came from this combination.
2000 featured four Group 1 wins: The Coolmore Classic, AJC All Aged Stakes, Another Cox Plate and the Hong Kong Mile. This season might be considered her zenith, but she was far from done.
Going for only the second Cox Plate trifecta all time as a six year old in 2001, Sunline was edged by Northerly. His time in the win would not have bettered Sunline's 1999 pace, but on that day, under those conditions, it sufficed.
Sunline came close on two other counts. If she had won, she would have tied Kingston Town for three Cox Plate wins, as well as earning and additional Group 1 win to equal Kingston Town in career Group 1 wins. For what it's worth, her 1999 time in the Cox Plate bested those of Kingston Town in his three.
She also posted the Waikato Sprint to her resume.
Sunline continued to produce the following season. She added another Waikato Sprint, Coolmore Classic, AJC All Aged Stakes and yet one more Doncaster Handicap consecutively that autumn.
After another spell, she resumed with a fifth win first-up in the Mudgway Stakes in Kiwi land.
She very nearly made the winning post in the Caulfield Cup, but surrendered a three length lead to Lonhro, who had to produce a record time to beat her.
This epic battle may have taken an excessive toll on Sunline. She could muster only a fourth in her last Cox Plate appearance, and as planned, retired shortly thereafter.
Like many a champion prior, Sunline failed to produce any progeny to equal her ability. She produced four foals, two of which, Sun Ruler and Sunstrike produced minor wins, and two fillies that never competed.
Sunline had to be destroyed in May of 2009 after an extended bout with hoof disease.
During her career she was recognized with three consecutive New Zealand Horse of the Year, two consecutive Middle Distance Horse of the Year and three consecutive Australian Horse of the Year Awards. She also resides in the Australian and New Zealand Racing Halls of Fame.
It might be fitting to consider incorporating her name into every 1400m race, since Sunline was invincible at this distance. Greg Childs would certainly agree, eleven times over.