The best pedigree in the world is meaningless without the results to go along with that pedigree. So long, that is, if the subject at hand is thoroughbred racing horses. Many people of questionable value have parlayed a prestigious pedigree into social and financial success without making a single contribution of lasting value.
All the same, when a racehorse with impressive bloodlines comes along, and then produces equally impressive results on the track, that horse deserves recognition. If that horse then goes on to produce competent offspring, even if said offspring does not equal the exploits of its sire or dam, so much the more so.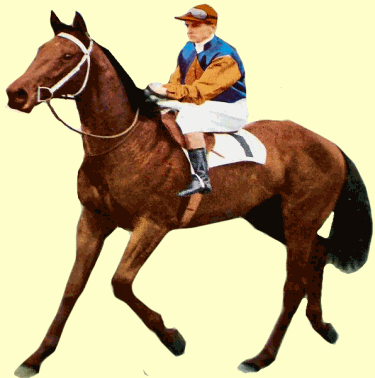 Our subject, 2010 Australian Racing Hall of Fame inductee Sky High, satisfies all the above criteria in spades. That may account for the reason why the electors made him, along with Northerly, the only horses to enter the hall that year, when the general practice finds four or five horses inducted most years.
Sky High Pedigree
Having been foaled in 1957, there are a couple of interesting aspects in the breeding of Sky High.
First, the horses in his lines represent something of a Who's Who of racing royalty. There is his sire, Star Kingdom of Ireland, with Hyperion of Great Britain as a grandsire to Star Kingdom. Hyperion's sire was Gainsborough. Star Kingdom's sire was the British horse that won the Two Thousand Guineas and the British St. Leger, Stardust.
Where things begin to get really interesting is when Hyperion is found three generations back on both sire Star Kingdom's side and dam Flight's Daughter's side. In the preceding generation to Hyperion, again on both sides of Sky High's lineage, Gainsborough will be found, along with one other truly significant racer, 2003 Hall of Fame inductee Heroic. Finally, as may have been discernible from the name of Sky High's dam, Flight's Daughter, the incomparable 2007 Hall of Fame inductee Flight, considered by more than a few to be the greatest race mare in the history of Australian racing, had the role of grandmother to Sky High.
It would be simple to realise that with connections such as these, there would be one expectation of Sky High: run fast.
Sky High Racing Results
Run fast, he did. Early and often, as well.
He won 29 of the 55 races in which he participated. He was second or third 19 more, running unplaced only seven times.
In the 1959 – 60 season, running as a two-year-old, he wasted no time in taking the post in the 1959 five furlong Breeders' Plate, followed soon thereafter by the then recently established race that would come to mean so much, The Golden Slipper Stakes, at six furlongs. He beat the 2008 Hall of Famer Wenona Girl in that race, where he had jumped as a short-priced favourite.
As a three-year-old, he did something that seemed highly improbable when he ventured to Melbourne to take part in the Flemington scene. After winning the AJC Champagne Stakes at six furlongs, he was entered into the VRC Victoria Derby, which at 12 furlongs, seemed to be well outside what could be expected of a young horse accustomed to sprint distance races.
Not only did Sky High win the race, however, he laid waste to a field of dedicated stayers, leading from jump to post.
He won 10 times in 1961, commencing with the seven furlong VRC Futurity Stakes. He then was tried at the mile, where he won the Lloyd Stakes and the AJC All Aged Stakes. The STC Canterbury Stakes and the Warwick Stakes came next, followed by another sprint, the Daily Telegraph Stakes. To conclude 1961, he won at a mile in the Epsom Handicap, at nine furlongs in the Caulfield Stakes, and finally the L.K.S. Mackinnon Stakes at 10 furlongs. His versatility was abundantly apparent.
When he raced in 1963, He won the Rawson Stakes for the second time and won again at 12 furlongs in the AJC Autumn Stakes.
He has been compared to Manikato, a legitimate comparison in that both horses were great sprinters and each won 29 races. The primary difference was that Sky High could handle middle distances with ease and even had good showings as far out as 12 furlongs. His owners even gave him the opportunity to see what he could do in the Melbourne Cup. The Race that Stops a Nation was won that year by a relatively obscure horse named Lord Fury, foaled the same year as Sky High, but not nearly so successful. Lord Fury had run in the 1961 Mackinnon Stakes won by Sky High, but he finished dead last, so that when he went to the barrier in the Cup, he was sent off at 20 – 1. Sky High, despite having no experience at 16 furlongs, was sent off at 10 – 1 even though he was given 9 stone 5 pounds, a weight that only the pre-race favourite, Dhaulagiri, equaled. Even with George Moore aboard, Sky High could manage only 18th. He was the only horse ever to have won the Golden Slipper Stakes to run in the Cup.
When he retired at the end of the 1963 – 64 season, his winnings trailed only those earned by Tulloch.
Stud Career
Sky High sired four stakes winners whilst standing in New South Wales for two seasons. He was sold to some Americans, where he stood in Kentucky, where he sired two-time U.S. Handicap Horse of the Year Autobiography.
The ATC runs the G3 Sky High Handicap in March of each year at Rosehill Gardens. As mentioned earlier, his Australian Racing Hall of Fame induction was in 2010. He was 16 years old when he died in 1973.