Only three thoroughbreds were recognised by the Australian Racing Hall of Fame in 2006. It may have been out of deference to Makybe Diva, considered a British horse due only to where she was foaled, because there is far more USA blood in her than anything. Her credentials are without dispute, however, and extend well beyond her three consecutive Melbourne Cup wins. With far more British blood, the Australian bred Amounis was the second of the three inductees, a horse from the 20s that basically won everything except the Melbourne Cup.
Finally, there is Shannon, a stallion that inhabits a chronological era betwixt Amounis and Makybe Diva, having done his racing in the 40s. He is remarkable for having won major races in Australia and the United States, and unlike Phar Lap, survived dirt track racing in America to return to the land of his birth and enjoy a successful career at stud. He was not a stayer, as were the other two, but a miler, although he did win as far out as 10 furlongs.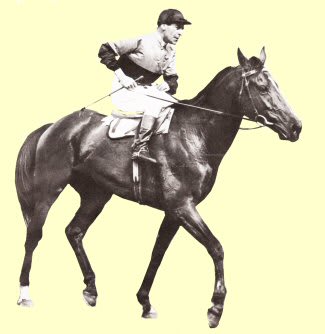 Shannon Pedigree
Shannon was foaled in 1941 at St. Albans Stud. His sire, the British horse Midstream, seems to have only the Criterion Stakes to his credit as a racer, but as a sire he accounted for 39 horses that produced stakes winners that won well over a hundred stakes races. The Grandsire was Blandford, a decent racer and like Midstream, a prodigious sire.
Shannon's dam was the Australian Idle Words. Her sire was the British horse Magpie that made the passage to Victoria in 1917. Her Grandsire was Irish horse Dark Ronald, one of the most renowned sires of all time.
Shannon was purchased for the bargain price, or at least so it seems a bargain after the fact, of £367 by Peter Riddle, who also served as Shannon's trainer in Australia.
Shannon Racing Career
Unlike many great horses that have taken time to develop, Shannon began to win as soon as he began to race as a two-year-old. He had seven races in the 1943 – 44 season, winning three times, placing second three times, and ran unplaced once. He was the beneficiary of three AJC events, the Two-Year-Old Handicap, the Kirkham Stakes and the prestigious Sires' Produce Stakes.
As a three-year-old, Shannon went through a bad patch, running unplaced in the STC Flying handicap. He did win the Hobartville Stakes in 1944, held at Randwick during the years of World War II. The previous year, Flight had won the race, and he and Shannon would stage several high-profile matchups further on. Shannon then had two unplaced finishes, and the decision was made to spell him, resulting in his not starting again for 10 months.
Lack of activity caused Shannon to go off when he returned as a four-year-old in the 1945 – 46 season at the race he had won the previous year, the Campbelltown Handicap. Of course, the lack of form enabled him to receive only 58 kg., and he won the race. He beat fellow Hall of Famer Flight in the Tramway Handicap, although we are not quite sure if calling Flight a fellow Hall of Famer is appropriate, since that Hall of Fame horse was a mare, but the two racers were at even weights, so we will just say Co-Hall of Famer and leave it.
Shannon next won the Hill Stakes, and then took the Epsom Handicap running as the favourite. It does not take long in racing, just the time it takes for one of the bag men to pay rather than collect, for a horse to go from long to short. After four starts for four wins, Flight beat Shannon in the Craven Plate, and he was given an autumn and winter holiday.
He won his third consecutive Campbelltown Handicap as a five-year-old in the 1946 – 47 season, although the handicappers had given him an extra 4 kg, compared to last year's race. He then took the Theo Marks Quality Handicap, but he could not reward the backers who had made him the favourite to repeat the Epson Handicap, because he spotted the field 100 metres before he began racing. His jockey, Darby Munro, almost got Shannon back to the front and finished second by half a head. That disappointment was forgotten when, just two days later, Shannon won the George Main Stakes in record time that saw Flight six lengths behind. He then beat Flight again, along with Russia in the King's Cup, just a month prior to that horse winning the Melbourne Cup.
Shannon was sold the following year when Peter Riddle died, first to W.J. Smith, who raced the horse four times in Australia. He won the Canterbury Stakes and another George Main Stakes, and was then sold again to American Neil McCarthy for £52,000, so it is obvious that McCarthy was not connected to the McCarthy's of County Dublin.
He was run for the final time in Australia in the Craven Plate, but this time he finished second to Russia, ending his Australian racing career with 25 starts and 14 wins. He was then shipped to the United States.
McCarthy gave him to William Molter for race conditioning. Shannon then won several prestigious races, the Argonaut Handicap, and then the Hollywood Gold Cup. In October of 1948, he tied the world record for nine furlongs en route to winning the Forty Niner Handicap Stakes. He then ran the 2000 metre Golden Gate Handicap in under two minutes, seemingly defying age and getting faster with the passage of time. In one race, he went up against the Triple Crown Winner Citation, running second to the horse that was four years his junior, if you neglect the horse birthday protocol regarding age dependent on hemisphere of birth and simply do the math. The following month, he ran his last race in November of 1948, winning the San Francisco Handicap. He was declared the 1948 American Champion Older Mare Horse, whilst Citation won the Champion Handicap Horse.
Shannon Stud Career
Standing at Spendthrift Farm in Kentucky, he was joined by another pretty good Australian horse, Bernborough. Shannon's progeny would eventually produce over $4 million in prize money.<
He broke his leg in 1955, requiring his euthanization. Rosehill racecourse runs the Shannon Stakes annually in his honour.