Rising Fast wins the Melbourne Cup, the Caulfield Cup and the W. S. Cox Plate in the same season.
Rising Fast was foaled in 1949 at Frank Robertson's Platform Lodge farm at Greytown, New Zealand.
His sire was Alonzo and his dam native Kiwi, Faster. Tracing back several generations reveals British Gainsborough, winner of the English Triple Crown and Champion Sire in 1932 and 1933, in his line.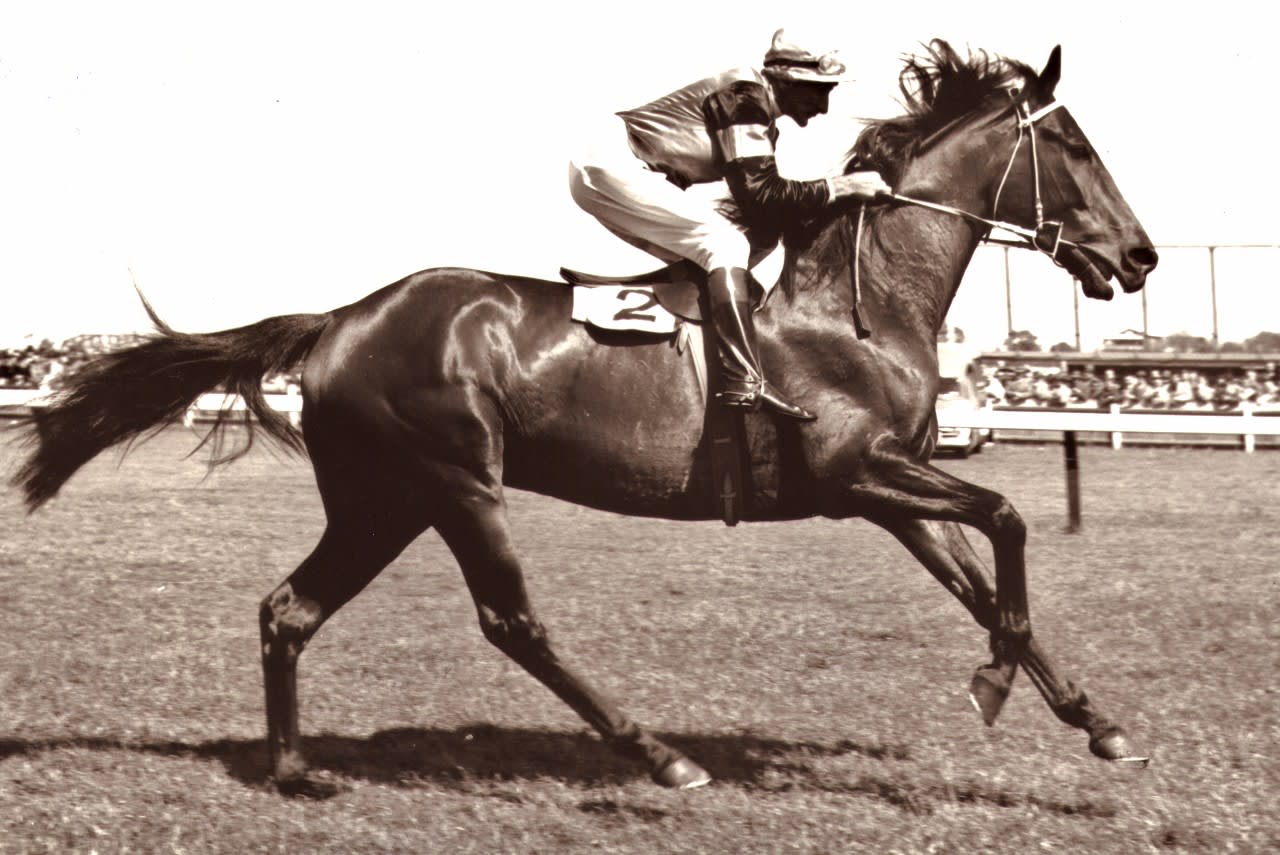 His accomplishment of being the only thoroughbred to post victories in the three crown jewels of Australian turf racing occurred in 1954. He repeated in the Caulfield Cup in 1955, managed only six in that year's Cox Plate, and only, it is proper to use that adjective in this instance, produced a second, an unlucky one at that, in the Melbourne Cup.
He was twice interfered with in that event. His owner rather listlessly lodged no protest, considering it mainly as a typical racing incident.
Victoria race stewards, on the other hand, considered the incident significant enough to impose a suspension on winner Toparoa's rider, Neville Sellwood.
Rising Fast is often considered the greatest New Zealand bred thoroughbred of all time.
Rising Fast winning strike rate was not as spectacular as some others, but he was initially tried at short distances. It was not until late in his career, when tried over longer distances, that his true abilities were discovered. He also had 68 starts, considerably more than some other acknowledged greats.
He went on to produce 24 wins, 17 seconds and two third-place finishes as well as record earnings for the era. Fifteen of the 24 wins, including two consecutive Caulfield Cups, LKS Mackinnon Stakes and VRC Queen Elizabeth Stakes in 1954 - 55, were top echelon events.
Rising Fast is also on the shortlist of racehorses that have produced 10 wins in one season, along with the likes of Bernborough and fellow New Zealander Carbine.
Rising fast, due to his demonstrated prowess, was often encumbered with heavy burdens. No Melbourne Cup winner since his has ever matched his 59.5 kg weight.
He was penalized further the following year with an additional 2 kg. A heavy track plus a five minute delay at the barrier during which jockey Bill Williamson stayed aboard rather than dismount, perhaps account for Rising Fast tiring in the final furlong, a possibility perhaps exacerbated when Toparoa knocked him off stride.
A brief recounting of Rising Fast's major wins includes a Caulfield Stakes, two Caulfield Cups, the Melbourne Cup, a C. E. Fisher Plate, the John F. Freeman Handicap, consecutive LKS Mackinnon Stakes, the Turnbull Stakes and two VRC Queen Elizabeth Stakes. These all came in 1954 and 1955, causing Rising Fast's reputation to soar.
Rising Fast concluded his career with the Blarney Stakes, C. F. Orr Stakes and Memsie stakes in 1956.

Gelded as a colt, he never had the opportunity to contribute his valuable DNA to any progeny.
Rising Fast resides in both the New Zealand and Australian Racing Hall of Fame. He entered the Australian Hall as part of 2002's sophomore class.
What is remarkable about Rising Fast's career is that he did not really produce until a five-year-old.
Entertaining speculation can be enjoyed wondering what might have been Rising Fast's record had his connections tried him at longer distances as a three and four-year-old, but that's clearly a case of hindsight being superior.