Poseidon, very versatile galloper who could win at all distances.
Some Thoroughbreds thrive on the sprints, running well up to about 1600 metres and others, the stayers, perform best at 2000 metres and up.
Very rarely, a horse will be deemed exceptional due to the ability to win at all distances, and no thoroughbred exemplified that ability more so than Poseidon.
Poseidon started out with his first win coming at 5 furlongs (1000 metres) at Randwick Racecourse and gradually progressed to longer distances, winning the AJC plate weight for age race at Randwick on 25 April 1908. In the course of his career he was frequently called on to carry substantial weight, and in so doing, giving an edge to such formal contemporaries as Melodrama, Antonius, Dividend and others.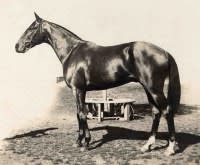 Ridden exclusively by Tom Clayton and trained by Isaac Earnshaw, Poseidon had 33 starts, with 19 wins, 4 seconds and three thirds, failing to place in only seven races.
His career prize money was approximately $98,000 which is something along the lines of 2.5 million in today's dollars.
Poseidon was foaled at Neotsfield Stud in New South Wales on 19 August 1903, sired by Positano. When Neotsfield went under, he was sold along with his dam Jacinth to the Moses brothers, who, having no interest in the foal, sold him to Sir Hugh Denison as a yearling.
Racing results as a two-year-old 1905/06.
Poseidon's career as a two-year-old, being only four months long was decidedly his worst, with perhaps the exception of his five-year-old season, where he never completely rehabilitated from a leg injury and only ran once. He had six starts, with one win and one third in minor events.
Racing results as a three-year-old 1906/07.
Three was apparently Poseidon's lucky number. He ran 14 times, winning 11 and posting seconds in the other three.
Poseidon won the Melbourne Cup and Caulfield Cup double, along with the AJC and VRC Derbies, the only horse to ever accomplish this feat. Doing this, he essentially squeezed what could be called a stellar career with no disrespect toward any runner of any era into the span of five weeks.
Five of the seven other wins that season were prestigious races also, including a VRC St. Leger Stakes.

Racing results as a four-year-old 1907/08.
Poseidon declined slightly as a four-year-old, if winning a consecutive Caulfield Cup, a Rawson plate and five other races out of 12 starts can fairly be called a decline. It's only because of the previous season that the possibility can even be mentioned. As with his three-year-old season, his four-year-old statistics would satisfy the most exacting owner, trainer and punters.
Four wins early on conspired to have him carry 65 kg for that year's Melbourne Cup, causing him to finish unplaced. His indomitable spirit returned, providing what might be considered the capstone of his career, where he notched his final victory in the AJC plate at Randwick Racecourse, prevailing over 4800 metres whilst bearing 57 kg.
Poseidon was only tried once as a five-year-old. A leg injury in the season prior that seemed successfully dealt with apparently flared up and after an unplaced run the RRC Rawson Stakes he was set to stud at Euramella, in Gulgong, New South Wales.
He did sire some stakes winners before passing on 3rd February 1930, but as often is the case with runners of his calibre, none of his progeny inherited his prowess on the turf.
It seems as though all great champions must have a quirky element to their history. By way of an end note, Poseidon provides this quirk by being responsible for turning a modest Asian market gardener into a wealthy man.
This man, Jimmy Poon, managed to amass a considerable fortune with an initial stake of $100 by accomplishing a feat to inspire envy from any punter who ever laid a wager: he managed to back Poseidon in every win during that remarkable 1906/07 season, at the same time choosing not to punt on any of Poseidon's seconds.
Poseidon was inducted into the Australian racing Hall of Fame in 2004, and a listed race, the VRC Poseidon stakes is run annually in his honour.
His runs at Caulfield Racecourse and Flemington Racecourse where it must have seemed that he had no true rival and he produced his unequaled quaddie, are the fabric of legends.