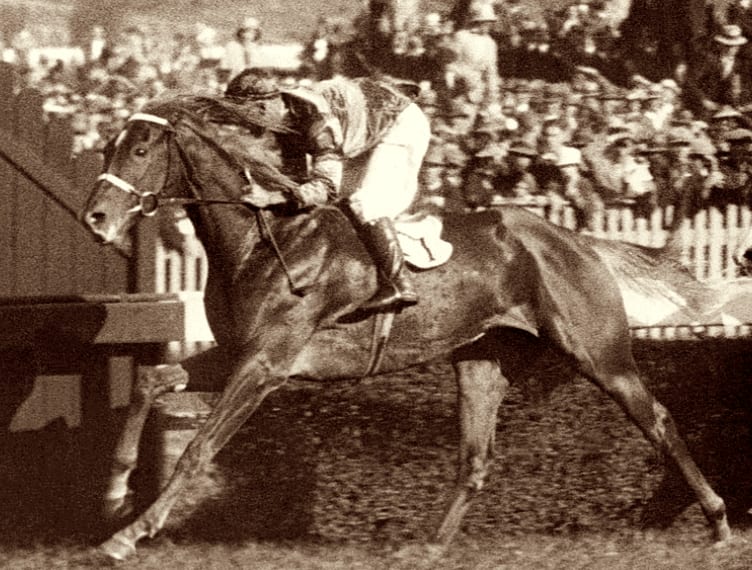 Peter Pan was sired by a British horse named Pantheon and dammed by the Australian mare Alwina.
The Wall Street Crash of 1929 that led to the Great Depression and the world-wide economic hardships that lasted nearly to the beginning of WW II affected almost everyone.
People desperate for escape of any kind looked for heroes to provide at least a temporary sense of relief. For Australian horse racing fans, this hero took the form of a chestnut Thoroughbred stallion named Peter Pan.
Today's top betting sites
CHANCES ARE YOU'RE ABOUT TO LOSE. Set a deposit limit
Peter Pan Sired By Pantheon
Peter Pan was sired by a British horse named Pantheon and dammed by the Australian mare Alwina at Sydney 's Baroona Stud in 1969. He was actually Peter Pan III.
Expectations for Peter Pan where understandably high, since his father had produced 10 wins from 44 starts in both Australia and England. His connections mentioned him in the same breath as Phar Lap and trainer Frank McGrath groomed him to win.
Heroes do not rise to fame and glory without drama and adversity, and Peter Pan did not break the mould in this regard.
Peter Pan Victorious
1932 saw Peter Pan victorious in the Victoria Derby and the Mackinnon Stakes, but it was the 1932 Melbourne Cup, Australian horse racing's greatest stage, that would provide the drama and adversity that took less than three minutes to create a legend that will exist forever.
During the race, Peter Pan clipped the heels of the horse in front of him and went crashing to the turf.
Another horse from his stable bumped in to him, helping him to his feet, where Peter Pan ran the race of a lifetime, won by a neck, and created considerable consternation for stunned spectators trying to comprehend what their eyes had seen, and wondering if it was at all possible. Peter Pan was miraculously uninjured, which in and of itself is phenomenal.
The fact that he also managed to win the race was incomprehensible.
Peter Pan 1933 Not A Good Year
The 1933 season was lost to Peter Pan when he contracted a highly contagious viral disease that ran rampant throughout stables in Sydney. It took the entire season and trainer Frank McGrath's personal care to supply a recovery in time for the 1934 season.
In this year's Melbourne Cup, Darby Munro rode Peter Pan to the win despite a poor post position and heavy track conditions. He carried almost 63 Kg. In this race, and went off at 14/1 against, so his win was a big pay day to anyone with the foresight to back him.
Another viral infection affecting horses again got the better of Peter Pan in 1935. This time, McGrath was not as successful ministering to Peter Pan. He did not return to top form, but his connections nominated him for the 1935 Melbourne Cup anyway. Forced to carry 10st (63.5 Kg), Peter Pan did not place, finishing 13th.
It was clear that the time for Peter Pan's retirement had come. He stood at stud in Baroona at the stables of Rodney Dangar.
Peter Pan Dies
Not content to let his life of drama and excitement fade, Peter Pan broke his leg and had to be destroyed in 1941 and buried at Baroona.
He produced a couple of stakes winners in Grampian, Peter and Precept. Peter came a close second in the 1944 Melbourne Cup, and Precept won two Group 1 races, but other than that, nothing anywhere near approaching his own record.
Dangar's insistence that Peter Pan cover only his own (Dangar's) mares, and his short six year stand at stud would be the chief deciding factors for this fact.
Fifteen of Peter Pan's 23 victories were prestigious Group 1 races, six of these coming in his career as a six year old.
If he had been able to race to form in 1933 and 1935, it is probable that he could have added a conservatively estimated 6 more Group 1 races to his resume.
Racing Hall Of Fame
Peter Pan has been honoured with induction into the Australian Racing Hall of Fame. The Australian Post produced a commemorative postage stamp, also in his honour, in 1978.
Peter Pan was a hero to punters and the general public.
Living and racing during a time period where people looked for anything to take their minds off the difficult times they were experiencing, they found it in a Chestnut stallion that seemed to possess the same power of flight as his literary namesake.