Northerly, Champion Racehorse winning 19 races from 37 starts collecting $9 million in prize money
Like many of his Aussie human counterparts, a champion Bay gelding known as Northerly did not let his mostly foreign ancestry prohibit him from achieving greatness on Australian soil.
Though lacking Aussie blood prior to dam North Bell and hailing from beyond the Outback, Northerly won the hearts and captured imaginations both East and West, in the process notching a record of 19 wins and 9 placings out of 37 starts, with 9 Group 1 wins and over $9 million in earnings to his credit.
Northerly, foaled in 1996 at Oakland Park Stud in Western Australia, some deemed his breeding "unfashionable," but it's doubtful Sire Serheed raised queries regarding location whilst covering Dam North Bell.
The fact of the matter is that Northerly's pedigree is admired by students of line breeding who cite stake winning producing Broodmares Dinner Partner and Flaming Page as proof. Northerly also has lines to 1970 English Triple Crown winner Nijinsky and both his sire and Dam carry blood from Northern Dancer, who took posts in the 1964 Kentucky Derby and Preakness Stakes, almost completing the U.S. Triple Crown with a third in the Preakness, and also contributing DNA to the mighty Makybe Diva.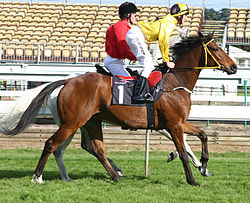 His preferred tactic of posting narrow margins of victory after lulling competitors into complacency by appearing blown, along with the colour of his silks made him a punter favourite, who referred to him as "The Fighting Tiger."
Northerly staged some epic battles with Sunline, another middle distance specialist of the early years of the new millennium and could be held accountable for that formidable filly's failing to equal or surpass Kingston Town 's Group 1 achievements.
Trained by Fred Kersley, who had made a mark in the West as a harness driver and trainer, Northerly first ran at Ascot Racecourse in autumn of 2000, where he ran in a Class 6, producing a third. Next up, a first in a Listed Race at middle distance with a 14-1 payoff for backers, earning a total of just a smidge over $36K for his connections before being spelled for almost 8 months.
It took just two starts for Northerly to produce his next win, another Class 6 Handicap at Ascot on 30 November 2000 at 1400 metres backing it up with a win in his first Group 3 effort.
The first of his Group 1 wins came the following week in the Railway Stakes, a narrow 3 length victory over Old Comrade with D. Miller aboard for a $330,000 pay day.
Following a second place, Northerly headed east to test Caulfield Racecourse. Carrying 58kg and running from barrier 7, he won the Group 2 Carlyon Cup despite spotting as much as 5kg to the field.
Soon thereafter, he debuted at Flemington, taking the Group 1 Australian Cup at 2000m from Kiwis Hit the Roof and Kaapstad Way.
Spelled again, he took a listed race first up on a dead track at Belmont in 2001. He then took jockey Damien Oliver for four consecutive wins that included three Group 1 wins: the Underwood Stakes, Yalumba Stakes, and the Cox Plate, besting Sunline twice at Moonee Valley Racecourse in the process.
He ran one more time back home at Ascot Racecourse before having a let up for 12 weeks.
A brief autumn campaign in 2002 produced nothing better than a second, albeit a second by less than half a length to Old Comrade in the Australian Cup.
It took an extended spell before Northerly came back with a vengeance in Spring of 2002, where a seven race season produced three Group 1 wins: The Underwood Stakes, Caulfield Cup (Greg Childs riding) and a Cox Plate, showing that Northerly was quite at home in the East, particularly at Moonee Valley and Caulfield.
Autumn of 2003 produced another Australian Cup at Flemington Racecourse for Northerly and other good results earned him Australian Champion Racehorse of the Year honours, but August revealed a career threatening tendon injury.
After a re-hab of almost a year and a half, Northerly returned for the Spring of 2004, but was compelled to carry 64.5kg first up, running fourth despite spotting the field a minimum of 10kg, where in perhaps the most fitting testament to the amazing fortitude of this champion, he lost by less than a length. Northerly faired poorly, not placing, in his final two races and it was apparent that the time to retire him was at hand.
Northerly never contested the Melbourne Cup, but he was never held up as a stayer and trainer Kersley was probably wise to never try him beyond 2400m. He did establish course records at 2000m in the Australian Cup that stood until no less a runner than Makybe Diva came along beating that record.
Northerly also holds the course record over 1600 metres at Caulfield for the Carlyon Cup with a time of 1:35.1 over 1600m at Caulfield.
As a gelding, Northerly never stood stud, so that aspect of speculation is moot, but Northerly was inducted into the Australian Racing Hall of Fame in 2010. He was also accorded Australian Middle Distance Champion distinction in 2002 and 2003.
If by some stretch Northerly should lack anyone to sing his praises, Damien Oliver could lead and Greg Childs could form a duet with no shortage of punters to supply the chorus.
Northerly died on Wednesday night, the 9th of May, 2012 from complications arising from a bout of colic.The 15-year-old was euthanased to end his suffering.