It is often pointed out as a case of thoroughbred versatility when a horse is capable of performing well in sprints, miles and staying events, and this is true in many regards. Often, two-year-olds are tried at shorter distances as a way to gauge their potential and also to give them time to develop the strength and stamina required of longer distances and greater weights that come about when they run in weight-for-age races.
Our subject at this time, Malua, certainly did those things, and won at various distances from 5-1/2 furlongs all the way through a today-unheard of distance of 26 furlongs, but he escalated versatility a notch further when he entered into jumping at an age when many horses were prime for retirement. He has at times called the most versatile Australian race horse in history, but being a product of the year 1879, the thoroughbred population was far under what it is today, so horses were routinely run at various distances to an extent that would be inconceivable in this modern age of specialization.
His selection to the Australian Racing Hall of Fame in 2003 saw him in a group that included Heroic, Peter Pan, Tobin Bronze and Vain.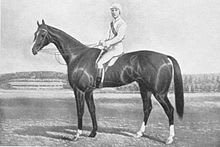 Malua was foaled in 1979. Malua's sire was a British horse named St. Albans. That horse was sent to Victoria in 1871 and to Tasmania from there, where he had his encounter with Malua's dam, Edella, at breeder John Field's Calstock in Deloraine.
He was sold as a yearling and raced in Tasmania as a two-year-old under the name of Bagot. He did well there, winning two races and placing second in another before being sold to J.O. Inglis. It was Inglis who took the young colt back to the mainland and eventually changed his name to Malua after his campaign as a three-year-old in 1882 – 83.
The horse made five starts as a three-year-old, winning just once in an eight furlong race at Flemington, the VRC Yan Yean Stakes. He had two fourth place runs, one at Flemington and one at Caulfield. His biggest event for the season was the 1883 VRC Newmarket Handicap, where he was unplaced in a field of 33.
At four, now called Malua, the horse started to come into his own. He was unplaced in the Caulfield Cup, ran unplaced in his next race, the VRC Spring Handicap, and then ran third in the VRC Bookmakers' Purse to conclude the 1883 portion of the season. When the calendar changed to 1884, Malua made an immediate impact at Flemington, winning the VRC Newmarket Handicap in a rather unusual fashion. His jockey took him far outside along the grandstand rail in order to give Malua a clear path to the post. To this day, the term "Malua's track" is used to refer to that portion of the racecourse. His other major wins as a four-year-old in 1884 were the VATC Oakleigh Plate at 5.5 furlongs and the SAJC Adelaide Cup two months later, where he was lengthened to 13 furlongs. In total, he made eight starts as a four-year-old, winning three, running third on one occasion, with four unplaced.
Running as a five-year-old, he won the AJC Spring Stakes at 12 furlongs in late August of 1884. Five days later, he was back on the Randwick turf for a second placing in the Craven Plate. Another second place finish came just two days later when he covered 24 furlongs in the AJC Randwick Plate. He followed with a good run at the Caulfield Cup, finishing fourth, good enough to convince his connections to submit his nomination for the Melbourne Cup. On the first day of November, 1884, Malua won the Melbourne Stakes, the race that would later gain significance as the LKS Mackinnon Stakes. Three days later, he took out the Melbourne Cup on 4 November. He beat Commotion in that race, but Commotion was to exact revenge four days later in the Canterbury Plate, beating Malua soundly. Commotion would do the same again in February of 1885, when he left Malua second in the Essendon Stakes.
Malua made just five starts as a six-year-old in 1885 – 86. His only win was the VRC Australian Cup over 18 furlongs. His only other placing was a second in the AJC Autumn Stakes.
There were no wins for Malua at seven or eight years of age. He made just five starts, with his only placing being a second in the 1886 VATC Caulfield Stakes.
He was back with a fuller schedule at the age of nine during the 1888 – 1889 season. He ran 12 times, with two wins, two seconds and two thirds. The win that perhaps staked his claim to most versatile Australian racehorse was the 1888 VRC Grand National Hurdle. It was not completely uncommon for thoroughbreds of that era to run flats and hurdles, but it was uncommon for such an accomplished galloper to win such a prestigious jumps race. He later produced a second in the VATC Summer Cup, followed by a third in, of all things, the VRC Bagot Handicap.
Malua's final win was the 1889 Geelong Gold Cup.
Malua was active as a stud prior to the conclusion of his racing career. He sired the winner of the 1891 Melbourne Cup, Malvolio. Another successful progeny was Mora, winner of the Melbourne Stakes, the Adelaide Cup, and the October Stakes. Another offspring, Ingliston, took the 1900 Caulfield Cup.
Malua died in September of 1896, several months after his owner had called it quits in the horse breeding business. There is a street named in his honour in Ormond and the people of his birthplace, Deloraine, erected a monument to him as well.
Malua made 47 starts over a long career. He won 12 of those, adding 10 seconds and three third placings. Other HOF horses have obviously won more, and many of them could also lay claim to having had the ability to win sprints and staying races. Malua's most bona fide HOF credentials would have to be winning the prestigious Grand National Hurdles, the Melbourne Cup, and the longevity of his career that saw him competing at an advanced age.